Shoestring Theatre's The Shaugraun: plenty of high jinks!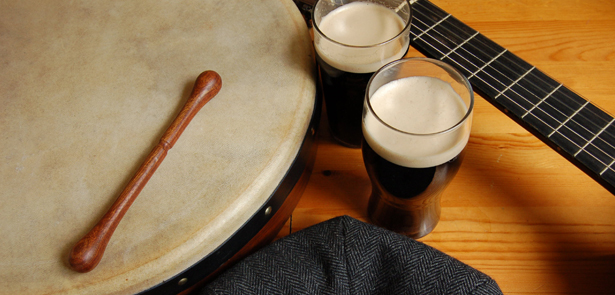 Shoestring Theatre's summer production The Shaugraun has it all: melodrama, folk music, Irish dancing – and plenty of audience participation! Director Ken Walsh is ready for the high jinks
Stamford's Shoestring Theatre is on the cusp of its summer performance, The Shaugraun, which this year will be heading down to Cornwall's Minnack Theatre after its Arts Centre run from 12-16 July. For those wondering what a 'Shaugraun' is, it's an Irish word meaning rascal or vagabond.
'The play is about a prisoner who escapes from Australia with the help of his old friend in Ireland,' explains director Ken Walsh. 'He returns to redeem his heritage and take back his lands from a villain who is trying to confiscate it for his own good. There are lots of chases, including with soldiers and the constabulary. The Stamford Arts Centre is the perfect venue the play. We are using the stage in a new way, with lots of entrances through the audience. The play lends itself to audience participation because it's a melodrama with lots of action.'
Ken promises plenty of audience surprises, including gunfire! 'We want the audience to be a real part of the drama.' With its Irish setting there inevitably comes plenty of dancing and music. Six folk musicians will help to link the scenes together with their fiddles and accordion playing. The stage has been specially extended to accommodate the band and bring the music to the fore.
'Some of the cast will be doing proper Irish dancing, Riverdance-style,' explains Ken. 'While a few of them had some previous dancing experience, none had ever done any Irish dancing, so we've had an expert Irish dancer train them up from scratch. It's gone really well and will certainly liven things up,' adds Ken. The Shaugraun's trusty sidekick, Tatters the dog, will be played by Tango, who company's December performance of See How They Run. 'The dog was a great hit and in this play he has an important role in seeing off the villain,' says Ken. 'He's been well trained!'
Off to the The Minack
Most of the play's scenes are set on the wild coast of western Ireland. To recreate the atmosphere stunning pictures of the Irish coast will be projected onto a backcloth, something that won't be necessary in the natural cliff-side setting of Cornwall's Minack Theatre. After the play's run at Stamford, the entire cast of 30 and supporting crew will be heading down to the West Country for seven nights of performances beginning 1 August.
'Part of the reason I chose this play is because it's so suitable for the Minack,' explains Ken. 'This will be the fifth time Shoestring has performed at the Minack – we head down there every three years. It's just such a wonderful venue.'
The company won a prize for its production of The Madness of King George. Clearly their reputation precedes them, with 1,000 tickets for the Minack performances sold a full three months ahead of the opening night. But whether you decide to watch the performance in Stamford or head down to Cornwall, the same heady cocktail of dancing, music and high jinks awaits. 'This play is perfect for the summer holidays. It's great family entertainment because there's just so much going on. We're really looking forward to it!'
The Shaugraun
Stamford Arts Centre, 12 – 16 July
Last call for tickets
It's not too late to book a ticket for The Shaugraun. Visit www. stamfordshoestring.com or call the Stamford Arts Centre on 01780 763203. Down to Cornwall for your summer hols? Then book a ticket at the Theatre by calling 01736 810181 or visiting www.minack.com
Leave a Reply