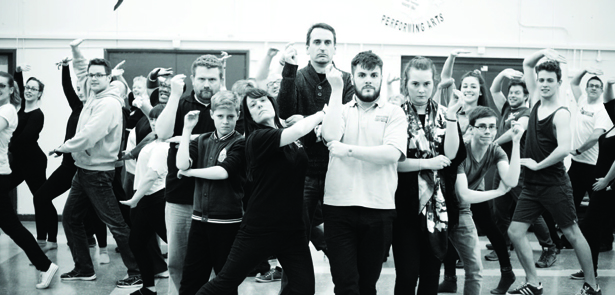 Peterborough Operatic and Dramatic Society marks its 115th birthday this year. To celebrate – building on the success of last year's sellout Witches of Eastwick, which has just received its nomination for NODA Eastern Region Best Musical – they're presenting the regional premiere of the all-singing, all-dancing, creepy, kooky Broadway show The Addams Family. Toby Venables talked to director Rob Bristow about the show, the society, and the amateur performers who are giving the professionals a run for their money...
FIRST THINGS FIRST… TELL US ABOUT THE NEW SHOW
The show is based on the Charles Addams cartoon that the 60s TV series and the 90s movie was based on, and which in 2010 was turned into a Broadway musical. Amateur rights to that musical have now been given to just a handful of companies in the UK, to see what the reception would be like prior to the professional production in the West End next year.
BUT IT'S STILL THE SAME CREEPY, KOOKY ADDAMS FAMILY?
It's the same family everyone knows – Gomez, Morticia, Uncle Fester, Lurch and so on – but Wednesday is now grown up. You may remember her as the young miserable daughter. Well, now she's older and miserable! But she's also fallen in love with an all-American high school preppy kind of guy, whose family is very 'normal'. So, she's introducing his family to her parents for the first time, and is asking her family to act 'normal'… They get together at the Addams mansion for this big banquet, and the culmination of the show is basically everything going completely wrong! It's a traditional musical comedy, but very much in the vein of The Birdcage/La Cage aux Folles, with everyone trying to cover up and keep everything normal, but the cracks start to show and it all falls apart. It is very funny. It is also a very new musical, even though these are characters that people will have known for a long time. That's what we are moving towards, with musicals like The Witches of Eastwick that we did last year, and Hairspray next year – just trying to move with the times.
THE GENERAL VIEW OF AMATEUR DRAMATIC AND MUSICAL SOCIETIES IS THAT THEY TEND TO DO MORE TRADITIONAL MUSICALS – OKLAHOMA AND SO ON…
Well, PODS has been in existence for 115 years, so for much of that time those musicals have been its backbone – Rogers and Hammerstein, My Fair Lady, Annie Get Your Gun. But it's getting harder to make those classic shows pay. It's really dictated by what people want; we don't have an audience any more that wants to see those shows in great numbers. I think it's important that we evolve – we have 13 new people in the company this year, since Witches of Eastwick, and they're all under 25. We need to be attracting that new generation for the society to thrive, and I really hope that Hairpspray is going to be attracting another load of new people to get involved. Certainly, programmes like X-Factor, The Voice, and Glee help with this, but also there's a resurgence of interest in movie musicals – Into the Woods has just come out, and we've had Chicago and Hairspray in recent years. There's such an appetite for musical theatre at the moment, but we have to do what people want to see and to perform. There was some uncertainty just how well a completely new musical like Witches of Eastwick would do, but it ended up having 98% capacity at the Key Theatre, so it's definitely proven that this is the kind of show people want. The Addams Family is already selling well, even though the publicity campaign has hardly kicked in, and I'm sure there's going to be a big market for Hairspray, too.
YOU MENTIONED THAT ONLY A HANDFUL OF AMATEUR GROUPS GOT THEIR HANDS ON THE RIGHTS – HOW DID PODS GET CHOSEN?
We have a wonderful secretary called Tracy Sortwell who is very hot on anything that is coming out. We're always in touch with rights holders of musicals, so anything that may be coming out, Tracy is on Twitter and Facebook to see if there are rumblings so we can get our names down first. But they do also look at the quality of the companies that are going to be these shows. There's a national organisation called the National Operatic and Dramatic Association (NODA) which we are affiliated to, so every year a critic will come and review your show and it will be put up for awards. Annie Get Your Gun, which I directed when I took over in 2013, was kind of the end of that era of old school musicals, but it won the regional award. Then last year, Witches of Eastwick was nominated for Best Musical Award, and we go to the awards ceremony in May to find out how that got on. Fingers crossed we at least get a nod!
HOW DO YOU MAINTAIN THAT KIND OF QUALITY?
We're so lucky. I know we're an amateur company, but we have people with a wealth of knowledge and experience helping us. Our technical manager is a man called Rob Melhuish, and he is manager of the flys section at the Royal Opera House. He gives up a month of his time every year to come and do all the technical side of the production. We had three witches flying on stage in The Witches of Eastwick. That had never been done at the Key Theatre before, and I think their technical manager was a bit concerned that we were even thinking of doing that! But we pulled it off and did an amazing job. It's the same with The Addams Family. I'll ask, for example, whether we can have Pugsley – an 11-year-old boy – with a blowtorch on stage, and he'll say: 'We'll look at the health and safety issues, but I'm sure there's something we can do…' Then I'll say: 'I also want a really exciting explosion – not just pretend, but something that scares the audience'. And he says: 'I'll see what we can do…' So, yes, I am hoping there is going to be an explosion! Our 11-year-old actor is so excited about that…
WHAT ABOUT THE PART THAT MOST PEOPLE WON'T KNOW YET – THE MUSIC?
I love this show musically. Because Gomez, the father, is Spanish, all his songs have a kind of flamenco flavour. Then young Wednesday's music is all kind of pop-rock, kind of like Christina Aguilera, while Morticia is more classic Broadway. It's great – every character has kind of got their own theme. But because there is this Latin feel in the show, that's also inspired the choreography. We're really lucky that the mum of one of our junior members – a lady called Julie Armstrong – was actually the UK under 18 ballroom champion, so she's come in to choreograph this massive Argentine tango! The fact that they're doing an Argentine tango when they've been watching that on Strictly Come Dancing has been getting actual squeals of delight from the cast! I think that's another draw for the audience – we're raising the level of dance that we're doing. Then the musical director is an incredibly talented musician called Steve Hession, who was the musical director at the Key for about 25 years, so production-wise we're really raising the bar. Everything is looking and sounding great. The tango, certainly, is going to look awesome. As far as the 38-strong cast goes, we have people from the ages of 11 to 71, and the standard all round is amazing. We also have five this year who are all 18, and who are auditioning for stage school. They're in the middle of their auditions at the moment, and they find out whether they have places some time in May. So, it's a really good time for us. Fortunately, for the past three years, we've been making a profit, so we must be doing something right!
HOW DOES AN AMATEUR GROUP MANAGE THE EXPENSE OF A BIG SHOW LIKE THIS?
These things are very expensive to put on, so we have to pick over the budget very carefully. Whereas in the past we might have spent £10,000 on costumes, these days we have to be very frugal. We pitch in and do a lot of the props, sets and costumes ourselves. But, you know, I think that actually makes for a better society, because everyone gets involved. We have a really great social aspect to the society as well, and do a lot of fundraising together to pay for productions, so we've become quite a close-knit group of friends.
IS MANAGING TIME AN ISSUE?
We all have our full-time jobs, but when I come home from work the first thing I'll do is start sorting out things to do with the show. At the moment, for example, I'm busy sorting out the programme. We don't have a budget for that, it depends on the generosity of local busineses advertising in the programme. A lot of my time before the show involves blocking out scenes, going through the script, deciding how I want everything staged, then coming up with a schedule to make sure that every Tuesday and Wednesday evening, when we rehearse, everything is covered on schedule. Then, in the final four weeks we do four runs and are troubleshooting everything. This year, for the first time, I've said I don't want a prompt – I just want everybody to know everything. That would be the norm in a West End show. Everyone gives up an awful lot of time to achieve all this, but I guess it's just because they're so passionate about it.
SO, WHAT'S NEXT?
Hairspray! We're very lucky with that. It was released to youth groups but hadn't been released to adult groups until very recently, but Tracy was right in there and nabbed it before anyone else! It's going to be a massive show, too; the cast for The Addams Family is 38 but for this I think we're going to have swell our numbers to about 50. It's going to be a real crowd-pleaser – we're really lucky to have it.
To find out more about PODS, visit www.peterborough-operatic.com  
THE ADDAMS FAMILY
Key Theatre (Main House) 24-28 March 7.30PM (plus 2.30pm Saturday matinée)
Peterborough Operatic & Dramatic Society present the regional première of the creepy, kooky, mysterious and spooky Addams Family musical. Join Morticia, Gomez, Lurch and Uncle Fester in this magnificently macabre new musical comedy fresh from Broadway. It's every father's nightmare: Wednesday Addams, the ultimate princess of darkness, has grown up and fallen in love with a sweet young man from a respectable family. Everything will change for the whole family on the fateful night they host a dinner for Wednesday's 'normal' boyfriend and his parents…
To book, call the box office on 01733 207239 or visit www.vivacity-peterborough.com
Leave a Reply