Peterborough Mask Theatre: Much Ado About Nothing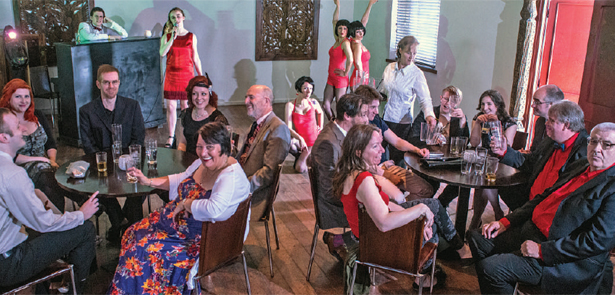 Set in a modern London speakeasy, this may well be Shakespeare as you've never seen it before. You are cordially invited to join Mask Theatre at 'Leonato's Speakeasy' for their 2016 annual Shakespeare in the Park production of Much Ado About Nothing...
Don Pedro, head of a London mob gang, and his men, have just returned from their war with his half-brother Don John. Now that the fight is over, their thoughts turn to the ladies they have come back to. One of Don Pedro's men, Claudio, who has fought well, falls in love with Leonato's daughter Hero. Meanwhile, her cousin Beatrice, disdainful of men in general – and Benedick in particular – renounces marriage out-of-hand. Will the atmosphere of the speakeasy soften her outlook? Come and see what a London speakeasy is all about – music, entertainment, and gin – and just how that fits with a Shakespearean comedy!
When and where: ● 14 July – Crowland Abbey ● 15 July – Moonhenge, nr Abbotts Ripton ● 16 July – Oakham Castle ● 19-23 July – Peterborough Central Park All shows Start at 7.30pm Tickets: £7.50 on the door or online at www.masktheatre.co.uk/much_ado Follow on Facebook at the Peterborough Mask Theatre page or on Twitter @mask_theatre  
Coming up this autumn
Mask Theatre's next production, Jez Butterworth's Jerusalem will take place at the Key Studio from 9-12 November. Jerusalem tells the story of Jonny 'Rooster' Byron, a lively character and teller of tall tales, who lives in a caravan in the woods. Loved as the rule-breaking vagabond that he is by the local kids, Jonny faces eviction from the council, a kicking from Troy Whitworth, and his supply of drugs is highly sought after. Oh, and his son wants to be taken to the fair… Rehearsals have not yet started, and there's plenty of opportunity to get involved backstage in a lot of different roles: costume, stage management, lights – contact Mask Theatre through the website if you are keen to get involved. Jerusalem also has a cast with a lot of young roles, so young aspiring actors are also invited to get in touch!
Leave a Reply