Michael Cross: 'Cinderella is the Kate Middleton story, in lots of ways…'
Michael Cross: 'Cinderella is the Kate Middleton story, in lots of ways…' 1 2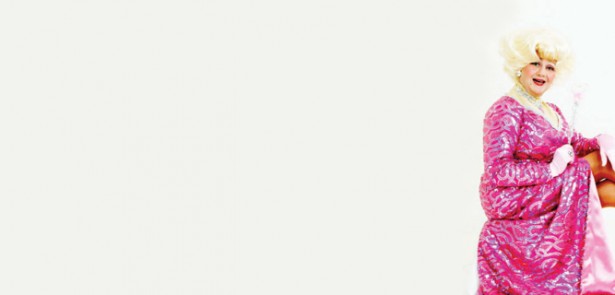 He may have hung up his frock and oversized wig these days, but Key Theatre stalwart Michael Cross is back to make sure that we ALL go to the ball... as writer and director of the this year's traditional family panto, Cinderella. With Laura Darton as Cinders, West End favourite Paul Crosby as Baron Hardup and local boy Adam Patman as lovestruck servant Buttons, it promises to keep the true panto tradition alive – and provide a few contemporary twists along the way! TOBY VENABLES talked to him
Can you tell me a little about this year's panto?
Well, we're doing Cinderella, one of panto's all-time favourites. It's got a bit of something for everyone and it's the quintessential fairytale: we'd all like to live happily ever after, which is what happens to Cinderella. At least we assume it's what happens! It is the Kate Middleton story, in lots of ways, except I don't think she did much cleaning in hers…
We think of it as an age-old story, but when you put it like that it seems quite current…
Yes, absolutely. I was watching something on telly last night, called Dinner Date, and there was a guy on there who was a millionaire, desperately looking for love. So he went on this TV programme and he went to see three separate ladies who all cooked him dinner, but of course he didn't tell them he was a very wealthy man because I bet they would have handled the situation very differently! So he chose someone on the basis they had no idea who he was, and that's what the prince in Cinderella tries to do, really, he wants to be an ordinary guy for once.
'You have to be quite strict, and ask yourself, "Is it funny? Does it have any relevance?"'
What else have you done this year to make a familiar story very different?
It's difficult to talk about because I don't want to give the game away! What you try and do with a production is give it relevance to what people are talking about. Everyday conversations, topicality, and a lot of that actually goes in at the last minute because, well, I don't know what's going to happen next month! We try and make sure we feed into our story references about what's going on in the region, particularly, but also in the wider world. It's like you say: an age-old story, retold for a modern audience. One's also very reliant on the company to stay on the ball, to read the papers and watch the news, but at its heart it's a great story that if it was told straight would still be entertaining and people would still enjoy it.
So do the topical things change throughout the run?
Yes, and some actors are very good at that, picking up on the news or someone will say something to them in the dressing room, and before you know it, it's become part and parcel of the production! The danger is that you want to keep the good things in, but the show is getting longer and longer by the day! You have to be quite strict, and ask yourself, 'is it funny? Does it have any relevance?' We do play it differently depending on the audience, too. When…
Michael Cross: 'Cinderella is the Kate Middleton story, in lots of ways…' 1 2
Leave a Reply