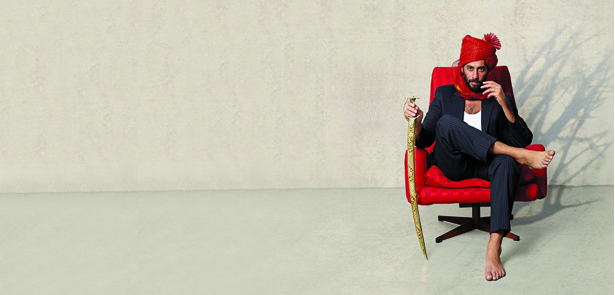 Three outrageous drag-queens (hijras in modern India and Pakistan) cook up an explosive brew of treachery, ambition and passion, setting an Asian family off on a path of bloody self-destruction. Tara Arts, in association with Queen's Hall Arts and Black Theatre Live brings Indian movement and music to Shakespeare's text, offering a powerful contemporary take on his darkest play (Key Theatre, 28-29 April)
The Tragedy of Macbeth – more commonly known simply as Macbeth – is Shakespeare's most frequently performed play. It is also considered one of his darkest plays – a relentless, emotionally intense tale of ambition, showing the lengths people will go to in order to gain power. Whilst few details of the Bard's life are known for certain, Macbeth is assumed to have been written in 1606 during the reign of James I, the period when Shakespeare's darkest and most cynical plays were produced, perhaps reflecting how distrusting and pessimistic the people were feeling after the demise of Elizabeth I.
1606 was just one year after the famous Gunpowder plot – the failed attempt to assassinate the king by blowing up Parliament whilst James I was inside. Things did not end well for the perpetrator, Guy Fawkes who was hanged, drawn and quartered. But Macbeth's own desire proved to be just as futile. The prophecy of three witches, predicting his rise to power, proves to be more of a curse than a blessing; once he plots and kills, the consequences of his actions drive him to paranoia, madness and eventually death. Shakespeare's exploration of the human psyche has made Macbeth a figure of doom, trapped by fate, and can act as a warning of how excessive ambition can lead to horrific outcomes – so much so that among thespians simply uttering the name of the accursed play is thought to bring bad luck, and it is frequently referred to as simply 'the Scottish play'.
Now, Jatinder Verma's ground-breaking production takes the play to entirely new territory, providing a modern-day, cross-cultural take on Shakespeare's tragedy, set in modern Britain and in an extended Asian family. Macbeth is the first production from Black Theatre Live, a pioneering consortium of eight regional theatres – including Tara Arts – committed to increasing the amount of Black and Minority Ethnic theatre on the touring circuit. Spun together with a blend of Indian music and movement, Tara Arts' brand new production from one of the UK's leading cross-cultural theatre companies sees Shakespeare's tragedy re-imagined in a contemporary context, as a brew of treachery and ambition sets an Asian family on a road to destruction.
In Macbeth, the Witches are from 'another place' – the spirit world of trickery, witchcraft and prophecy. This production depicts the engineers of Macbeth's downfall as three Hijras. A strand of Indian society little-known in the west, Hijras are a centuries-old 'third gender' community (including transsexuals, transgender people, eunuchs and cross-dressers) living in India, Pakistan and Bangladesh. In India alone, there are estimated to be about one million Hijras who have their own distinct rituals and culture. Vivacious and colourful, their presence at births and marriages is seen as a sign of good luck by the wider society. They believe themselves to have sacred powers, many tracing their ancestary to Ardh-Narishwar, the ancient Indian God who was half-man and half-woman. Proud of being a community on the borders of gender, they are happy to bless and curse in equal measure! South Asian society as a whole tolerates these communities… and is wary of their perceived ability to prophecy and curse.
Tara Arts Artistic Director Jatinder Verma, who will direct Macbeth, says 'Spirits in Indian traditions combine vivacity with viciousness. By casting the Witches in Macbeth as provocative Bollywood queens, I aim to explore the dangerously vain ambition driving Macbeth.' The cast currently confirmed for Macbeth includes Robert Mountford, previously seen in Tara Arts co-production with the National Theatre, The Black Album. He has also performed for Tara in productions of The Merchant of Venice and The Tempest. Robert's other credits include Much Ado About Nothing for the Royal Shakespeare Company and Silent Witness for the BBC. He will be joined by Shaheen Khan, whose credits include Rafta Rafta at the National Theatre and the film Bend it Like Beckham.
About Tara Arts and Black Theatre Live
With over 35 years of experience, Tara Arts are established as one of the UK's foremost creators of cross-cultural theatre. Their work, which consists of both new writing and reimagined classics, seeks to make imaginative connections across communities, to help foster a global sensibility from their own locality. The company was founded in 1977 by Artistic Director Jatinder Verma, along with Sunil Saggar, Ovais Kadri, Praveen Bahl and Vijay Shaunak. Through a three-year programme, Black Theatre Live will bring high-quality performances from culturally diverse perspectives to mid-scale venues across the country. The initiative is a partnership of Tara Arts, Derby Theatre, Queens Hall (Hexham), the Lighthouse (Poole), Theatre Royal Bury St. Edmunds, Theatre Royal Margate, Stratford Circus (London) and Key Theatre (Peterborough).
www.blacktheatrelive.co.uk
www.tara-arts.com 
Macbeth Key Theatre (Main House)  28 – 29 April, 7.30pm (plus 2.30pm Wed Mat). £15 (£13 concessions, £11 all tickets on Matinee – inc fees)
For more information and to book tickets, visit www.vivacity-peterborough.com
Leave a Reply