Key Theatre | Autumn Season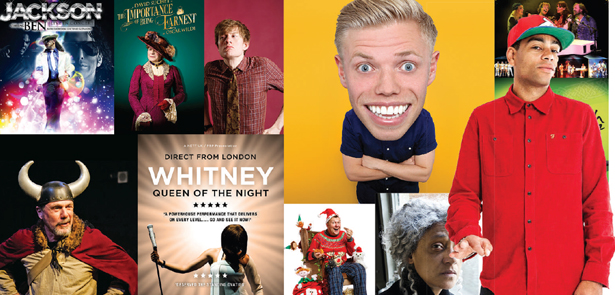 When the nights start drawing in, there's nothing better to beat the autumn chills than an evening at the theatre. Always promising to have something for everyone, the Key's Autumn Season is bigger and better than ever... 
Drama For the drama lovers, Graham Cole (PC Tony Stamp in the long-running drama The Bill) and Diane Keen (Juila Parsons in the long-running BBC soap Doctors) star in this one-act bittersweet comedy You're Never Too Old (Mon 14 – Wed 16 September) which examines relationships, loneliness and humanity.
There's a welcome return of Rumpus Theatre for a classic whodunit with Father Brown – The Curse Of The Invisible Man (Fri 25 – Sat 26 September). Following the fantastic rendition of Macbeth in the Spring, Tara Arts return along with Cathy Tyson in She Called Me Mother (Thurs 22 – Fri 23 October). Finally, a classic play acted as a radio play, It's a Wonderful Life takes to the Key Stage (Mon 26 – Tues 27 October).
Family For families, don't miss out on My Pet Monster and Me (Sunday 11 October) from the producers of Hugless Douglas. Plus the timeless classic of everyone's favourite Viking Noggin the Nog (Thurs 29 – Fri 30 October). Get into the Christmas spirit (albeit only two months after the shops) with the Christmassy Christmas Show of Christmassy Christmasness (Sunday 15 November).
Our Stage on Screen season always proves popular with fantastic, critically acclaimed ballet, opera and great drama performances including Romeo and Juliet – ballet (Sunday 27 September), The Importance of Being Earnest (Wednesday 14 October) starring David Suchet and Shakespeare's Hamlet (Thursday 15 & 22 October) starring film and TV heartthrob Benedict Cumberbatch.
Comedy continues to go from strength to strength in the autumn with solo tours from TV names such as Rob Beckett (Sunday 27 September), Jimeoin (Friday 16 October) and Chris Ramsey (Sunday 1 November). Also, the Key Theatre's regular Friday Night Comedy takes place each month with some of the best names on the touring circuit.
For music at The Key, check out our live music section  
To book tickets or to find out more about the autumn season, call the Key Theatre box office on 01733 207239 or visit www.vivacity-peterborough.com/keytheatre
Leave a Reply