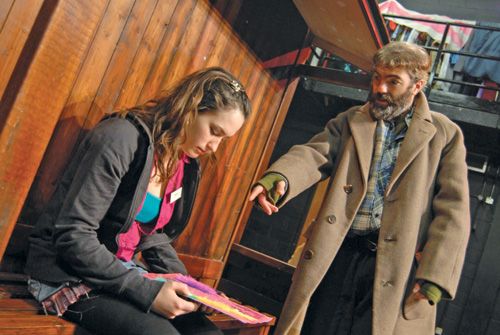 The material covered by Eastern Angles is as varied as the venues it's performed in. From 'Our Nobby' – a play about a real-life Peterborough tramp – to 'The Anatomist', which has been described as 'Burke and Hare meets Laurel and Hardy', the plays are never quite safe or predictable. Some of them are written by Cutting himself while others are commissioned, with the work usually going to local writers. But whatever the subject matter, Cutting always insists the material should challenge the audience. 'The thing I always say to the writers is that we're commissioning them to write for a particular audience so you're trying to supply that audience with something that's going to stretch them slightly. I always say it's about taking the audience on a journey they didn't know they wanted to go on.
So even if you are doing something local, you're still trying to find an angle on it that's going to make people think differently. It's not nostalgia, it's not just celebrating something that you already know, it's about exploring something you might have heard a little bit about but when you actually find out about it it makes you view the world
in a different way. I think it's absolutely critical to challenge your audience.'
And as far as audiences go, those in Peterborough rate highly with both Cutting and his Eastern Angles performers. 'I think they're very good. They're different, partly because Peterborough is so much more urban than many of the rural areas we visit. But also, their reaction tends to be one of surprise because they haven't seen stuff like we do before. The idea of a half- hour play about Nobby the tramp was both a surprise and then a delight. We found that a lot of the audience wanted to stay behind and tell us their own stories about Nobby. It's as if they kind of want to finish off the play themselves with their own personal anecdotes about the subject.
'When we brought our Christmas show to the Cresset last year for the first time, the actors loved the Peterborough audiences because they were very fresh and hadn't seen anything like our show before so there was a genuine sense of delight in seeing something that they didn't know existed. The idea that you could take the Mickey out of Charles Dickens and do a kind of spoof that had elements of panto in it (Round the Twist) – they really responded to that. It's not to say that our own, more local, audiences are tired of what we do, but they can kind of second guess what's coming a bit more readily, whereas the Peterborough audiences were completely innocent and seeing it all for the first time.'
Peterborough audiences are in for another treat when Eastern Angles returns to the city in January with its production 'Dial M For Murgatroyd.' The show, which Cutting describes as 'an alternative take on the traditional British panto' will run at the Key Theatre from January 29 to February 2. 'It's a very funny piece about a murder in a country house, told in an innovative and quite wacky way. There's lots of laughter and lots of songs so it's ideal for the festive period. It has some panto elements but
in essence it's just a good, wacky story. I sometimes compare it to those half-past-six Radio 4 comedies. It's in the same vein.'
A more serious piece about Peterborough poet John Clare will follow in the Spring. The ironically-titled 'The Long Life and Great Good Fortune of John Clare' aims to downplay the poet's well-documented battles with mental health and alcoholism and focus more on the achievements that led to him being described as the greatest labouring-class poet that England has ever produced.
'We performed it for the first time in September at Clare Cottage and it went really well so we're taking it out on the road in March and touring with it until May' Cutting says. 'I'm very pleased with it. For 30 years people have been saying "Hasn't anyone done a play on John Clare yet?" because he's the peasant poet native to the East and is an obvious subject, but I always rebelled against the idea of doing a straight biography of him. It wasn't until the people at Clare Cottage said they were interested in a short play and our writer, Tony Ramsay (who was raised in Peterborough) said "Oh, I love John Clare and I get fed up with people always using him as a symbol of suffering and despair and madness." So we deliberately called it "The Long Life and Great Good Fortune of John Clare." It's not to say he didn't suffer, but I think there's a context that needs to be recognised. And we kind of wanted to give him the poems back, rather than it all being about the misfortunes of his personal life.'
Two further Peterborough-based plays will follow in 2013 and 2014, a clear measure of how central the city is to all that Eastern Angles do. Cutting explains 'We're doing one in 2013 which is a documentary about the Peterborough Development Corporation – the story of the Peterborough Effect, as I call it. That's quite fun. We just did a three-day workshop on one short section of that, playing around with the story, the material, the songs and the choreography, to try and get a sense of the Seventies. Then in 2014 we're doing a community play which is about the early days of Peterborough and the formation of the city and the people who were brought in to build the city. We'll also look at Peterborough in more modern times and see how it's flourished through the years. It sounds a bit dull, just saying it like that, but I know the writer who's working on it at the moment is finding lots of individual stories which he'll then pull together to make it really exciting. What's also exciting is that we're going to have over 100 community performers taking part so it's going to be a big production and I'm really looking forward to it.'
Get Involved
Eastern Angles is a professional theatre company but it's not a closed shop. If you're good enough, you might just be able to earn a place in one of the UK's most successful and prolific acting troupes.
We're always open to new talent but obviously it's quite competitive because there are a lot of people out there who want to work in this industry. But we're always interested in actors, musicians, designers and people who have got local knowledge, so it's
always good to write in to me. I'll always reply and I'll always keep a note of who you are and where you are for future reference. And because it's small scale theatre that we do, it's quite easy to come up and have a chat with us after a performance, so we're all quite accessible if people would prefer to do it that way.'
You can write to Ivan Cutting at
Eastern Angles Theatre Company,
Sir John Mills Theatre,
Gatacre Road,
Ipswich,
Suffolk,
IP1 2LQ or email him at
An Impressionable Player
Impressionist and TV star Alistair McGowan cut his teeth as a member of the Eastern Angles troupe before he shot to national fame in his own right. Ivan Cutting remembers him as a man of many voices, even back then. 'He was a jobbing actor at the time, although he was doing some stand up comedy and radio comedy. He was also a singer so we auditioned him for a show called Goodbye America – which was about the American air bases closing down – and he got the job. There was an answer phone at the digs where he was staying and whenever I rang him to say "You're ten minutes late for your call!" you'd get Dame Edna Everage or some other voice on the answer phone. He was very good at impressions, even back then.'
'Dial M For Murgatroyd' is playing at the Sir John Mills Theatre in Ipswich now until January 12. It then moves to the Seckford Theatre in Woodbridge from January 15 to January 26 and finally comes to the Key Theatre in Peterborough from January 29 to February 2. Booking is advisable as some shows have already sold out.
Leave a Reply