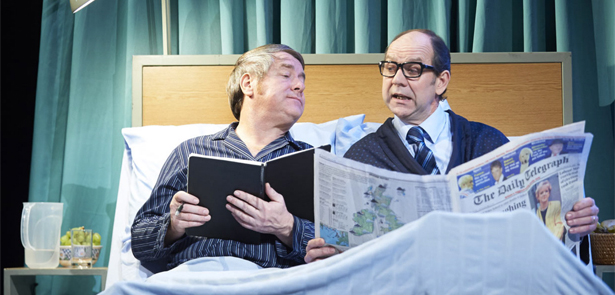 A unique show, Eric and Ern, celebrating the genius of Morecambe and Wise comes to the New Theatre. Recreating one of the greatest comedy acts of all time may seem a tall order, but Jonty Stephens and Ian Ashpitel are doing exactly that – and to huge acclaim. Here, Eric's son Gary Morecambe talks about the show, how he gave it his blessing and what Eric and Ern would have thought of it all
What are audiences in store for with Eric & Ern?
It's like going to a live Morecambe and Wise show, from the days when they were touring in the 1970s. That's the idea and audiences are in for a nostalgic trip back in time. Jonty [Eric] and Ian [Ernie] also bring in little bits from the TV shows, so there's the breakfast routine and bits that reference André Previn.
How does it feel seeing your father portrayed by someone else?
Well, for me it will always be someone else. I never for a moment think I'm sitting there watching my father because I used to do that all the time when he was alive. But there are many moments when I'm sitting watching the show where I think 'I could actually be watching Eric and Ernie', which is lovely. The fact Jonty and Ian are good enough to make me feel that is really something.
Did they have your approval from the beginning?
I'll admit I had a lot of doubts when this first started. There had been other attempts by other nameless people which were nothing short of disastrous, so I was wary. But then I went to see them at Edinburgh because I'd had many tip-offs about them, both from people inside and outside of the industry. That first time gave me a bit of a shiver down the spine, actually, because they were that good. That was the beginning of our relationship and us as a family saying: 'OK, we'll support you.'
Has Jonty asked you for any advice on playing your dad?
The thing with both Jonty and Ian is that they're both very good actors and they've watched so much material that I can't really advise them on anything because they do it so perfectly.When you're with Jonty and Ian there is very little Eric and Ernie about them, believe me. Then when they go into Eric and Ernie I can sit back and think: 'God, they're really good. They're really getting it right.' So no, I wouldn't sit there and suggest anything.
Lots of the Eric and Ern legendary sketches are recreated in the play. Do you have any particular favourites?
I love the whole thing. I'm not someone who breaks things down and I didn't do that back in the day either. I can only go by the audience reaction and as soon as Jonty and Ian go anywhere near André Previn it's like being at a rock concert. It's quite extraordinary. They were telling me about some nights when the audience has joined in. It's a bit like The Rocky Horror Show! But you have to bear in mind that they're covering so much material around that. They do a lot of Eric and Ernie that is slightly less remembered but which is very funny. I like that element of it because it surprises people.
How do you feel the show keeps the Morecambe and Wise legacy alive?
It's kept alive anyway through the very fact they're still being talked about 35 years later, but without a doubt the show is something that helps. It's lovely that they're getting a lot of younger people in the audience, who are getting a chance to see something of how Eric and Ernie would have been.
Losing your father must have been devastating, but do you take comfort in the love people still have for him?
Totally. I won't say I've been fortunate because that's the wrong word but when you think of everyday people who have a close relationship with their parents, then lose them, they've got no way of sharing that experience beyond family and friends. But I had, like, 29 million people on my side when Dad died.
What do you think your dad would make of the play?
I think he'd be thrilled and I think Ernie would be too. Having Jonty and Ian, who do it so well, would have meant a lot to them — to be recognised and remembered in that way. Dad would have been really chuffed about it.
Eric and Ern
● 29 March, 7.30pm NewTheatre, Peterborough
www.newtheatre-peterborough.com
● 28 April, 7.30pm StamfordCorn Exchange
stamfordcornexchange.co.uk
Leave a Reply