Des O'Connor: "The place I really got the bug for the theatre was the Embassy, Peterborough…" 
Des O'Connor: "The place I really got the bug for the theatre was the Embassy, Peterborough…"  1 2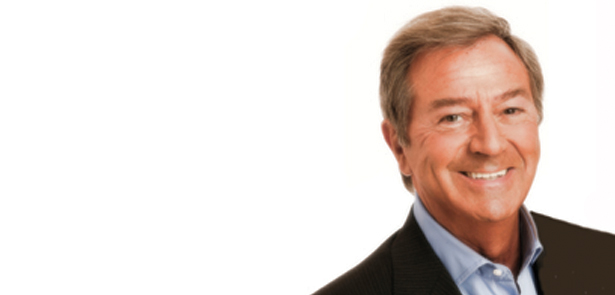 After landing his first television series in the UK in 1963, Des O'Connor starred in his own mainstream television show for over 45 years – longer than anyone anywhere in the world. For years the butt of Eric Morecambe's (friendly) jokes about his singing, he has sold over 16 million albums, chatted with guests as varied as Robert Redford and Tony Blair and been watched by 200 million people in more than 40 countries. On stage he has appeared at the MGM Grand in Las Vegas, Sydney Opera House, The O'Keefe Centre, Toronto and more than 1,000 times at the London Palladium. Not bad for a former Northampton shoe salesman. On October 31st he brings his unique show of music, comedy and wry reminiscences – with video clips – to the Key Theatre. Toby Venables talked to him 
HOW WOULD YOU SUM UP AN EVENING WITH DES O'CONNOR?
The first part of it is really more of a party or a happening than a show. I say to the audience 'Has anyone got any personal problems?' and you'd be amazed at what comes back! Some hysterical, funny moments. We have some great musicians with us, too. And you can bring anybody to this show. There's no swearing. I don't want to sound sanctimonious, but I don't think you need to swear. A lot of stars of today – some of whom started, dare I say, on my show in the 80s and 90s – I ask 'Why do you do that? You don't need to…' They're all talented people. But I think it's the thing to do. I'm not criticising them though, because some of them play to 10,000 people!
IS IT TRUE YOU HAVE A BIT OF HISTORY WTH PETERBOROUGH?
I came to Peterborough in 1954 in Ernie Wise's car. He had a car, and I didn't – I earned about five pounds a week, it was a bit hand-to-mouth – so he gave me a lift to Peterborough where he and his wife Doreen had a house, then I hitch-hiked to Northampton where my parents were living. So, I do have a bit of a history with Peterborough. In fact, I love the place. In my book Bananas Can't Fly I wrote that the place I really got the bug for the theatre was the Embassy, Peterborough. I was stationed in Huntingdon, and I'd go there every Thursday night. I also played semi-pro football for Northampton, and we played at Peterborough. There are a lot of connections with the city, so I'm really looking forward to playing here again!
YOU DON'T NEED TO BE DOING THIS, CAREER-WISE, SO WHY GO OUT ON THE ROAD AGAIN?
Because I love it! I'm a ham… I just love the sound of laughter. There's still nothing like going out live on a stage. It's the real test of showbusiness to go out by yourself and just entertain. And I love it when people come to the stage door. A man came to me the other night and said: 'You know what? I didn't want to come. I was dragged here by the wife. But you're all right…' It's a real kick when you get that – when you hear that laughter and that applause. For the songs as well, believe it or not…
SPEAKING OF THE SINGING… DOES EVERYONE STILL ASK ABOUT ERIC AND ERNIE?
They are interested. But we have to remember that Eric in his prime was years ago now. What I've tried to do with this new show is to show a lot of the clips – including that flipping Emu, Freddie Starr, Barbra Streisand, Robert Redford, Mel Gibson… some of the fantastic stars who were on the show. People do ask about these people I've appeared with, especially if they've grown up with me. It's sad that the kind of showbusiness that I know from that era no longer seems to exist. It was a golden era.
ONE OF THE SECRETS OF YOUR SUCCESS IS THAT YOU ALWAYS SEEMED TO GENUINELY ENJOY WHAT YOU DO…
You ought to sound enthusiastic about what you're doing. I think you need to share something with the public. And also, I don't hope they'll laugh, I know they'll laugh, because I've done it for so long now. You find different ways, different approaches, to get people relaxed and giggling, to send them home with a smile on their faces. You don't have to resort to anything other than fun. I remember there was a time when I thought: 'I won't do that joke, because there's a comedian out front who might steal it…' Well, they can't do that any more, because I'm just talking about things that happen in my life. I've been very fortunate, and I just love the business and being part of it. The best two hours of any day, for me, is getting on that stage.
THERE WAS ONE MOMENT WHEN YOU WEREN'T SO COMFORTABLE ON STAGE – THE FAMOUS FAINTING INCIDENT AT THE GLASGOW EMPIRE.
Eric Morecambe said I was the only comedian who ever sold advertising space on the soles of my shoes. But it's absolutely true, I did faint with fear there. I remember the musical director's head coming over me as I was lying flat out saying 'Is this in the act?' I said: 'I've fainted – get me off!'
THE GLASGOW EMPIRE IS NOTORIOUS – SO WAS IT REAL, OR A RUSE TO GET OFF?
It's a long story… But the fear was genuine. The woman on before me ran off in tears, because her husband had died the week before and she was doing the act with her nephew instead. And I was the next person on… It was like walking into a church service, it was… [cont]
Des O'Connor: "The place I really got the bug for the theatre was the Embassy, Peterborough…"  1 2
Leave a Reply