Blackbird: A soaring tale that defies the black and white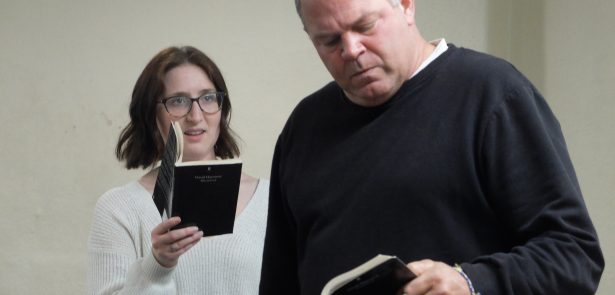 Coming to Stamford Arts Centre in June 2022, David Harrower's play Blackbird is a challenging exploration of a forbidden relationship, which leaves its audience with more questions than answers.
Sometimes you head to the theatre simply looking for entertainment and a night of escapism. On occasion you're rewarded with something much more: a spectacle that draws you in and provokes debate, that you can't stop thinking about for days afterwards.
Winner of the 2007 Laurence Olivier Award for Best New Play, Blackbird is one such memorable and thought-provoking story. It was originally commissioned by the Edinburgh International Festival and over the years has been performed in the West End and on Broadway. Now, director Roger de Toney and the Stamford Shoestring Theatre bring the tale to local audiences in Stamford.
So, what can you expect to see? This major piece of modern writing features just two cast members in one setting: a drab factory canteen. Throughout the 75-minute running time, the audience experiences 'fly on the wall' access into what turns out to be an uneasy and disturbing reunion.
During an otherwise ordinary day at work, 55-year-old Ray is shocked to be visited by a young woman, 27-year-old Una. 15 years earlier the two had an unlawful sexual affair, for which Ray was arrested and imprisoned. Upon his release, he managed to establish a reasonably successful new life under another name and with a fresh identity.
Throughout the performance, the two characters engage in a drawn-out and difficult confrontation. As they recollect their experience of an illicit relationship from both sides, emotions of guilt, rage, shame, anger, hurt – and even attachment – are exposed.
The audience is given an insight into how actions carried out 'in the moment' can have a devastating and long-lasting impact for many years afterwards. The shock of discovering Una's age at the time of the affair makes for uneasy viewing – and defies understanding.
"The subject matter of the play is challenging for the performers and the audience," explains Director Roger de Toney. "This, I believe, makes it an exceptional theatrical experience in its moral ambivalence. I anticipate the questions it raises will stay with the audience long after the curtain has fallen."
The Stamford Shoestring Theatre group has a track record of performing often unexpected material. Throughout its annual programme, the company offers a wide range of drama, from classical to contemporary, and tries to incorporate a rich variety in the selection.
Philippa Vear, Publicity Manager, explains: "Since the start of the pandemic in 2020, it's been a relief to finally get back to some kind of normality and return to live shows once again. We were keen to continue to push the actors and audience with some challenging material."
She continues: "This is certainly a very dark and disturbing drama. Ray and Una recall what happened between them and the impact the affair had on their lives since then. They go through a whole range of emotions in such a short space of time and we, the audience, catch glimpses of how it affected both their lives."
At the time of the affair, Ray was 40 while Una was just 12 years old. We all know this is wrong. However, what feels unsettling is that this tale of tragedy and abuse also contains elements of a love story too. Una was besotted with Ray, and believed that he loved her too.
Floundering after their world implodes – he went to prison, her life was transformed for the worse – the tale leaves its mark on the audience too. We discover how people can get under each other's skins and stay there, changing the course of lives forever.
Blackbird is an unanswered question. Without moral judgments, the play's mesmerising script never shies away from the brutal truth, and instead it's left up to the audience to decide how they feel about the events. We come away with questions. Does Una instigate the reunion to punish him? To rekindle the relationship? Or simply to try and understand what happened in her life?
Philippa continues: "It's hard to define the play: there's no beginning, middle or end to the story. Instead, it's simply a reflection on two people's feelings about a certain period of time in their lives. It really raises questions on the complexity of human emotions."
"Blackbird is very powerful. Everyone knows what is right and wrong, but the murky area in-between is caused by our emotions. And, as everyone knows, human emotions are generally not just black and white."
Blackbird
Leave a Reply