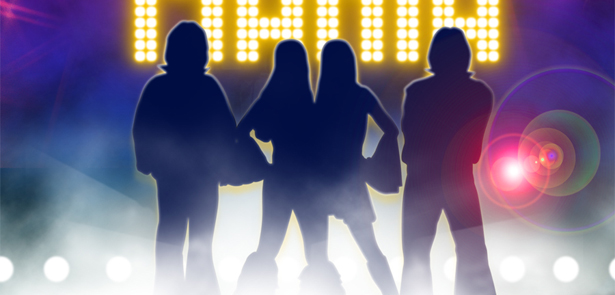 The Broadway will be hosting many live tribute bands and artists during 2018 and we put the question to Broadway CEO, Mark Ringer, regarding the value of these popular types of act to the public and the entertainment industry.
There's no doubt that tribute acts are well supported, but can they be as good or better than real thing?
I don't believe an original artist can ever be bettered by a tribute, simply because the original is the original. Sure, it may be that a tribute vocalist has a better voice, or a guitarist a better player etc, but however good, it's still a copy.
So does that mean that you feel a tribute act has little value?
Not at all. The fact is that the only way you can now get to experience a live performance of music by artists such as Pink Floyd, The Beatles, The Doors, Michael Jackson, Buddy Holly, ABBA, The Eagles, George Michael, David Bowie etc, is by watching a tribute to them. Or it may be that some artists either rarely or never tour the UK. Indeed, are not all orchestras which play Mozart or Beethoven tribute acts? We don't dismiss The Royal Philharmonic because it plays music of long deceased artists, so why should we dismiss modern tribute artists? For me the key is in capturing the same energy and vibe of those artists and delivering the material via an expressive and representative performance. I've never been too interested in a band or artist looking or dressing like the original, but for many that adds to the show and if it gives people a greater sense of realism or enjoyment, then that's just fine.
Can you fill a 1,200 seat venue like The Broadway by booking a tribute act?
Yes that's certainly possible, but it's not our main goal here. We've booked tribute acts that we know will only sell 300 seats, but that's fine, because it's not essential that we sell out the venue every time we book a show. It's more important that we offer a varied live music programme than a purely populist one. For instance, we have the brilliant and entertaining, A Foreigner's Journey, coming here on 7 July playing all the classic soft rock hits of the bands Foreigner and Journey. These two rock bands had some of the biggest hits of last 40 years, including the songs Waiting For A Girl Like You, Want To Know What Love Is, Cold As Ice, Don't Stop Believing, Separate Ways and Juke Box Hero, to name just a handful. But despite how popular and great this event will be, it's more esoteric than say an ABBA tribute, but that wouldn't put us off booking it or having that show on offer to those who love that music.
So what other tributes have you booked and what are you personally looking forward to during 2018?
Sadly I don't get time to see the shows we book, but I do see the odd song or two during a performance. I looked after the sound for The Doors tribute a few months back, so I saw that whole show, which I enjoyed a great deal. We are booking more shows on a weekly basis, but as of now we have tributes booked to Pink Floyd, Frankie Valli, Elvis Presley, Buddy Holly, The Shadows, Foreigner & Journey, George Michael, Meat Loaf, ABBA and tribute shows which include the music of Whitesnake, Bon Jovi, Willie Nelson, Dolly Parton, Johnny Cash, Diana Ross, Marvin Gaye plus many more. Hopefully something for all tastes throughout the year.
Tickets for these shows can be bought online via www.ticketsource.co.uk/thebroadway. Or our box office is open from 9am to 5pm, 7 days per week, so either phone the box office on 01733 306071 or pop in and see our box office staff during those hours. Tickets are also available via the Tourist Information Centre in Bridge St, Peterborough, just near the Town Hall.
Leave a Reply