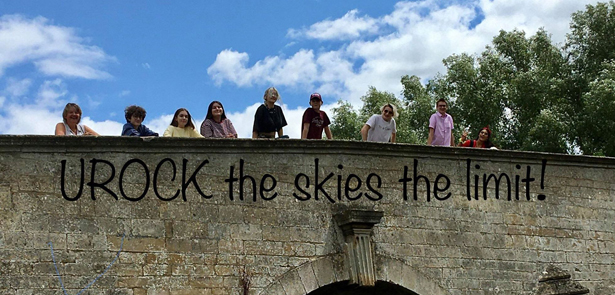 The Eastern Angles team have been working hard to ensure The Undercroft is Covid secure and we're thrilled to say that socially distanced rehearsals and workshops will resume from 1st October, initially for core users: UROCK Youth Theatre, Lamphouse Theatre, KORP and Mask
If all goes well, we will then look at hosting live performance and opening the space to additional users. In the meantime, checkout what's on offer both virtually and in person from The Undercroft users and vist the Eastern Angles website to keep up to date on the latest news, www.easternangles.co.uk
UROCK
UROCK Youth Theatre normally meet at the Undercroft Theatre, and since March have been online, developing a series of time capsule films, showing their lives during lockdown. They are looking for new members, anyone interested should text or message Artistic Director Di Goldsmith on 07885 250443. UROCK plan two new projects driven by young people, using those recently learned skills, exploring ideas of what theatre can contribute at this time. 1. The creation of a concept film to support talent in song writing. Entitled Eye of Mine and written by 16-year-old student Freya Stephens-Dunn, it will engage young people from different communities through its narrative of different perspectives.
UROCK RU OK? A new commission by local cultural partnerships across Norfolk, Suffolk and Cambridgeshire, of digital films for young teenagers. A real working opportunity for UROCK 18+ students heading off to university and finishing local higher education courses. These will support the Let's Create resource booklets, which were distributed during lockdown to vulnerable families. When things get back to normal, UROCKERS meet Fridays 4.30 – 6.00 pm
www.urock.org.uk
Lamphouse Theatre
Watched all of Netflix? Need something to entertain the family? Peterborough Ate My Hamster is a brand-new action comedy musical made right here in the city. Packed full of laughs, with brilliant new music, this romp across the city features a pet hating mayor, a hamster catcher with a vendetta and the citizens of Peterborough. ● You can rent the film for just £3.99 from Lamphouse Theatre's website: www.lamphousetheatre.co.uk, don't miss out on a great fun night in! at The Undercroft, and UROCK Theatre Company meets Saturdays 10.00-1.00 pm. Until the venue is safely open sessions will be online.
KORP Academy
The Korp Academy is pleased to launch a brand new POSCA Club that will teach you how easy it is to draw with POSCA paint markers. You can either join in the live online sessions every Tuesday and Thursday hosted by the professional POSCA artist Korp or watch the catch-up videos at your own convenience. To celebrate the launch of this new club we have a special offer for The Moment magazine readers who can get access to a free session by emailing and quoting "POSCAMOMENT" (offer ends Oct 31st). The lessons are step by step in nature so very easy to follow and best suited to ages 8 to adult.
www.korporate.co.uk
Leave a Reply