The Tina Turner Experience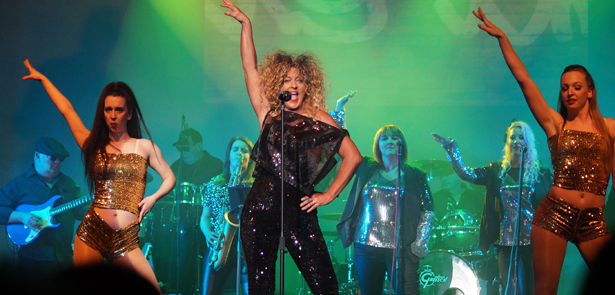 The Tina Turner Experience is entering its sixth year on the road touring the UK and Europe, with Stamford Corn Exchange and The Cresset Theatre scheduled for visits on this year's tour on 23 May and 5 June
The Tina Turner Experience show charts the life and career of the legendary, multi- Grammy winner, Tina Turner – the one and only 'Queen of Rock'. Full of hits such as Private Dancer, Nutbush City Limits, Proud Mary, River Deep Mountain High and Let's Stay Together to name but a few. This show is the ultimate night out! The principal lead Julie Nevada has been performing as a tribute to Tina Turner for the last eighteen years and has been with the show from day one. Julie has spent endless hours studying Tina's moves, mannerisms, vocals and dance moves to perfect her role in the show. In fact, she has perfected the dynamic performance style of Tina Turner to such a degree that she has even earned mention several times by the Tina Turner European Fan Club.
In 2019 the show earned a major accolade. It was voted European Par Excellence Award by the international booking agents The Entertainment Team, with the award being presented to Julie and the troupe mid show, in a sellout performance at the Cultuurcentrum Zwaneberg, Heist-op-den-Berg, Belgium, just prior to the song Simply the Best. Julie says: 'We had no idea what was going on at first as everyone was speaking in Flemish, then we realised we'd won this amazing award!' She wasn't always a singer though – and the music she performed to was once very different. Julie started as a dancer at the Royal Ballet School, performing in The Nutcracker Suit at Saddlers Wells Theatre and Swan Lake at the Opera House Covent Garden.
She then went on to the Urdang Academy of Performing Arts, and it was here that she started to perfect the art of singing and performing, soon becoming a child star in London's West End, appearing in Annie, The Sound Of Music and Bugsy Malone. The band is of the same high calibre as the show's principle lead, having individually performed with some of the biggest names in the industry, including The Drifters, Foundations, The Four Tops and Tony Hadley of Spandau Ballet. The show also features professional dancers who have learned their craft in some of the best dance schools in the UK and the Republic of Ireland. They too have been involved in some big productions not only in theatre but TV, film and music videos for major artists and labels.
The Tina Turner Experience is a completely LIVE theatre/ concert style show, with state of the art lighting and sound, powerful vocals, exceptional harmonies, professional dancers and spectacular costumes – so, get ready to experience all the glitz, glamour and energetic dance routines you'd expect from the real Tina Turner in this exceptional show!
● The Tina Turner Experience

Stamford Corn Exchange, 23 May, 7.30pm
stamfordcornexchange.co.uk

The Cresset 5 June, 7.30pm
www.cresset.co.uk
Leave a Reply