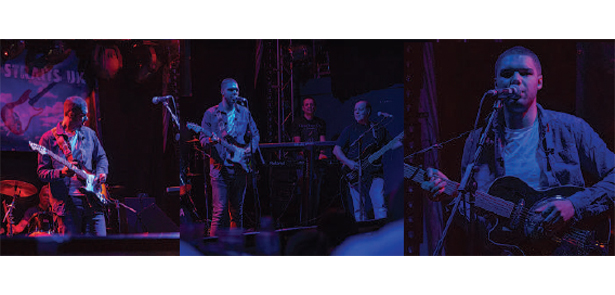 The Straits UK are a five piece Dire Straits tribute band heralding from Newcastle Upon Tyne – home of the great man himself! But they also have a special Peterborough connection...
Formed early in 2018, the band developed from a dream by drummer Dez Lartey, who claims it has taken a mere 30 years to come to fruition. 'I never thought I'd hear anyone play or sound like Mark Knopfler…'
Cue the birth of his son Andrew, now 24 years old and fronting The Straits UK in a way Dez believes no one else could. 'Close your eyes and you'd be forgiven for thinking you are listening to Knopfler at his very best. He really is that good!' explains Dez.

Joined by Ian (keyboards), Bosh (rhythm guitar/backing vocals) and Macca (bass/ backing vocals) The Straits UK play a full back catalogue of Dire Straits material from the first album to the last, as well as the odd track from Knopflers' solo albums. 'Peterborough will be an emotional gig for us,' explains Dez. Having lived there for almost 10 years at the start of the millennium, Andrew attended both primary and secondary schools in Fletton and Orton Longueville. It was actually during this period that his love for all things guitar and drums started to flourish.

On Saturday 9 February at the Key Theatre, the band will be especially honoured to share the stage with the Lartey Sisters, nieces to Dez and cousins of Andrew. They are well-known having toured with Steve Harley for a couple of years, playing with him at Glastonbury and Isle of Wight festivals. The elegant and distinguishing voice of Ashleigh along with the exquisite guitar style of sister Faye made them a huge attraction nationwide.

● To find out more and to book tickets, visit vivacity.org
9 FEB, 7.30PM KEY THEATRE
Leave a Reply