The Silence of Snow: The Life of Patrick Hamilton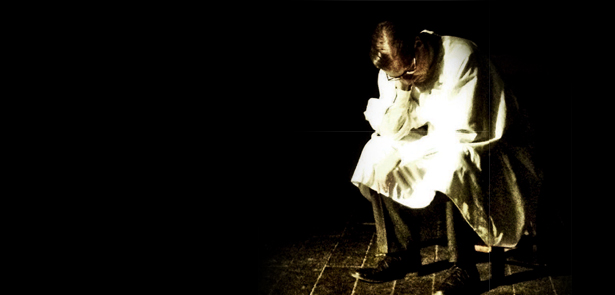 After the successful run of Quentin Crisp: Naked Hope at the Arts Centre last June, Mark Farrelly returns with another riveting and kinetic solo show, The Silence of Snow: The Life of Patrick Hamilton. Once again partnering with director Linda Marlowe, Farrelly brings this new show to Stamford Arts Centre on Friday 5 April
The Silence of Snow: The Life of Patrick Hamilton depicts the life of one of the most celebrated novelists and playwrights of his day. During his twenties, Hamilton was largely successful, producing plays such as Rope, which was adapted into a film by Alfred Hitchcock in 1948, and Gaslight, a Victorian thriller that remains one of the longest-running non-musicals in Broadway history. He also wrote a wide selection of novels, such as Hangover Square and The Slaves of Solitude. However, despite his widespread success, his mental health deteriorated quickly as he became a victim of obsessions with a heavy alcohol addiction. The Silence of Snow presents the full range of Hamilton's turbulent life and writing, showcasing his black humour throughout.
The play, in its entirety, is set in a sanatorium lounge where Hamilton is awaiting an electroconvulsive therapy procedure that he hopes will cure his depression and alcohol addiction. The Silence of Snow equally entertains and challenges audiences, asking why so many of us get through life without feeling we ever truly knew another person. After debuting successfully at the Edinburgh Festival in 2014, The Silence of Snow immediately transferred to a run at London's Old Red Lion Theatre.
In 2015, the play then ran at the brand new Rialto Theatre in Brighton (Hamilton's home town), before running at various theatres in London, including King's Head Theatre in November 2015 and Jermyn Street Theatre in December 2018. Mark Farrelly is an actor and writer born in Sheffield. He has acted in the West End and various international venues. As well as The Silence of Snow, he is also the author of acclaimed success Quentin Crisp: Naked Hope. He is currently touring the UK with both plays throughout most of 2019, before premiering a new solo show exploring the life of controversial filmmaker Derek Jarman.
The production is directed by Linda Marlowe, an acclaimed actress of both stage and screen. On stage, she has toured various shows both nationally and internationally and won the What's On Stage People's Choice Theatre Award for Best Actress. On screen, she is best known for her series regular role of Sylvie in EastEnders as well as BBC's Jekyll and The Green Man. Marlowe was also director on Farrelly's previous production, Quentin Crisp: Naked Hope. She joins Farrelly once again to portray the life of troubled playwright and novelist, Patrick Hamilton.
The Silence of Snow: The Life of Patrick Hamilton ● Stamford Arts Centre ● 5 April, 8pm ● Written and performed by Mark Farrelly ● Directed by Linda Marlowe ● Box Office: 01780 763203
● www.stamfordartscentre.com
Leave a Reply