The 'Lock In' Christmas Carol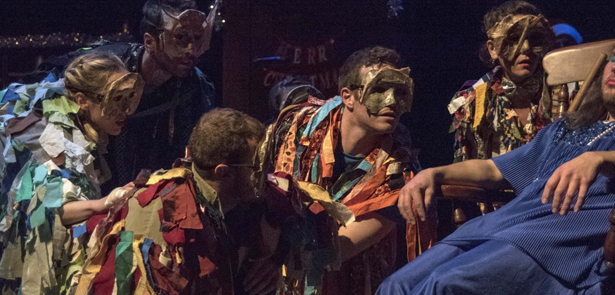 Half gig, half dance show and half panto...
Join the BBC award winning team of musicians and dancers for 150% of the very best festive live music, song and dance! It's Christmas Eve and the regulars of The Olde Fighting Cocks are excited about the night ahead, it's going to be the folk & hip hop dance party of the year! To their dismay the landlady, Jasmineezer Scrooge, has more profitable ambitions and is preparing to launch her new business, the 'Oompah Techno Bar'!
Cheap alco-pops, luminous lighting and mind-numbing bass beats are all in danger of alienating the local community and ruining Christmas! Fortunately, some insightful souls are at hand to lead her back to her senses. Featuring 'folk powerhouse' The Demon Barbers, artists from Breaking Tradition Dance Company; a new seasonal repertoire and a 'slightly unhinged' approach to their family friendly stage shows, they are 'guaranteed to raise weary spirits and send an audience home smiling'! (The Telegraph)
"Some shows demonstrate great skill and technique, some offer strong musicianship, and some create the kind of atmosphere and energy that leaves you high on life. The Lock In does all three" The List (Edinburgh Fringe)
"A full-on show of such blazing energy and joyous ingenuity you scarcely ponder on the apparent madness of trying to marry folk dance and hip hop" (The Independent)
"The Lock In is infectious and gets under your skin to the extent you stop analysing and start just enjoying. Certainly the best night out in town" (WhatsOnStage.com)
Key Theatre, 24 Nov 3pm
www.breakingtradition.co.uk
Leave a Reply