The Hit at Stamford Arts Centre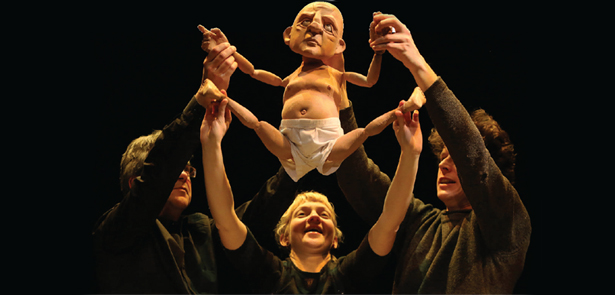 Part puppet performance, part perception game; Strangeface are tackling mind bending material in this project aimed at audiences aged 15 and up at Stamford Arts Centre on Thursday 10 October 8pm
The anti-hero Mikey embarks on an unforgettable odyssey through the doors of the human mind. Its Breaking Bad meets Samuel Beckett in a darkly comic tale supported by Wellcome Trust, Kent County Council and Arts Council England. This one-hour performance features a punch-bag puppet created by one of the country's leading makers in visual theatre. Artistic Director Russell Dean has also made masks and puppets for Vamos, Trestle, Geese, the RSC, Ben and Holly Live, Billy Elliot, BBC, ITV and Channel 4.
The team for this project includes an artist from the phenomenally successful War Horse. National Theatre Creative Associate Mervyn Millar acted as Dramaturg and puppeteers have worked with fantastic companies such as Theatre-Rites, Paper Cinema, Flabbergast and The Royal Court. Strangeface have been based in Kent since 2004 and share an artistic space in Southborough with Applause Rural Touring agency. The company has been to a huge range venues themselves from libraries and swimming pools to major theatres but always work on the basis that shows are community events where people share stories together.
The company loves to have informal, have-ago with a puppet, conversations at the end of performances to hear what audiences think and feel about the topic! During a 5***** run in the critically acclaimed Summerhall venue at this year's Edinburgh Fringe Festival the company saw busy houses, standing ovations and "amazing" feedback from audiences and reviewers alike. They said: "The Hit is masterful storytelling and insightful art. Loved it!" – Audience on Twitter; "There's real thought here, the storytelling layered and deep" "This is a clever and fascinating piece of work… lashings of irony and black humour" – British Theatre Guide; "To see some exceptional puppetry, and enjoy the dulcet tones of a born-to-be storyteller, join Mikey for an hour of noiresque drama and a touch more than an introduction to Leon Festinger's theory" – Edinburgh Guide.
Supported by the research of Dr Nathan Heflick of University of Lincoln, Strangeface are working on a story that matches form and content. Audience members know that the puppet they are watching is made from foam and fabric and that it is moved and voiced by the team of puppeteers. They also want to believe in the character, investing emotion in its journey and are very happy to hold both these ideas as truth simultaneously. The Hit explores our conscious decisions, specifically the way we can rationalise deeply conflicting ideas. A typical example is the smoker who buys expensive cigarettes, knowing what harm they can cause. In The Hit, Mikey is a hit man who faces a crisis when he realises his actions may not have been his choice.
Leave a Reply