The Famous Four & A Half Go Wild in Thetford Forest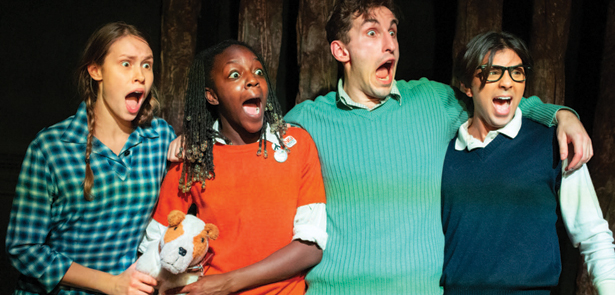 Dad's Army and Boudicca pop up in Eastern Angles' 2019 festive musical comedy show
Eastern Angles return this year with their musical comedy alternative to the Christmas pantomime in The Famous Four & A Half Go Wild in Thetford Forest. Audiences can expect the usual mad-cap humour and original wacky songs as the company transport us on an adventurous time travel fuelled journey with Rupert, Nick, Fran, Alex and Dimmy the dog… The Famous Four and A Half do battle with a shady figure who has stolen their Aunt's time machine.
A crazy chase visits a future Thetford by the Sea, some hipster Neolithics at their local derby, and a certain Home Guard rehearsal. Ivan Cutting, Artistic Director at Eastern Angles, will be directing the show this year. He can't wait to get started: "Directing the Eastern Angles Christmas show is like no other job during the year. There is a script, but it changes, and then it has to absorb the interaction with the audience, the swift costume changes that hilariously go wrong, and the addition or swops of local references during the tour, which always bring whoops of recognition. It's going to be a corker of a show."
The cast of the show includes: Jason Patel, Charles Barnett, Lily Smith, Kandaka Moore who appeared with Grammy award winners Clean Bandit in their music video A&E, and Edward Kaye who recently worked with the Young Shakespeare Company in Twelfth Night.
THE FAMOUS FOUR & A HALF GO WILD IN THETFORD FOREST
• 21-25 January • Key Theatre Studio • Tickets: 01733 207239 or at vivacity.org
• Written by Harry Long
• Directed by Ivan Cutting
• Music by Dominic Conway
• Set & Costume Design by Emma Tompkins
• Cast: Charles Barnett, Edward Kaye, Kandaka Moore, Jason Patel and Lily Smith  
About Eastern Angles Theatre Company
Eastern Angles is the regional touring theatre company for East Anglia. It has a national reputation for producing highquality, new writing with a regional flavour. Based at the Sir John Mills Theatre in Ipswich, the company has been touring professional theatre productions into the towns and villages of East Anglia since 1982. Eastern Angles have also staged productions at the Edinburgh Fringe Festival and at London's Bush Theatre.
www.easternangles.co.uk
Leave a Reply