#SummerFun | Fun for all – just follow the magic!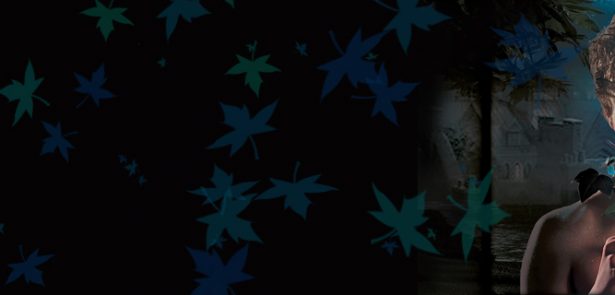 With so much going on in Peterborough, there's little need to head elsewhere this summer. From fun activities to keep the kids occupied to live theatre shows and workshops for adults, Summer 2017 will be one to remember!
Fly away with Peter Pan
Now in its 18th year of touring open-air venues across the country, the Chapterhouse Theatre is coming to Peterborough this August with its stunning adaptation of J M Barrie's Peter Pan. Over the years, Chapterhouse has established itself as one of the most successful and critically acclaimed touring companies in the country, travelling with adaptations of literature's most celebrated writers, including William Shakespeare, Arthur Conan Doyle, Jane Austen and works by the Brontë sisters. The company is now organising its fourth national tour of China. This follows three hugely successful ventures with The Jungle Book, The Hound of the Baskervilles and, most recently, Wuthering Heights. Chapterhouse now visits more than 170 venues every single year and on 24 August it's the turn of Flag Fen, where theatre-goers can experience the magic of Peter Pan.
Presented by special arrangement with Samuel French and in support of Great Ormond Street Hospital Children's Charity, J M Barrie's timeless classic is brought to life in a brand new adaptation by award winning writer Laura Turner. Expect beautifully designed costumes, magnificent music and uplifting songs and join Peter and his friends for what promises to be the most magical evening of the summer. Much of the magic will come from the beautiful natural setting of Flag Fen itself, whose backdrop of trees, water and wildlife will help your mind soar away to Neverland.
This will truly be an evening of escapism: an imaginative performance of a much-loved classic in some of Peterborough's finest scenery. 'I am so excited about this brand-new production of J M Barrie's classic story of Peter and Wendy,' says Laura. 'It's perfectly suited for a summer's afternoon, picnicking in the grounds of Flag Fen and losing yourself in the magic and wonder of Peter and Wendy's adventures in Neverland.' Join Wendy, Michael and John Darling on their adventures with Peter, far away on the magical island of Neverland. There they encounter the enchanting mermaids, magical fairies and the cruellest pirate of them all, Captain Hook. Director Anthony Law explains how Peter Pan will resonate with today's youngsters: 'Having directed many new and modern plays, it has been a thrill to be presented with the challenge to bring alive such a classic as Peter Pan. This classic coming-of-age story is still as relevant today as ever. It's a play about growing up, not wanting to grow up, making choices, and learning about life. It oozes charm, sparkles with wit and is full of wonderful lovable characters.'
Gates open at 5.30pm so theatregoers can settle in early for a fantastic evening of escapism. Remember to bring your own rugs or low-backed seating. Then settle down and prepare to take flight with Peter and his companions!
Peter Pan ● Thu 24 Aug, 6.30pm ● Flag Fen Archaeology Park, Peterborough PE6 7QJ. ● Tickets: £15 adult, £10 child, £44 family (2 adults and 2 children) ● Contact: Key Theatre box office on 01733 207239 or visit www.vivacitypeterborough.com/peterpan  
Keep the kids happy
Looking for lots of ideas to keep the kids happy and active this summer? Then get them along to one of Vivacity's special events or activities designed to keep them busy and having fun – the ultimate cure for summertime boredom!
Archaeology Adventurers Club
7-11 & 15-18 August, 10am-4pm Flag Fen Archaeology Park
Join the team at Flag Fen for some archaeological investigations! The Flag Fen Archaeology Adventurers Club is a new children's club exploring the fascinating history of this ancient site, with full childcare provided so that parents can enjoy a break too! Your budding archaeologist will be able to get hands-on in the Big Dig Tent, try new crafts, explore the Bronze Age landscape and wildlife, and learn how people lived in the past. Suitable for kids aged 8-12. ● Tickets: £22 per child per day, or £90 per week, sibling discounts available ● Contact: 01733 864663, www.vivacitypeterborough.com/flagfenadventure
Knights and Princesses
12-13 August, 10am-5pm Longthorpe Tower
Ever wanted to be a valiant knight in shining armour or a powerful princess who commands the respect of the nation? Now's your chance to learn how. Longthorpe Tower will be filled with medieval characters bringing the building to life over the weekend of 12-13 August. Discover how to transform yourself into a princess or knight during one of the special sessions. Plus – want to write classy Christmas cards this year? Learn to write with a quill from a Medieval monk. Got a blister or a splinter? Visit the Barber Surgeon for a cure (or see which bit of you needs chopping off!). ● Tickets: £4/£3 children, £12 families. No need to book. ● Contact: 01733 864663, www.vivacitypeterborough.com/knightsandprincesses
Club Viva!
Get them involved, having fun and making new friends by taking part in one of Vivacity's activity days, powered by Club Viva, the holiday club for kids aged 4-13. Activities planned for this summer include archery, NERF wars, Lego days, bouncy castles, swimming and more! Book your child's place online today. ● Contact: 01733 864754, www.vivacitypeterborough.com/clubvivasummer  
Walk with ghosts
Every Tuesday throughout July and August, 7.30pm There are no gimmicks or made-up ghosts on this tour – just good, old-fashioned storytelling based on traditional and local tales. Your costumed guide will entertain and educate in a fun and theatrical way, explaining more about the city's past, while sending a few chills up the spine! Due to its gruesome content, we don't recommend this tour for children under 10 or those of a nervous disposition. ● Tickets: £5, £3 under 16s. Meet at Peterborough Museum.
A night at the theatre
Culture vultures get ready to swoop! Feast on a summer of stage and screen at the Key Theatre.
Phil Wang & Spencer Jones
Fri 21 July, 7.45pm
Star of Live at the Apollo, Phil Wang makes his Key Theatre debut followed by BAFTA-nominated Spencer Jones' mash-up of visual comedy, strange music, props and characters. ● Tickets: £11/£9 concessions
Royal Shakespeare Company and National Theatre Live on screen previews
These live screenings bring the Royal Shakespeare Company and the National Theatre direct to the Key Theatre, so you can enjoy the very best performances from the likes of Andrew Garfield and Billie Piper without having to travel far.
NT Live: Angels in America (starring Andrew Garfield)
● Part 1: Millennium Approaches Thu 20 July, 7pm
● Part 2: Perestroika Thu 27 July, 7pm
RSC Live: Titus Andronicus Sat 12 August, 7pm
NT Live: Yerma (starring Billie Piper) Thu 31 August ● Tickets: £11/£9 concessions
Bring on the Bollywood
Thu 24 – Sat 26 August
City and country, old and new collide at Colonel Pawar's ancestral home – the shabby and un-chic Lakshman Villa. This show is a samosa – a classic Bollywood love triangle! See article on page 20. ● Tickets: £15-22, £3 off for concessions
Classic Summer Cinema
Some Like It Hot
Sun 6 Aug, 6pm Commemorating the 55th anniversary of Marilyn Monroe's death.
Blue Hawaii
Sun 6 Aug, 8.30pm Celebrating the life of Elvis Presley 40 years after his passing. ● Tickets: £6/10 for two
● Contact: Key Theatre box office on 01733 207239 or visit www.vivacitypeterborough.com/key-theatre
Ancient and traditional crafts
Every Tuesday throughout July and August, 7.30pm
Fancy a decent alternative to your shopping bag for life? Looking for some classy kitchen utensils to show off when guests are round? Maybe you want to really impress when writing this year's Christmas cards? If you're looking to add that chic homemade twist to your home, get creative with our Heritage skills workshops of basket weaving, spoon carving, calligraphy and more. These workshops run at Peterborough Museum and Flag Fen and are a great way to stir your creative side. This summer's workshops include: ● Needle hitching ● Roman cooking ● Spoon carving ● Introduction to bronze swords ● Silver wrist torc ● Willow basket weaving ● Foundational calligraphy ● Italics calligraphy ● Contact: For the full programme of events, including dates and times visit www.vivacitypeterborough.com
Acting up!
Are your kids real drama queens? Can't stop them singing and dancing around the house? Give them an outlet with the Key Youth Theatre  Now in its 26th year, the Key Youth Theatre's (KYT) Summer School is renowned for its fun-filled atmosphere that offers children the opportunity to brush up on their drama skills in the company of theatre professionals.
Two Summer Schools are held during the summer holidays, each lasting a week with a final performance to family and friends on the Saturday. 'It's just a fantastic week of singing, dancing, acting, making new friends and learning about the skills involved in working within a team,' explains Kindred Director Paul Collings, who runs the Key Youth Theatre on behalf of Vivacity. 'It really is a fantastically supportive, creative environment. All the kids have a wonderful time and go away having had a really positive experience.'
Much of the acting and rehearsals – and of course the final performance – is done on the main stage of the Key Theatre. 'The opportunity to go onto a professional stage with lighting, sound and all the production values attached to it is what makes the Summer Schools unique,' adds Paul. Any aspiring actors aged between seven and 18 are welcome to join in, with groups broken down by age. Each group takes on its own play, revealed at the start of the week.
'It's kind of a tradition. We don't give anything away until we meet the children for the first time on the Monday morning, so it makes for a nice surprise for them.' Perhaps the greatest thing to be gained from the Summer Schools is long-lasting, genuine friendships. 'Kids struggle these days. They're often pigeon-holed and expected to conform. The theatre is a place where they can be themselves, with like-minded people, so some very strong friendships are naturally formed.' Younger children between the ages of three to six can also try their hand at drama by enrolling with KYTeenies.
The two-day workshop includes music, movement, spoken word and drama, with well-known theme tunes and songs from favourite programmes. On day two of the workshop parents are invited for a presentation of the children's work, which this year has as its theme the popular classic Beauty and the Beast. 'Everything is planned in 15-20-minute blocks of time, to keep the youngsters engaged. The team are all theatre professionals; what they do at KYTeenies is absolutely fantastic.' There's no doubt that drama and song lifts the spirit and makes you feel great. With many likeminded new friends to share the experience with, children and young adults alike will relish the experience. Bring some drama into their lives – for all the right reasons!
Kindred KYT Summer School
● Mon 24 – Sat 29 July, and Mon 31 July – Sat 5 Aug
● Key Youth Theatre, Embankment Road, Peterborough PE1 1EF.
● One week costs £160 with a £15 discount per additional child or for those booking more than one week. ● Reserve your place at www.vivacity-peterborough.com/kytsummer ● KYTeenies runs on Mon 14 – Tue 15 Aug and costs £50 per child. More details on the website.
Spamalot
Wed 16 – Sat 19 August, 7.30pm, Sat matinée 2.30pm Just want to watch? Then come along to enjoy KYT's production of Spamalot. Lovingly ripped off from the classic film comedy Monty Python and the Holy Grail, Spamalot tells the legendary tale of King Arthur and the Knights of the Round Table. KYT are delighted to bring back the plague to Peterborough… with a 50% chance of pestilence and famine, together with a brace of impossibly beautiful dancing girls, flatulent Frenchmen and monster killer rabbits. ● Tickets: £17/14 concessions ● Contact: Key Theatre box office on 01733 207239 or visit www.vivacity-peterborough.com/key-theatre
Words about town
Children's reading can dip over the summer holidays. Keep their reading skills up with Vivacity's Summer Reading Challenge and associated programme of activities celebrating the magic of both the written and spoken word.
The Summer Reading Challenge 2017 runs from 15 July to 3 September and invites youngsters aged 4-11 to read six books of their choice. With rewards to collect along the way and a certificate when they reach the end of the challenge, this is a fun – and FREE – way to keep your children's reading up to speed over the long summer holidays. Sign up at any of Peterborough's libraries.
Animal Agents
Tue 25 July – Wed 30 Aug, 10am-5pm (last entry 4pm)
Peterborough Museum
Get even more out of the Summer Reading Challenge with our Animal Agents themed events at Peterborough Museum. Did you know elephants used to live in Peterborough? That the Romans loved rabbits? Or that dogs have been our pets for over 10,000 years? Join us for six weeks of museum mysteries as the Agents travel through time. Can you help them solve the trickiest puzzles history can throw at them? Find clues, unravel riddles and get up close to objects. Plus with storytelling from every era, you'll travel from the Jurassic period to the age of steam in no time! Each week has a different theme: ● Dino Detectives: 25-26 July ● A Mammoth Mystery: 1-2 August ● The Prehistoric Puzzlement: 8-9 August ● A Roman Riddle: 15-16 August ● Anglo-Saxon Secrets: 22-23 August ● The Victorian Deduction: 29-30 August ● Tickets: £3 children, £4 adults, £12 families. No need to book, just drop in. ● Contact: www.vivacitypeterborough.com/library-archives
Amazing Animals!
Fri 28 July Werrington Library: 10-11am Hampton Library: 12-1pm Bretton Library: 2-3pm Lion Learners will be in Peterborough with their Amazing Animal experience sessions. Meet some friendly animals who will teach you all about their own special skills! Children will have the chance to meet and handle a snake with a super sense of smell; and a millipede whose many legs help her to climb and dig. There will be plenty of other animals to meet too, including the rabbits with their acute sense of hearing, and a spider whose eight eyes help her make sure you will never creep up on her! There will be stories featuring these animals to enjoy too! ● £4 per child, accompanied by an adult. Suitable for ages 4 and up. Book in advance at any library.
Once Upon A Festival: Stories in the Park
12 August, 11am-5pm Central Park
Let your imagination run free as you escape to Peterborough's very own Storytelling Festival. Vivacity's Our Story Project comes to Central Park on 12 August for a packed programme of storytelling, theatre performances, puppetry and creative workshops. The aim is to stimulate young minds and improve literacy and reading skills in a fun and certainly unique way! Storytellers lined up for the day include Paul Jackson, Marion Leeper and Tilly the Tale Spinner, who promise to bring the magic of stories to life.
Expect puppet performances from the Theatre of Widdershins and the Nutmeg puppet theatre. Go for a walkabout with Teddy and Otto, listen to the children's choir and explore the mini library. There will be lots of opportunity to get crafting too. The Fairyland Trust will host a story and fairy crownmaking workshop, while Charley Genever (Peterborough Laureate, 2016) and Kat Kashman will lead a children's poetry workshop – a great way to wax lyrical and play with words! There's face painting and a colouring-in station, plus Vivacity's traditional baby rhyme time and sensory sessions go on tour. The Storytelling Festival will be a busy one with plenty of words, wonder and wit for everyone in the family.● Contact: www.vivacity-peterborough.com/ourstory
Leave a Reply