Stamford Shakespeare Company: Dramatic Material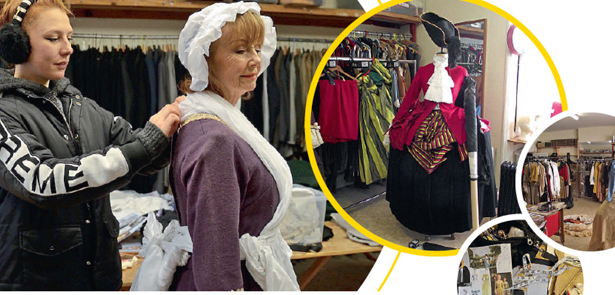 Miriam Spring Davies is the Costume Designer & Maker for the Stamford Shakespeare Company and is responsible for costuming all three productions this summer. With 78 characters and a whopping 129 costumes Miriam has her work cut out for her!
Miriam begins in August by reading each of the three plays several times. She records any references to costume made within the texts and begins to build up a profile for each of the characters. In October Miriam meets the three directors to discuss their visions and get a clear idea of what each of them wants. She then begins her in depth research of accurate historical costuming and looks for inspiration wherever she can find it. She creates research boards for each individual character and sketches her costume ideas. Once all this is complete Miriam goes back to each Director to finalise everything and make sure everyone is happy.
Miriam says: 'There is an incredible amount of work to do to get each character's primary costume ready for three photoshoots (one for each play) which occur late April/early May. From mid May onwards the secondary costumes will be completed in time for the relevant opening nights. Then, throughout the season, I will be on hand every night for dressing and maintenance.' Miriam is incredibly passionate about her job. 'I love what I do.' she says.
'This year all three plays are totally different, worlds apart, which makes the work so interesting. I am able to come at each one from a very different angle.' 'The School for Scandal is being set in the 18th century. The fashion for the older characters in the play will be drawn from the late Georgian period, whilst the younger characters will be inspired by the early Regency period. I am planning bold patterns. Stripes are a main, recurring theme. I am also taking great inspiration from Vivienne Westwood in creating bold imagery for the scandalmonger characters.'
For The Merchant of Venice as well as making new outfits, Miriam is repurposing several of the costumes from stock. This production is being set during the Italian Renaissance and Miriam says, 'There is a great emphasis on romance and sexuality, along with a strong colour scheme. Portia's household in Belmont are all being dressed in blue and silver, whilst the scenes in Venice are more rustic and have deliciously warmer tones. My research has shown that the Jewish population in Venice at the time wore red hats and that colour will be reflected in the costumes the Jewish characters will be wearing.'
The Merry Wives of Windsor is being set in post war Windsor life of 1947. 'Tweeds will feature heavily.' Miriam says. 'I am spending a lot of time attending vintage fairs to source clothes as I want to use as much authentic costume as possible for this production. Luckily this period is enjoying a popular revival at the moment and although you have to look hard you can find it.
'I am honoured to be a part of such an amazing company,' says Miriam. 'Designing and making costumes here is a real privilege, particularly this year with the Company celebrating its incredible 50th anniversary. There is an enormous amount of work still to be done, but I am already so excited about seeing the audience's reaction on opening night!'
● If anyone is interested in joining the wardrobe team or has any material they would like to donate please contact Miriam at ● The booking line is open for the 2018 summer season. Box office: 01780 756133 ● For more information, visit www.stamfordshakespeare.co.uk
Leave a Reply