The Sixteen Choral Pilgrimage 2018: Sacred and Profane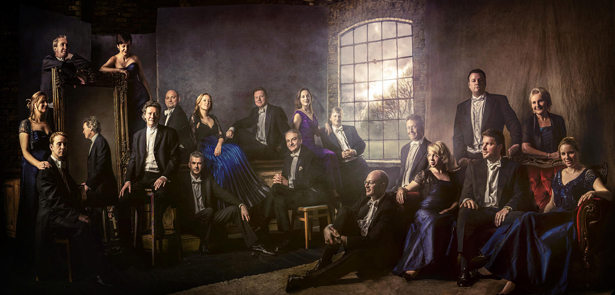 This October, Peterborough favourites The Sixteen return to Peterborough Cathedral with a beautifully curated programme contrasting the sacred and secular work of the two 16th-century composers, William Cornysh (father and son), and one of the 20th-century's great masters of vocal music, Benjamin Britten. Here, Founder and Conductor offers his introduction to the concert programme...
Over four centuries separate these two representatives of English choral music at its finest. William Cornysh and Benjamin Britten were prolific writers of both sacred and secular music. When we talk about Cornysh we are actually referring to two people, often confused with one another and quite possibly father and son. Both originated in Westminster, the Elder died in 1502 and the Younger in 1523, of whom much more is known. The matter of telling which man wrote which works is impossible to settle, so for the purpose of this programme I have decided to link them as one. So whether it be the Elder or the Younger, we are fortunate that they not only excelled at writing complex and adventurous antiphons for the church, but also beautiful secular songs for the Tudor court. Of course for Britten writing in the 20th century life was very different; he was a composer who encompassed so many facets of music, excelling in opera, solo song and all manner of vocal and instrumental music.
This programme looks at the way these two composers mixed sacred with secular. Whilst Cornysh's sacred music is elaborate and rhythmically complicated, his secular music is simple yet subtly evocative. Britten makes constant demands on vocal artistry best displayed in the last work he ever wrote for unaccompanied voices, Sacred and Profane, which he composed in the winter of 1974-75. Britten chose his texts with great care; these are mediaeval lyrics and he gives us a fascinating mixture of the devotional and the rumbustiously secular. The final song 'A death' is a wicked blend of horror and gallows humour far removed from the melancholic canon Ah Robin, gentle Robin by Cornysh.
Britten had a distinct affection for mediaeval lyrics. He clearly enjoyed the archaic language, the vowels and expressive consonants, in the same way that Cornysh relished in the insistent rhythm of the passion poem Woefully array'd. The importance of fine poetry to both these composers is abundantly clear, be it the glorious poetry of Cornysh's Salve Regina, WH Auden's extraordinarily evocative Hymn to Saint Cecilia or Randall Wingler's earnest political poem Advance Democracy. We are undoubtedly blessed to have this glorious poetry set to music by two of the finest composers of their respective ears; the both call on extraordinary feats of vocal virtuosity, demanding yet ultimately so rewarding.
Discover more about this year's pilgrimage in The Sixteen's exclusive behind-the-scenes trailer featuring interviews with Harry Christophers. Visit: thesixteen.com
The Sixteen: Choral Pilgrimage 2018 – Sacred and Profane
Peterborough Cathedral
Wednesday 24 October, 7.30pm
Box Office: National Centre for Early Music: 01904 651 485 / tickets.ncem.co.uk
Programme:
Britten Hymn to the Virgin
Cornysh My love she mourneth
Britten Hymn to Saint Cecilia
Cornysh Salve Regina
Britten Advance Democracy
Cornysh Ave Maria, Mater Dei
Cornysh Woefully array'd
Cornysh Ah Robin, gentle Robin
Britten Sacred and Profane
Leave a Reply