Sing for Life 2017: supporting Thorpe Hall Hospice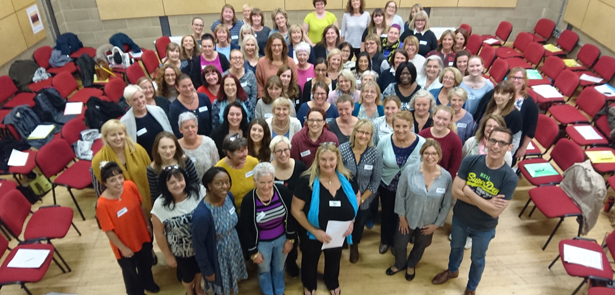 Saturday 21 October will see over 100 specially-recruited women from across the city and beyond perform live on stage at The Cresset Peterborough in the Sing for Life 2017 gala charity concert, supporting Sue Ryder Thorpe Hall Hospice.
Directed by William Prideaux, the concert will mark the end of a pop-up project organised by award-winning women's choir Peterborough Voices which – as well as raising much-needed funds for Thorpe Hall – aims to make singing inclusive and accessible to all women regardless of age, social background or previous experience.
The project grows year on year and once again has been inundated with singers wanting to get involved, attracting women from as far afield as Oundle, Spalding, Bourne, St Neots and Sleaford, most of them with no previous singing experience whatsoever and each with their own individual reason for getting involved.
While many had always dreamed of joining a choir and jumped at (or been pushed into!) the opportunity to do something about it, others were looking for a personal challenge and new goals to take them outside their comfort zone, and for some Thorpe Hall and the exceptional care it provides to its patients and their families has a very personal significance.
Phillipa from Orton Wistow has a special connection with Thorpe Hall where earlier this year her husband was cared for during the last few days of his life, and has continuing links with the charity. "I was dreading the evenings without him," she says. "I saw Sing for Life advertised and it seemed like the perfect thing to do. I've enjoyed every minute".
It costs £8,000 every day to provide care to patients at Thorpe Hall Hospice and in the community, and fundraising is always a priority. On behalf of Thorpe Hall Hospice, community fundraiser Cheyenne Graves says: "We're all touched that, once again, the Sing for Life project involves people who have had first-hand experience of our care and have chosen to support us in this way."
For team Sing for Life 2017 the project has proved an overwhelmingly positive experience! They have become "part of something amazing" in the words of Jo, from Werrington, who continues: "I've made some really great friends doing something I love and that I find exhilarating, challenging, hard work and completely rewarding… It's been fantastic!"
So, if you're free on Saturday 21 October, join the Sing for Life 2017 women together with Peterborough Voices at The Cresset for what promises to be a spectacular celebration of everything they have achieved, while raising money for a fantastic local cause too!
Sing for Life 2017 is at The Cresset at 7.30pm on Saturday 21st October. BOOK NOW! Tickets available from cresset.co.uk or by phone on 01733 265705
Leave a Reply