Sing For Life 2019: 40 women wanted!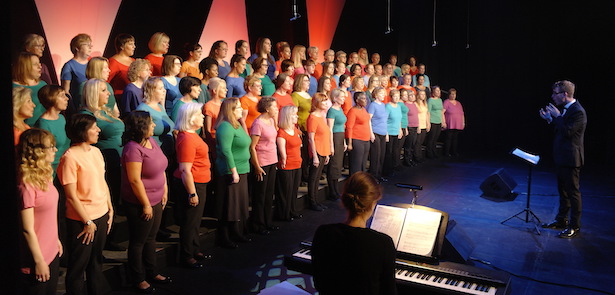 Now that the January blues have passed and the days are beginning to get just a little bit longer, it's time to get out and do something new and exciting for 2019! Sing for Life could be just the ticket…
Launching in May, Sing for Life will sign up 40 local women with a range of previous singing experience (including none) to rehearse over 10 weeks for a charity concert supporting Sue Ryder Thorpe Hall Hospice at the Cresset on Saturday 20 July. The project aims to make singing inclusive and accessible to all women regardless of age, social background or previous experience and over the years has introduced hundreds of local women to the joys of singing while raising many thousands of pounds for this much-loved local charity.
There are as many reasons for getting involved in Sing for Life as there are women who take part: singing has a host of well-documented health and wellbeing benefits, there's a fantastic social scene, and the chance to meet people you wouldn't normally meet and discover music you wouldn't usually experience. Plus of course there's the charitable side of the project and the opportunity to give something back to the community, as well as to challenge yourself and try something new!
Sarah took part in the project last year and says "I kept seeing banners on my way into work – I was tempted to have a go and I'm so glad I signed up, it was the best thing I ever did! The first session was a bit daunting because I didn't know anyone but by the end of the night I'd made new friends and already felt part something much bigger! You get such a buzz from singing in a group, and performing live on stage in front of friends and family was the highlight of the project for me!"
Lisa, from Stamford says "as a cancer patient I thought to myself 'I need to start doing things' – not a bucket list as such, just things I'd always wanted to do – and when I saw Sing for Life advertised, I thought I'd have a go! The whole experience has been just brilliant – both the singing, and meeting so many different people from all walks of life. After more than two years of treatment I can't do enough to give back – Thorpe Hall does an absolutely amazing job for so many people!"
Nilesh Patel, Community Fundraiser at Sue Ryder Thorpe Hall Hospice says "The support we receive from the Sing for Life project is invaluable and we're really delighted that, once again, they have chosen to support us in this way. It costs us £9,000 a day to provide care to people in our local community. That's not just the nursing, it's things like lovingly prepared meals, specialist medical care, family support and round the clock opening hours so friends and family can be there whenever they need to be."
"Sing for Life is not about finding the next Adele; it's about helping ordinary women find their voice" says William Prideaux, the project's director. "So many people lack confidence or genuinely believe they can't sing, but deep down just about everyone secretly has a favourite karaoke number, and – we promise – our very experienced music team will have you singing, and loving it, in no time!"
Sing for Life launches with introduction sessions at the John Mansfield Campus on Thursday 9 May (5.30-9.30pm) and Saturday 11 May (2-4pm). Absolutely no previous singing experience is necessary, just a willingness to step out of your comfort zone, get stuck in and give it a go!
Whatever your starting point, over the 10-week project your singing will improve in leaps and bounds and – while you might not end up winning the X Factor or perform at Covent Garden – that's a huge confidence boost and very liberating!
So, get in touch and get involved: there's a whole new world waiting! 
Introduction sessions will be at the John Mansfield Campus, Peterborough PE1 4HX on Thursday 9 May (5.30-9.30pm) and Saturday 11 May (2-4pm). Please call/email to register.
The Sing for Life concert will be at Peterborough's Cresset Theatre at 7.30pm on Saturday 20July.
Leave a Reply