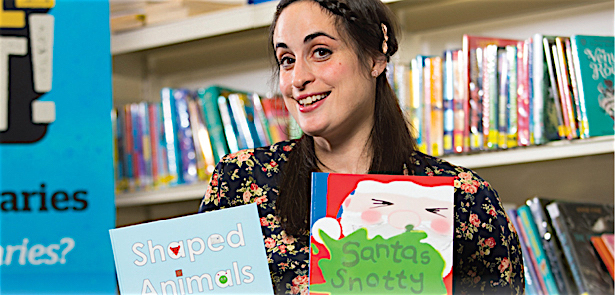 Shaped Animals As part of Vivacity's week of events aimed at children during February Half Term (19-23 Feb), local author Sayeh Stone will be bringing her new book Shaped Animals to Vivacity's Central, Werrington and Hampton libraries. There will be storytelling and craft sessions based on the book for under 5s – all of which will help teach young children about shapes and early maths. The Moment talked to Sayeh about the book, her storytelling, and her sources of inspiration.
Tell us about the new book, Shaped Animals…
It's teaching you maths through storytelling. Even though you're reading and developing your English, you're also learning about maths and the four basic shapes. It explains what a triangle is, a circle, a square, and a rectangle but I've made them into animals so it's fun for children. So, Triangle Tiger goes looking for animal friends to come to his party and comes across Circle Caterpillar, Square Snake and Rectangle Rhino, and they introduce each other describing themselves. Square Snake says: 'Hello, I'm Square Snake. I have four sides…' The illustrations are simple but very bright and clear. It's just a way of making learning those four shapes fun.
What made you want to create books like this?
I've always created stories. I went to university to do drama and writing and I have been a radio presenter most of my working life. It's absolutely brilliant. But with the shifts involved it would have been difficult to have raised my baby and present full time, so I gave up the radio job during the week. When I gave up my full-time radio job to become a mum I wanted to find something that used my creativity. I didn't want to just sit around and get baby brain – as the saying goes. So I got my old stories out, along with creating and writing new ones. I'm a single mother as well, so it has been a struggle juggling everything. But with loads of determination, drive and positive energy, I did it. The wonderful thing, as it goes, I surprised myself, I'm a pretty good juggler! I'm pleased to say that I've returned back to the job I love, and present at Rutland Radio now, as well as being a children's author and a mum.
So, being a parent was actually the spur?
I used to leave little notes for my daughter on her high chair, asking her how many ducks she could count, or  what the weather was like outside or mini stories. She couldn't read them herself, but grandma would be there to read with her. That led to me getting out my stories again and writing new ones. So, from the start I wanted there to be a learning element in there, beyond just reading – something that made maths, science or reading fun. And my daughter was the guinea pig! I loved seeing her face light up with the illustrations that I did or the stories that I told, and it felt it would be a waste not to share that with other children.
How did Shaped Animals come out of that?
There was this one particular idea that kept bugging me involving shapes. I had realised that there were loads of books out there asking you how many triangles you could count or the shape of the fairy dress, but nothing really explaining what the shape itself was – apart from those work books that always seem a bit boring for a child and that are quite overwhelming to look at and follow. One thing I was very keen on was making learning fun because I knew as a kid growing up in school how tedious learning could sometimes be. It's changed a lot, of course,but teachers are actually under even more pressure now than they were then. So I started writing Shaped Animals. Every few weeks, I would go to various bookshops to see if there was anything like that out there, explaining the shapes, but there still wasn't. This lasted for quite some time. After finishing the manuscript and illustrations, it was time to send it out.. The feedback I was getting from publishers was that it didn't fall into any one of their genres. They felt it was 'educational' so kept steering me towards the National Curriculum. But even so, the feedback was always positive. I obviously didn't know it would be a success, but I'm one of those people who is very persistent.Until I know I've exhausted every avenue, I'll keep going. I think that's one major quality you need to have as an author – to keep going. Finally Austin Macauley came along… I went to London and we had a big meeting. It was quite a lengthy process thereafter, the book got developed slightly, and about eight months later they published it!
How did the readings and events come about?
I suggested to the publishers about doing school tours, which they gave the thumbs up to, and which I love doing and it just went from there. I think one of the reasons authors fail is that they think once you've written the book, that's it. But you have to put so much work in after writing the book and help get the book there, even if you have a publisher behind you. Not only does pleasure to have written something and see it in the children's hands, but to actually perform it – my own material – is really exciting! I recently had an event at Waterstones and was totally blown away by the attendance and outcome. I read my book and the kids got involved as I read it (and I asked some questions to make sure they were listening) then we had some activities afterwards. It went down a storm! It was brilliant. Not many authors get the chance to bring their story to life in that way, by reading it and performing it for children, so I'm very lucky. And I don't take that for granted; I really appreciate the fact that I've had the opportunity not only to write it but to read it to children as well. So, on the Monday during Half Term (12 Feb) I will be doing as many readings of Shaped Animals as possible – to share the book with as many children as I can.
Are you passionate about education?
Yes – and the fact that it is local to Peterborough is important to me, too. Not only do I get to visit some of the libraries that I went to when I was a child, I get to share the book with children who really need that support. I went to school in Peterborough and had some pretty awesome teachers that inspired me. I'm especially grateful to my wonderful parents who would forever listen to my stories and natter! Having done various school book tour readings already, I understand that teachers are sometimes frustrated by National Curriculum guidelines, so I'm more than happy to be doing something that can give them a break or, more so, provide another element that makes learning fun and interesting. I've visited the Phoenix school and the Learning Tree nursery to name a couple, and still doing tours, which has been amazing.
What's next after Shaped Animals?
There are lots of ideas and books in the making. You'll have to wait for them to be published! More educational books on the way from science to languages. And then s s. w boo out th publishe it give me there is my latest book, available to purchase now – Santa's Snotty Story, which I have self-published. It's not educational. It's just for fun and the festive season. I've also created an audio book version of Santa's Snotty Story that's available to purchase as well.. I'm not setting out to be J K Rowling and make millions, I just want to keep creating my books for little people, to see my books in their hands and for them to be excited and happy about learning, like my little girl. That's really why I do it.
You can find out more about Sayeh Stone and Shaped Animals at: Peekaboo Books by Sayeh Stone on Facebook. You can purchase Shaped Animals on Amazon or visit Waterstones
Shaped Animals Workshop with Sayeh Stone
Monday 12 February 2018
Vivacity's Werrington Library 10am • Central Library 12 noon • Hampton Library 2pm
Do you have young children under 5? Meet Sayeh Stone, author of the acclaimed children's book Shaped Animals at Vivacity Libraries during February Half Term. Hear some stories and craft your own animal creations.
FREE but must be strictly booked in advance. Limited availability. Find out more at vivacity-peterborough.com or book in person at any Vivacity Library.
Leave a Reply