The Scoundrels are coming to Peterborough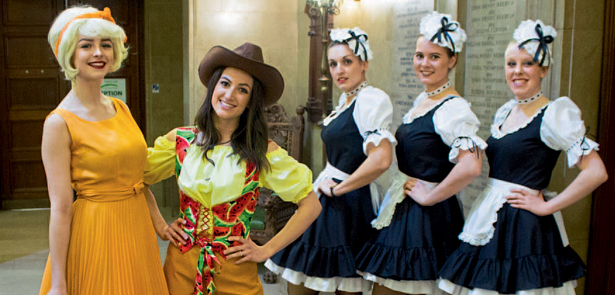 Six months of rehearsals have gone like a flash and The Peterborough Operatic & Dramatic Society are treading the boards of the Key Theatre from the 20-24 March with Dirty Rotten Scoundrels. Things are getting exciting within the company as the prospect of performing this big, fun witty show to the people of Peterborough is becoming very real
PODS as a society clearly work hard together and with many organised social events they play hard together too. It's a cliché but they really are like one happy family, and that may be because some of them actually are related. Amanda Villamayor, who plays multi-millionairess and scoundrels target Muirel Eubanks, joined PODS three years ago after moving to Peterborough from London. Her son and mum are also involved in the show.
'My mum got me into theatre to start with as she was a professional dancer and, my father was a professional singer so I've known amateur dramatics all my life; Mum is doing the costumes for this show so is very involved. And my son Charlie is also a keen performer so he joined for 9 to 5 last year and can't wait for Scoundrels this year.
'I worked professionally in the west end,' Amanda continues, 'but took some time out to raise my children and life takes you on paths you don't expect to go on. That's why I was so happy to find PODS because after you've been out of it for many a year it was wonderful to find a fantastic group with wonderful performers and a fantastic reputation that would allow me to carry on my love until the children have flown the nest and I can hopefully go back to London.'
Performer and social secretary Phil Booty also has family connections within the show. 'PODS has always been a part of my life,' Phil explains. 'My family are hugely supportive of me doing this. My mum is involved doing backstage and my partner is the director, chair and choreographer.' Phil plays Inspector Andre Thibault, a chief of police who isn't always on the right side of the law.
Phil recalls when he started in PODS and how it has become such a big part of his life. 'I joined PODS in 1997 when I was 13 in Carousel. I did it a few years as a child member, then later became an adult member. I had a hiatus when I started my job but have been on and off for 21 years. It's a place where you meet like-minded people and meet some really good friends.'
Here's why they think you should come to watch PODS. Phil makes the strong point: 'Amateur theatre is one of the arts which if we don't support it will disappear. It requires a lot of talent and a lot of hard work.' And Amanda enthuses: 'People should come and see scoundrels because it's two and a half hours out of your life where you can come and be thoroughly entertained.'
● Dirty Rotten Scoundrels is on at the Key theatre between 20-24 March Key Theatre Peterborough. Box Office 01733 207239
Leave a Reply