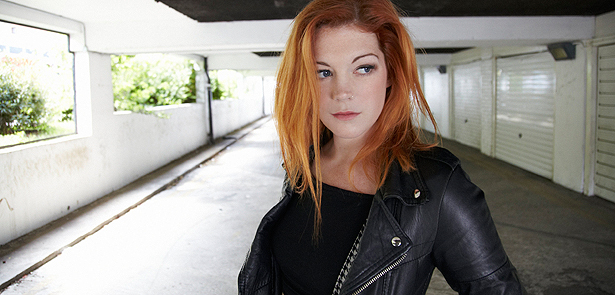 2018 sees the fourth Stamford Verse Festival, hosted by Stamford Arts Centre (11-15 April), featuring Lemn Sissay, Ash Dickison and Liverpool poetry legend Roger McGough with his band Little Machine. One of the sure highlights, however, is an artist who doesn't employ spoken-word at all – beatboxer and singer Grace Savage. The Moment talked to her.
You're not known as a poet – what will you be bringing to the Verse Festival?
I do write lyrics, but I'm mainly known for my beatboxing. People often get confused and think I'm a rapper as well, but I'm not – I'm a singer, songwriter and beatboxer, so that's what I'll be doing. But although I don't do spoken word my world crosses over with poets quite a lot. Often I'll be on a line-up where there'll be a spoken word artist, a beatboxer and a singer.
How did it all start?
I grew up in a small town in Devon and when was about 15 happened to know a lot of older guys who were beatboxing. A friend of mine called Belle – now known as Bellatrix – also started beatboxing, and I basically learned from them. I thought it would just be a fun hobby; I didn't think I could make a career out of it. Then 12 years later it became my actual job! And the great thing is you don't need expensive equipment or to be sat at an instrument. You can literally do it anywhere.
Beatboxing is something everyone can do 'a bit', but how get to the incredible level you're at now?
People sometimes ask me 'When did you discover you could beatbox?' which is kind of interesting, as it's not like you just wake up one day and have this magical skill! It does take hours of practice, just as it does in any area of music. It is quite an addictive thing once you start learning – you get a snare sound and think: 'How can I perfect that to make it even better?' And the great thing is there are no rules. There are no graded examinations or right ways of doing it, so you're completely free to create your own material and routines. That does take a lot of practice – and some natural musical ability. I teach a lot of beatboxing and always say anybody can do it, but you do find some people pick it up quicker – usually people who have fewer inhibitions and being willing to make stupid sounds and look a bit silly! When you're teaching kids before they hit their teens, they pick it up easily. They've just got no inhibitions. They get it. But also it's important to say it's not just about sound effects. It is about creating music, creating songs. That's the area beatboxing is moving into now – beatboxers working with other musicians, dancers, visual artists – basically, it being an art form and not just a gimmick. That's what I'm more interested in – creating music, and telling a story.
How did beatboxing develop into songs?
I started purely beatboxing, no technology, no tricks, no effects – just me and the microphone. My next step was to get a Loop Station, so I could loop those beats and create different layers and textures live, and start creating songs. The guy I often work with now is a DJ, so I will loop beats and he will use his setup to trigger samples, play a bass line and so on – but at Stamford it will be just me and the Loop Station; part beatboxing, part covers, part original songs.
How do the words come about?
It's very important to me for the lyrics to be personal and meaningful. I actually start out writing free-form poetry – just a splurge of thoughts and feelings – and then I'll work on that to make it into rhyming couplets. I've actually been writing songs since I was about seven or eight years old and secretly always wanted to be a singer, but for a long time I was terrified of singing in public and hid behind the beatboxing. Now, finally, at the age of 28, I feel comfortable calling myself a singer and songwriter!
Grace Savage will be performing at the Festival on Friday 13 April.
New acts and events are being confirmed all the time, so keep an eye on Stamford Arts Centre website for the latest details.
Stamford Arts Centre, 27 St Mary's Street, Stamford
Box Office: 01780 763203
www.stamfordartscentre.com
Leave a Reply