Rock Choir comes to Peterborough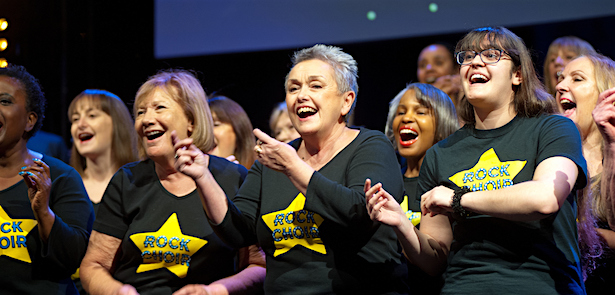 This September, Mike Tandy will be bringing the UK's favourite contemporary choir, Rock Choir to Peterborough!
One of the many great things about Rock Choir is It offers a glamorous, inclusive experience with no auditions and no requirement to read music.
Anyone joining need not have any previous singing or musical experience. Last year, Mike and the rest of the Rock Choir Vocal Group, opened the 2018 BBC's Proms in the Park hosted by Michael Ball live on BBC Radio 2. It was here that created the highlight of Mike's Rock Choir career: London's largest ever flashmob, with over 10,000 Rock Choir members, secretly positioned amongst the 40,000-strong audience, singing and dancing!
"Around 100 of those memberswere from this part of the world – it was just incredible!" We've heard a lot recently about how good singing can be for us. Whether it's in a choir or at an individual level. It helps improve people's wellbeing by building their self-confidence, selfesteem and in turn, improving their mental health and general health. As well as singing, the Peterborough branch will join a network of choirs in West Norfolk, contributing some work for local charities.
The Choir has donated a significant amount of funds recently to many causes in Cambridgeshire and Norfolk. Whether it's your weekly singing fix on aWednesday, a day out recording at the iconic Abbey Road Studios in London or singing at some of the most spectacular venues across the country, Rock Choir can offer you something unique.
● Please visit www.rockchoir.com for more information on how you can become a Rockie!
Leave a Reply