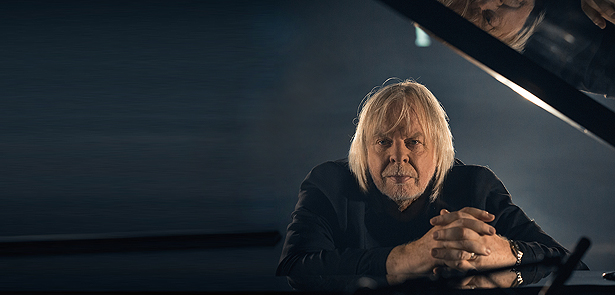 In the summer of 1971, a brilliant young session musician named Rick Wakeman – up-and-coming keyboard player with the Strawbs – sat down at Trident Studios, Soho, and recorded the piano accompaniment to several new songs by David Bowie. One of them was Life On Mars. 45 years later, on the occasion of Bowie's untimely death, Wakeman found himself performing it again – this time as a solo piano piece, without Bowie's vocals. Of all the tributes paid, this was perhaps one of the most poignant. Reaction to the performance prompted Wakeman to go back to basics and record Piano Portraits – an album of solo piano works of personal significance, including Life On Mars – and this October, he releases another collection, Piano Odyssey. As he prepared to tour with his solo piano show, which hits the Cresset on 7 November 2018, Moment editor Toby Venables talked to him about Bowie, Bohemian Rhapsody and onstage banter...
You're perhaps best known for performing with large bands and orchestras, but with Piano Portraits and Piano Odyssey it seems you've come full circle – just you at the piano, like the session musician you were in the early 70s…
Yes, that's true. I mean, I love all the electronics and being surrounded by three-and-a-half-thousand keyboards – it's great, because no one can throw anything at you – but my real love is just sitting at the piano. Always has been. If I see a piano I'll sit down and play. It's just a special thing. I've actually been doing piano concerts for quite a long time, of various kinds, but last year when Piano Portraits did so well that lifted it to another level. And lots of people said: 'You're turning full circle…'
How does the new album, Piano Odyssey, differ from the previous one?
Piano Odyssey came about, musically, because of Piano Portraits. Piano Portraits was just pure piano, playing instrumental versions of pieces of music that I really liked. There was also music I'd been involved with – obviously Life On Mars which I did with David originally – but as long as they had strong melodies I could do variations on them. After that I was asked by Sony Classic if I would do another album. I said I would, but I didn't want to do the same again. I had made a huge shortlist of pieces that I'd wanted to do but when I tried them, some just didn't work purely on piano. They said 'Give us an example…' So, I said that one of the pieces that I loved and wanted to do was Bohemian Rhapsody, but however hard I tried I couldn't make it stand up. They said: 'Well, what would it need?' I said it needed some bits of nice string section and a choir to give it that extra colour. And they said 'Well, why don't you do that then?' So I said: 'OK, that's not a bad idea…'
I went back and went through the pieces I thought would work that way – in addition to Bohemian Rhapsody there was Paul Simon's The Boxer, a couple of Beatles songs – Strawberry Fields and While My Guitar Gently Weeps – and a favourite David Bowie piece of mine, Wild-Eyed Boy From Freecloud… I put a couple of Yes pieces on there, too, because they asked and I said: 'They won't work' and amazingly enough they do! That's how the album is, instrumental with choir and strings just here and there. In a way, I was trying to do a thing I had learned when I did Morning Has Broken with Cat Stevens. When people talk about that, they think I played all the way through, but if you listen to it carefully you realise I only played the bit's in between plus a couple of little flourishes. That's all. But you get the impression it's all the way through – and that's what I was trying to do with the strings and choir. They come in very occasionally and disappear, but there is the impression that they're around all the time.
Do the arrangements come together easily?
The only difficulty I had, actually, was with Bohemian Rhapsody, because Brian May is one of my closest friends, and I know for a fact that he absolutely hates some of the cover versions of that song. Obviously it's very special to him. So when I'd finished it, I thought: 'Crikey… What if Brian hates this?' I dropped him a line and said: 'I gotta tell you… I've done this version of Bohemian Rhapsody and I'm really pleased with, BUT if you don't like it – if you think it's awful – I won't put it on the album.' And I sent it to him. He wrote back very quickly and said: 'This is one of the best versions of Bohemian Rhapsody I've ever heard. Freddie would have adored it.' Then he added: 'The only thing missing is that it needs a bit of flamenco guitar at the end…' I said: 'You know what, that would work. I'll get someone to do it…' And he said: 'No you won't; you'll send me the track and I'll do it!' So he's got this little cameo guitar bit at the end which is just fantastic.
And both these albums really came about by chance, because of an impromptu version of Life On Mars on the radio?
Yeah… I'd been doing piano stuff for years, but the day David died I went to London and did the Simon Mayo show. At the end – literally at the last minute – Simon said: 'You could nip into the studio next door and play us out with Life On Mars…' And I went: 'What? Oh, bloody hell…' Anyway, I did it, and they webcammed it, and it got a couple of million hits. Then I started getting a lot of people asking me why I didn't release it. Now, I don't like charity records – most of them end up losing money and are a disaster – but knowing David as I did I thought he would approve if it was for the right cause. So, I picked Macmillan Cancer Support, who look after all areas of cancer, from the patients to the families. They looked after my mother, who died of breast cancer. So we put it out for them and it did incredibly well. Then people said: 'Do an album!' And it was in the top five for eleven weeks, which did surprise me! And it was really nice to hear a track being played on Classic FM, and then on Radio 2, and also on a local radio station. That was interesting.
You've said before that the genius of Life On Mars is that it doesn't go where you expect. You're a classically trained musician, which brings some very obvious advantages – but Bowie wasn't. Are there any advantages to not being trained?
One of the advantages, sometimes – although I try to knock this out of my head – is that because you know all the rules, you adhere to the rules. Certainly that was what I did in the early days, because they were so drummed into me. But you still have to have a lot of musical talent, which David had. But actually, there are no rules. And then what David did, which was very clever, was surround himself with musicians who could deliver what he had in his head and heart.
Is it true you were nearly one of the Spiders from Mars?
I did actually play live with David once, as part of a trio – me, him and Mick Ronson – at the Hampstead Country Club. It was actually there that he said: 'I want you to form the Spiders from Mars with Mick…' – but that same day I got asked to join Yes, and I took the Yes route.
Which has been a whole odyssey of its own…
Yes, unbelievable! There have been lots of books written about Yes, and I've read them all, and none of them tell the story. Not even close! People have told me I should do one but I just don't think I've got time. You're looking at something that would end up being just slightly longer than the Bible… And it could make the Bible look quite tame in places.
After all that, is it a relief for it to just be you and a piano?
It's actually harder when you're on your own. When you're with a band or orchestra you've got a lot of people taking the pressure off you. I remember my wife asking me what the hardest thing was about performing solo at a piano and I said: 'Remembering not to scratch something if it itches…' There is a rule with men – if it itches we'll scratch it. And if you're in a band you can get away with it!
Keyboardists are not often known as natural front man, but you're renowned for your comedy banter between songs. How did that come about?
I think that comes from my days working with folk bands back in the 60s – Strawbs, Magna Carta and so on. The thing is, folk guitarists often have extremely weird tunings, so they'd spend five minutes retuning the guitar – and to fill the gap, they'd tell stories. I would end up telling stories whilst somebody else was tuning up, and when I started with my own rock band I kept doing it. It often struck me with rock bands, in between the pieces, how thoroughly boring they were. The best you might get would be: 'This is off the new album!' I thought there should be more to it than that. And it breaks things up nicely. Concerts, to me, should be breathing in and breathing out, and you need those little respites. Then I started doing quite a lot of TV – chat shows, and Grumpy Old Men – and did a couple of comedy tours, and a couple of Grumpy Old Rock Star books… A lot of my friends are comedians – and I like laughing!
Rick Wakeman – Piano Odyssey Tour
7 Nov, 8pm
The Cresset
www.cresset.co.uk
Other Cresset season highlights include:
An Audience with Frank Bruno – 2 Oct
Marty Wilde – 16 Oct
Henning Wehn – 26 Oct
SAMS presents The Full Monty – 14-17 Nov
Blake: Christmas Classics – 27 Nov
For more information and booking options for these and the many other events taking place at The Cresset, visit www.cresset.co.uk or call 01733 265705
Leave a Reply