The Resurrection of Cosmicman at Vivacity City Gallery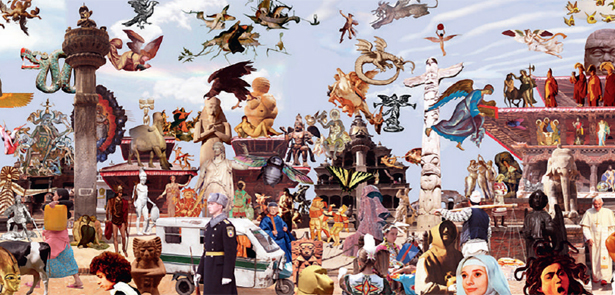 Art is often serious, sometimes lofty, but a new exhibition at Vivacity's City Gallery by artists James and Dina Johnson Perkins sets out with a quite different aim – to be fun. Playful and quirky, James Johnson Perkins' interactive work captures the excitement of childhood. With retro games such as Etch-a-sketch and Twister, the exhibition invites the audience to play, breaking down the usual conforms of the gallery space
The exhibition also features James' highly detailed gigatages. Colossal in size, these works take familiar images of characters from film and media and place them on backgrounds of grand cityscapes. Russian artist Dina Johnson-Perkins' Cosmicman photographs explore similar themes of nostalgia and fun, showing a classic 80's Soviet spaceman toy in different places around the world, including Nepal, Cambodia, China, UK and Russia. The Moment talked to both artists about their work and inspiration
Why toys? And why retro toys?
JJP: My work is all about nostalgia, so the toys and games I use in my artworks are the ones which I was drawn to when I was young. With previous exhibitions I have used Lego and Actionmen for example. In the forthcoming exhibition in Peterborough we are using Twister, Etch-a-sketches and Hula Hoops. These also relate to notions of play and fun.
How important is 'play'?
JJP: Charles Eames the famous designer said: 'Take your pleasure seriously'. I like this sentiment very much, and agree that pleasure or play, is not only fun but is an important and serious aspect of life. I like people to engage with artwork in different ways, using their bodies as well as their eyes. This is why I create installations as well as photomontage works.
Who is Cosmicman? Can he save us from disaster?
DJP: As Dostoevsky once said 'Beauty will save the world'. I think this 'beauty' is everywhere. It's around us and inside us, despite the differences in religions, race, beliefs and lifestyle. No person on earth, can take this away from us. Cosmicman believes in the power of 'beauty' and kindness and is a genuine idealist from a different Soviet time where people aspired for unity and equality. He thinks that all we need to be happy is to share this 'beauty' of the world with each other. So I think yes, he can help save us from disaster!
How did the gigatages come about?
 JJP: I started taking pictures using a camera, which takes enormous panoramic photographs, on an artist residency in Venice and decided to overlay them digitally with childhood images. This became the work 'The Great Battle'; I haven't stopped working in the same way ever since, because I love this process. Each of these works takes about two years to complete.
What reactions would you most like to have from those visiting the exhibition?
JJP & DJP: To go WOW and enjoy exploring other worlds, ideas and play within our artworks.
Which artists do you most admire? Is it just artists who inspire you, or does inspiration come from many sources?
 JJP: I'm inspired by Dina.
DJP: I'm inspired by James.
The Resurrection of Cosmicman by James and Dina Johnson Perkins 1 July-13 August 2017 Vivacity City Gallery, Priestgate, Peterborough PE1 1LF ● For more information, call 01733 864663 or visit: www.vivacitypeterborough.com/vivacity-venues/citygallery
Leave a Reply