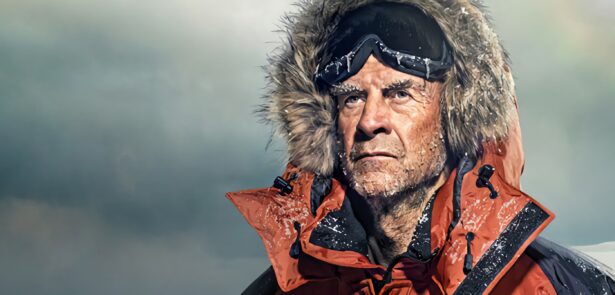 To attempt to sum up the life and achievements of Sir Ranulph Twisleton-Wykeham-Fiennes OBE in a few words is a near impossible task. But near impossible tasks are what define him. After a stint in the army and SAS, during which he led British forces in battle in Oman, he began a series of ever more ambitious expeditions which read like Boy's Own adventures, many in extreme conditions in some of the world's most hostile places. He has travelled up the Nile by hovercraft, discovered the lost city of Ubar in the Arabian desert, and climbed Everest and the Eiger by its North Face (the hard way). But he is most famous for his polar expeditions, several of which have followed in the footsteps of Scott and Shackleton, about whom he has written biographies drawing on his own polar experiences. Most gruelling and ambitious of all was his Transglobe Expedition, which sought to circumnavigate the globe – the hard way, around its polar axis – using only surface transport. On 28 February 2022 he ventures into the slightly less challenging environment of The Cresset to share his remarkable stories. Moment editor Toby Venables talked to him.
Tell us a little about this tour. I know you've seen much worse, but this seems a fairly punishing schedule…
The tour was first organised a long time ago. I've been lecturing for the past six years to make a living, and I'm with a new agency that gets lectures in towns and cities, not just dinners or lunches with business people, which is what I normally did. So you get booked into a theatre and sometimes there will be one in Canterbury and the following day in Perth in Scotland, and I have to go by car because I sell books at lectures. So, that's how they were set up, but then in the pandemic they were cancelled or postponed – sometimes postponed twice over two years of the pandemic – which means they've all been squashed into this period and I'm doing around one a day at the moment. So yes, that's hard work!
Preparing for this, I was struck by just how much there is to talk about. How do you cover such an eventful life in a single evening?
Yes, it's difficult! I'm covering 56 years of attempting to break records, some of which succeed, others which go horribly wrong with amputations and things like that. I know that you can't really have more than 70 colour slides, as people would probably find their attention going after about 70 minutes – allowing a minute per slide – so I try desperately to speak fast enough that I can cover the record journeys and expeditions.
If you could only talk about one expedition, which would you focus on?
I probably find the biggest interest is in the Transglobe – the first circumpolar journey on planet Earth. That was the most ambitious, the most difficult to mount – and against Foreign Office rules. You're risking all manner of problems in the Antarctic, including having to sit for eight months in total lockdown, waiting for the sun to come back. And you have to do that probably about 800 miles from the nearest doctor or dentist. In the Northwest Passage, to do the whole expedition in three years, we wanted to cut down the time we took doing the 3,000 miles above North America and the Arctic Ocean crossing. The planner was my late wife, Ginny, and the only way she reckoned it could be done was by doing it in a very small open boat so you could sneak between big ice floes. But you've got huge waves, you've got fog and smog. And you're right next door to the North Magnetic Pole. So, you can't see the sun, and can't get direction that way. Being north of the North Magnetic Pole makes it utterly impossible to get a magnetic the other way. So it's incredibly difficult to do that whole journey with very, very few bearing points en route, and very big waves. But we made the first ever completely open-boat journey, with some waves three times the size of this little boat, very often in virtual darkness. And that was the worst bit of the entire expedition. There were two of us – Charlie Burton and myself – on the land group and my wife was base commander in contact with us. Her morse code work was amazing – even Farnborough acknowledged as much – and she became the first woman to ever get the Polar Medal, and the first woman to join the all-male Arctic Club. About four months ago, the Foreign Office named a huge new mountain in Antarctica after her, which was a very nice thing.
Being in an open boat in those conditions must have brought to mind Shackleton and his epic – though totally unplanned – 720 mile open-boat journey from Elephant Island to South Georgia, which saved his entire crew from disaster…
Very much so! He floated in an ice floe for 500 days and then did the most amazing land crossing of glaciers and mountains for about 30 miles over the top of South Georgia. Amazingly, when we reached the North Pole and became the first humans to reach both poles the hard way, we still had 1,800 miles to go to reach where our icebreaker crew would be waiting for us – if they didn't sink. There were just two of us by then, and after 400 miles we were so frightened of the movement and the crashing of the ice, with million ton floes, and having to move our tent ahead of cracks, that we really panicked. The people in London decided to call it a day and arrange the plane to fly out to pick us up. We were out of helicopter range, so it had to be a ski plane, which would have to land on an ice floe in the middle of nowhere: on ice that was breaking up. But they sent a Morse code message to the place on Spitsbergen where the aircraft was, to go and rescue us from the ice floe we'd been floating on for three months. The morse code message had to come through Ginny, who at that time was with the Danish army in North Greenland, because that's where the signal was still working. But for some amazing reason she didn't receive it – the first time in four years that she'd had difficulty. And so we weren't airlifted, and through luck we didn't die. The ship – with the crew who hadn't been paid for four years – was under Anton Bowring, whose great grandparents had helped Scott with one of his ships. He was in charge of everything marine-wise, and took a big risk, but with amazing bravery eventually got to within about 30 miles from our floe, where he got stuck. So, we then used what Ginny had designed in Scotland six years earlier: very light canoes with skis on them. And that's how we managed to get to the ship – at which point, humans for the first and last time had been around Earth vertically.
Reading your books – about your own expeditions, as well as those of Scott and Shackleton – it's very striking how often things hinge on luck…
Absolutely. And I love the way Shackleton always smiles when he gets another bit of luck and calls it 'provvy' or providence.
Do we get a bit too fixated on notions of 'success' or 'failure'? I suppose, technically, Shackleton's expedition was a failure, but it ended up being a triumph of grit and determination – probably the greatest tale of adventure I haveever read.
Yes, me too. But you use the word 'suppose'… I don't 'suppose' it was a failure. Quite clearly an attempt to cross Antarctica which sank before it set out on day one is a definite failure, there's no supposing about it! Everything was a failure, but it was a total success in terms of doing amazing things to avoid death. He ended up having no alternative but to cross unmapped mountains and glaciers on foot, which is something we had to do on our expedition as well, and it was horrible. The guy with me, Charlie Burton, both his feet got full of pus, he got hemorrhoids, he cracked his head open on a rock, his eyes filled up with blood… He still kept going and made it to the hut, which was the most northerly building in the world. It had been abandoned by Canadian scientists on an uninhabited island – Ellesmere Island – 30 years before we got there, and Ginny flew in – we never flew – and spent two months clearing it out of snow and ice. And that's where we lived for eight months before the sun came back.
In your book about Captain Scott you're at pains to emphasise his achievements; even though his expedition was in many ways also a failure, it nonetheless achieved a lot as a scientific expedition. In doing so you also very much went against Roland Huntford's controversial – and damning – 1979 biography of him and have helped restore Scott's reputation as a man and an expedition leader.
My Captain Scott book stuck very carefully to what I knew to be mathematical facts, including help from Professor Mike Stroud relating to calories and all that sort of stuff, about which Huntford (who created such fascination about Scott's reputation) had told either lies or made mistakes – disinformation or misinformation – which did succeed in ruining Scott's reputation completely for quite a long time.
Although the glory – or sometimes the blame – often comes to rest on individuals such as Scott or Shackleton, it's quite clearly a huge team effort. You've attempted several expeditions solo, however. How different is that – and how tough is it to keep going when you only have your own resources to draw on?
Every time I've done something solo it has failed in its objective. And I've been incredibly lucky, having at least two amazing characters accompanying me – Oliver Shepard and Charlie Burton – who, like me, had been in the SAS. They were wonderful. And then when Charlie died and Olly moved abroad, about 30 years ago, I switched to Mike Stroud, whose medical expertise is studying stress, nutrition, and the effects of starvation on the human body. So, he was in his element on the extreme suffering and starvation diets of these expeditions. He was the director of the Army Personnel Research Establishment, and he paid soldiers to find out what they would suffer in this cold chamber in Farnborough, and I put up with him injecting me and making me drink the stuff and then peeing it into vials at minus 60.
These are the most extreme conditions that humans can endure, pretty much…
No, the notes of the doctors in Auschwitz show that it was worse. They did have the ability to kill them. Mike at Farnborough wasn't allowed to do that…
Your expeditions have nonetheless taken you to the most hostile natural environments in the world. What have been the lowest points for you?
Well, failure is always a very low point – and what we do is to start working on how to do it next time, and not fail.
What about those low points when you're in the thick of it? Are there moments where you just want to give up?
Every now and again, although, personally, not very many times in 56 years of doing it. But my low point was ending up with the amputation of half my thumb and half my fingers on one hand through making a small mistake in the Arctic Ocean as part of a solo expedition. I knew that solo expeditions in those areas were stupid, because when you fall into a crevasse in the Antarctic, the other guy is not on the rope to pull you out. When you fall into the ocean, and the ice is moving at four miles an hour, and you're getting very, very cold very quickly, and you've got skis on which are stamping down in the water below you, you need the other bloke on the other end of the rope. With Mike Stroud, we know when to rope up and when not to rope up. So, solo is stupid! And the only reason I ever did a stupid solo one was when we were trying to break a world record that had been set by two Norwegians, but not any one solo person.
What is the one thing that you're most proud of – not your favourite expedition or moment, necessarily, but a legacy that you're happy to be leaving behind, whether a book or physical achievement?
I find it difficult to choose just one particular one, but at this moment I would say discovering the lost city in Oman. Ginny and I spent 26 years and eight expeditions during those years, looking for it. Eventually, on the fifth expedition, I said 'We can't do this any more. We'll never find it." But she said: 'No, no, we must keep looking…' And on the eighth expedition, in 1991, we found it, having searched since 1968. And that is just great. I've been out there since at the invitation of Sultan Qaboos bin Said Al Said, who only died last year – 50 years after I'd helped him establish himself on the throne of Oman. As a result of that, he was very pleased to sponsor one of our Arctic expeditions, and we flew the Omani flag at the pole!
SIR RANULPH FIENNES – LIVING DANGEROUSLY
Mon 28 Feb, 7.30pm The Cresset
Leave a Reply