Randall Rootz at Charters Bar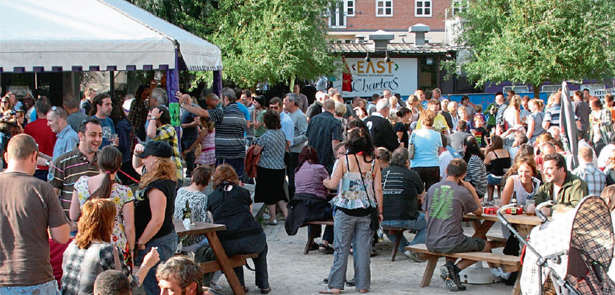 This August welcomes a weekend of stunning live music at Charters and The Brewery Tap. Head on over and immerse yourself in the quality sounds of the Randall Rootz festival
The weekend of Friday 18 to Sunday 20 August is Randall Rootz festival – three days of live music laid on at the Charters real ale barge and The Brewery Tap. The weekend promises to be a music lover's dream, with some of the very best local bands, including a reunion of two of Peterborough's finest. The inspiration behind Randall Rootz is our dear friend Mark Randall. Mark was a talented musician who sadly died from cancer at Thorpe Hall Hospice in 2007, aged just 34.
Mark was the most passionate, altruistic musician anyone could hope to meet and in his memory, his friends and family wanted to create an event that he would be proud of. Randall Rootz remains true to the ideals he held dear: music, the environment and community. On that basis, we can look forward to a diverse programme of music and entertainment over the entire weekend. Randall Rootz begins in The Brewery Tap on Friday with the reunion of two of the city's best bands.
For one night only The Dead Rabbits and Angryman will reform and perform a one-off gig. Mark was a member of both of these acts. The Dead Rabbits were widely considered the country's finest tribute to The Pogues. Their last performance at The Brewery Tap even featured two of its original members! Expect an energetic, even raucous gig that recreates the atmosphere of this legendary folk/punk band. Acoustic rock band Angryman, meanwhile, are likely to bring a heady mix of rock and percussive drumming, with low-end chugging bass lines and stunning lyrics sang with real grit.
Tickets for this special evening are now on sale from The Brewery Tap, priced at just £10 per person in support of Sue Ryder. Then on Saturday the weekend of music continues at Charters with a family friendly theme. Saturday welcomes a host of superb local bands, with lots of lively fun guaranteed. Sunday will be equally as musical, with a more relaxed and laid back acoustic feel to wind down after a long weekend.
The Randall Rootz committee would like to continue raising awareness for Sue Ryder Care at Thorpe Hall Hospice in Peterborough. So be sure to grab a specially brewed Randall Rootz Beer and make the most of the festival. Following on from the Randall Rootz festival Charters will again be hosting its own mini festival to complement the Peterborough CAMRA Beer Festival, which runs from 24-28 August. The Charters Summer Festival will be serving up exceptional craft beers, real ales, ciders and gin. Let's hope the sun shines on what will be a very convivial event!
The Brewery Tap 01733 358500, www.thebrewery-tap.com Charters 01733 315700, www.charters-bar.com
Leave a Reply