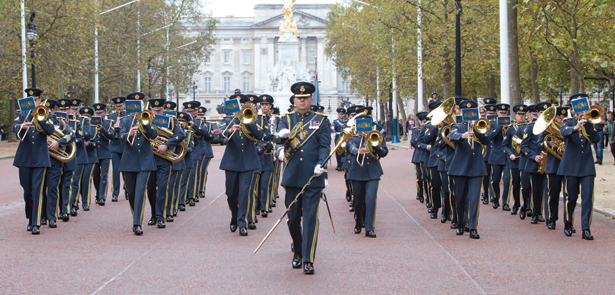 Celebrate the centenary of the Royal Air Force with the Central Band of the RAF, performing live on stage at Peterborough's Cresset Theatre in support of the RAF Benevolent Fund
This spectacular evening of music will showcase iconic military themes including Spitfire Prelude and Fugue (William Walton), Royal Air Force March Past (Walford Davies), Battle of Britain March (Ron Goodwin), 633 Squadron Theme (Ron Goodwin) and Pomp and Circumstance March No.4 (Edward Elgar), performed by the Central Band of the RAF and featuring the award-winning Peterborough Male Voice Choir, Peterborough Voices and Peterborough Youth Choir, directed by William Prideaux.
As serving members of the RAF, members of the Band are required to support key operational roles overseas and in recent years have served in Iraq, Afghanistan, Turkey the United Arab Emirates and the Falkland Islands, fulfilling a diverse range of operational roles from detainee handling to driving ambulances.
The musicians undertake regular training for their specific deployment role, which is the running of Casualty Decontamination Areas. Equally comfortable performing from concert platform, recording studio, parade ground or from operational theatres around the globe, they play a key role in state ceremonial events and display the highest standards of conduct and performance, continually seeking new challenges to demonstrate their ongoing commitment to musical diversity and excellence.
"We're thrilled to be celebrating the centenary of the Royal Air Force by performing with the Central Band of the RAF and we're mindful of the fact that as well as being world-class musicians they are also serving members of the RAF" says William Prideaux, director of Peterborough Male Voice Choir. "What better charity for us to support in this landmark year than the Royal Air Force Benevolent Fund which does such invaluable work to care for all members of the RAF, past and present, and their families too."
"This event looks to be an incredible spectacle for anyone who is a fan of good music and great talents," says Paul Hewson of the RAF Benevolent Fund. "The Fund is extremely grateful to all involved for choosing to support the charity. Last year we helped more than 54,000 members of the RAF family…your support means we can assist many more deserving individuals to help change their lives for the better."
Royal Air Force in Concert Saturday 9 June, 7.30pm The Cresset, Peterborough
Don't miss this unique opportunity to see the RAF's premier band perform live on stage in this, their centenary year. Tickets from £16 at www.peterboroughsings.org.uk or by phone on 01733 265705.
Leave a Reply