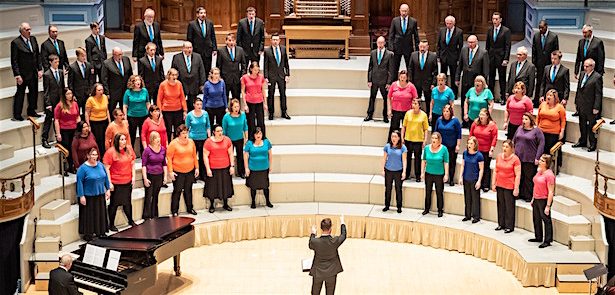 It's been a busy year for the city's multi award-winning choirs Peterborough Male Voice Choir and Peterborough Voices with success on the competition circuit, both nationally and internationally, as well as two pop-up singing projects raising thousands of pounds for charity.
The choirs are looking forward to their autumn/winter concert season which will see them perform at Stamford Arts Centre as well as collaborating with the world famous Foden's Band. Further ahead, they'll be rounding off the year with their spectacular Christmas Magic event, once again, in the stunning setting of Peterborough Cathedral.
Consistently ranked as one of the best brass bands in the world, Foden's Band thrill audiences worldwide with their virtuosity in a huge range of styles, far beyond the usual brass band repertoire. They will be here in Peterborough for one night only on Saturday 14th September, performing at the Cresset with the choirs who – over the last few years – have established a track-record of bringing some of the world's top brass bands to the city, including Grimethorpe Colliery Band, Black Dyke Band and Brighouse and Rastrick. Foden's Band are renowned for their spectacular live performances and for their magical brass band sound which has been described as "a musical Magic Carpet which takes the listener to places that few other ensembles rarely even approach". Don't miss this unique opportunity to see them live on stage right here on your doorstep!
In November, the choirs commemorate the region's fallen soldiers and the service and sacrifice of the armed forces with their Festival of Remembrance a moving evening of beautiful melodies and poignant words for Remembrance Sunday, taking place at The Cresset in Peterborough and St. Nicholas' Chapel King's Lynn. The third event of its kind, this promises to be a poignant evening, particularly so in this 75th anniversary year of the D-Day landings. The choirs' director Will Prideaux says "Peterborough Male Voice Choir has a long history going back to not long after first world war when so many local men made the ultimate sacrifice. Given our roots in the local community it seems fitting to mark the occasion a nostalgic evening of wonderful melodies and touching moments while raising money for a really good cause, the Royal British Legion Poppy Appeal."
As well as these major events, both Peterborough Male Voice Choir and Peterborough Voices will return to Stamford Arts Centre (stamfordartscentre.com) for their annual concerts – always a highlight of their busy schedules – Peterborough Voices on Saturday 13th July and Peterborough Male Voice Choir on Saturday 23rd November, showcasing highlights from their repertoire in the wonderfully intimate setting of the beautiful ballroom!
After that, the city's favourite Christmas celebration Christmas Magic returns to Peterborough Cathedral on Saturday 14th December, once again with a family friendly matinee at 2.30pm as well as an evening performance at 7.30pm, read more about that in our next issue…!
Leave a Reply