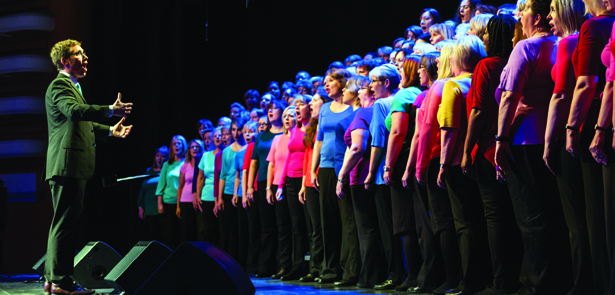 Performing with the Royal Philharmonic Orchestra; celebrating wins in major choral festivals; championing singing in local schools through the Singing Strategy… it's fair to say 2016 has been an exciting year for Peterborough Sings! And there's more to come. Much more, according to Peterborough Sings! musical director Will Prideaux
Good choirs never stand still,' Will says. 'They are constantly evolving, constantly innovating, constantly exploring new ways of engaging the local community. That's how I like to run the three choirs in Peterborough Sings! – Peterborough Male Voice Choir, Peterborough Voices ladies choir and Peterborough Youth Choir.'

Raising awareness, raising funds
Will's philosophy – as well as the amazing potential of Peterborough as a hotbed of vocal talent – is demonstrated perfectly by the success of 2016's two charity-driven recruitment initiatives. Men United in Song, which is raising money for Prostate Cancer UK, has seen more than 80 men sign up, culminating in a gala concert at the Broadway Theatre. Meanwhile, Peterborough Voices' Sing for Life, in aid of Sue Ryder, has already exceeded expectations just three weeks into the project.
'These initiatives not only raise money for important causes, they are also a great way of recruiting new people into the choirs,' says Will, who is determined to reinvigorate choral singing both locally and nationally. 'The traditional view of male voice choirs is that it attracts men of a more mature age range and of course there's nothing wrong with that, but if that continues then male choral singing will die,' he says. 'My passion is to encourage young men to engage in singing and nothing pleases me more than to have members of our youth choirs graduating up to the senior groups. Engagement from local schools is also crucial and I am delighted to be fronting the Arts Council-funded Peterborough Singing Strategy, an initiative designed to transform provision for singing in the city's schools.'

Sell-out shows
It's certainly working. Sell-out concerts at Peterborough Sings! home of the Broadway Theatre have included Spectacular Classics with the Royal Philharmonic Orchestra, performances with the world-renowned Black Dyke and Grimethorpe Colliery Bands and the hugely popular annual Christmas Magic extravaganzas. The recent run of Bill Kenwright musicals needed children to perform and sing in Joseph and the Amazing Technicolor Dreamcoat and Dreamboats and Petticoats, so up stepped the Peterborough Youth Choir and standing ovations followed. All this, of course, means that the reputation of the choirs is growing on a national as well as local level.
Earlier this year Peterborough Male Voice Choir travelled to Ulverston and won first prize in the South Cumbria Music Festival. All three choirs won classes in the popular Oundle Festival of Music and Drama, while the men and women are travelling to Italy and Spain to compete in international choral festivals later this year. It's serious stuff. But shouldn't singing be fun?

In it to win it
'Of course we take all this seriously,' says Will. 'We want to win. We want to demonstrate that choral singing is not dying; we want to engage the local community. But the social side is crucial too. Peterborough Sings! brings together people of different backgrounds for a common goal and we have enormous fun together. Believe me, there are a few thick heads the day after a concert or competition I can tell you! No drinking alcohol before we sing though – that's strictly against the rules!'
Next major project for Peterborough Sings! is another concert with the Royal Philharmonic Orchestra. Magic of the Musicals on Sunday, Septmber 4, will be a celebration of musical favourites such as Les Miserables and Miss Saigon, along with songs from Andrew Lloyd Webber, Rogers and Hammerstein and others. It promises to be another sell-out evening, and you can book your tickets by calling 0333 666 3366 or visiting www.peterboroughmvchoir.org.uk (fees apply).
Leave a Reply