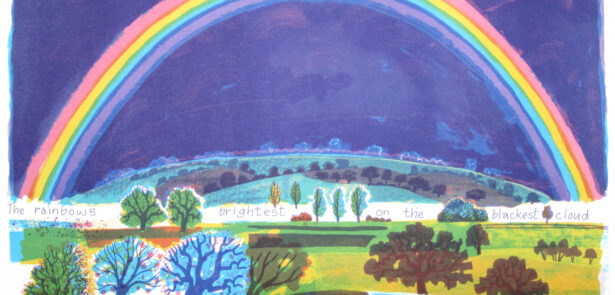 Open until 5 September at Peterborough Museum and Art Gallery is Found in the Fields, the latest touring exhibition from painter, printmaker and illustrator, Carry Akroyd. The exhibition includes a 16 lithograph print series that incorporates text from the works of John Clare, bringing the 19th century poet's words into the present day – and showing their growing relevance to the times in which we live. The Moment talked to Carry about the project.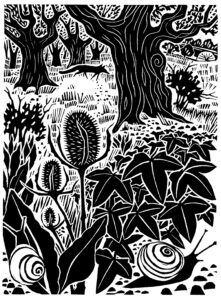 How did you first become interested in John Clare?
I got interested in the poet John Clare about 25 years ago, and started making images that had quotations from his poems in them. I live where I grew up in Northamptonshire, so I always had this kind of awareness that this is our local poet. But although I always knew what his name was, I hadn't really read him. Then Northamptonshire libraries were able to give a bit of funding for an exhibition about John Clare that could go around Northamptonshire libraries, and that was when I really read him – I just kind of beamed into all his writings about how the enclosures had altered both the natural world and the social life of rural dwellers, really. That was when I really discovered his voice.
What was it in Clare's work that connected with you?
I realised that he was a really good voice for what was happening to the environment now, through intensive farming. There I was, in the 1980s, doing images about how the landscape was changing because of intensive farming and how we were losing so much valuable diversity in nature, and when I read John Clare, I found that he was writing about exactly the same thing that was happening 200 years ago. What he saw was this growing ignorance. It was at a time when more people were going to live in cities, enclosure was driving people out, and it was the time when they were building workhouses, because it was affecting the way people worked and lived in the countryside, with many of them moving into the cities. So then you begin to get a more urban population which was no longer connected to the rural existence. Clare uses the word 'clowns' for people who don't notice living nature all around. Then there are people who might be able to name a tree species, or flower species, but they don't realise how it interweaves with all the different insects, and birds, and animals, how all the things rely upon each other. So, Clare, quite early on, is getting an idea of the interrelatedness of different species. What we would say now is that Clare was 'woke' – woke about nature! He was seeing the uprooting of trees and hedges, and an alteration from communal farming to a private ownership of land. And what particularly happened during that time was we went from having free, right-to-roam access to the land, to the very restricted, prescriptive footpath network that we have today – and that you have to fight tooth and nail to keep open. That happened during Clare's lifetime; you went from everybody being able to go everywhere in the parish, to only being allowed to go in very restricted places. My county, Northamptonshire, for example, lost all its common land to the enclosures.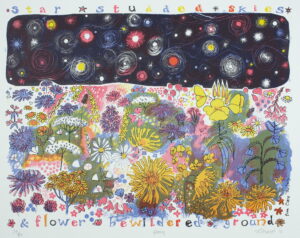 How did this exhibition grow from that?
I started doing talks about John Clare and realised people didn't know that much about him –although he's become more well-known in the last 25 years. Then the opportunity came for me to do a book about my work. I said 'I can only do it if it's about John Clare!' And they said 'OK, do that!' That was called Nature's Powers and Spells, and on the basis of that I got asked to do an exhibition at the Royal Botanic Gardens in Edinburgh back in 2010. I didn't have enough work already, so I made a new series for that, and then realised that this was something that could tour. Because it's not really a commercial exhibition, it's been going to municipal galleries in all sorts of unusual places over the last 10 years – from Hampshire to Yorkshire, East Anglia to Wales. But I always wanted it to go to Peterborough, because it's the nearest to John Clare's own village, so I'm really pleased that at last it's made it!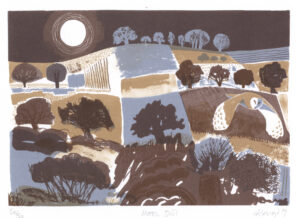 What have been your points of reference, visually speaking? Who are the artists who inspired you?
I like a lot of those mid-20th century British artists like Edward Burra, Paul Nash and Ben Nicholson, although I don't think you can necessarily see that in my work. Also, the American Abstract Expressionists, like Rothko. In my hippie days I went to India, travelling around, and that was when I discovered Mughal painting, and I love that as well. It was all so spaced out and structured with beautiful colours. I also love medieval art, church carvings, stained glass windows. When you look at all those, they never wasted space. If somebody is carving something, and they've got an odd corner, they'll bung a snail or an acorn in there. That's always been part of my thinking; you don't have just a bland corner, you put a slug or a bird in it or something! But also, I'd always been really interested in maps. I'm interested in the history of my village, and we've got some really good old maps of it. Those old maps have drawings of trees and horses and sheep and cows and little houses on them, and then they'll have the lettering of the names of fields going right across these images. 'Here be dragons' kind of thing… And that, exactly, was my influence – although I never recognised it until this chap who's also really interested in maps pointed it out to me! But that's exactly where it came from.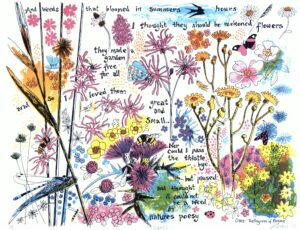 Is there a message you would like people to take away from this?
I'm not keen on the idea of message or polemic – it's more about awareness. Grayson Perry, in one of his Reith lectures, said that he often asked children what they thought artists were, and one child said: 'Artists notice things…' And I think that's right – you're making people look at something that they maybe otherwise haven't looked at. You're just trying to give people a way in to seeing things, hearing things, being aware of things.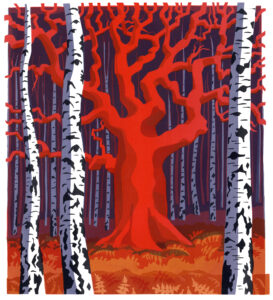 Found in the Fields
is at the Art Gallery at Peterborough Museum from 9 July to 5 September with no booking required. The Art Gallery has the same opening hours as Peterborough Museum, Tuesday – Sunday from 10:00 – 16:00.
Running alongside the exhibition is renowned storyteller, Hugh Lupton's On Common Ground; an evening of stories, songs and music exploring the life and times of John Clare which will take place at Key Theatre Peterborough on 15 August at 15:00. Tickets can now be purchased via TicketSolve. Please note this event is unsuitable for children.
Leave a Reply