Peterborough Male Voice Choir needs YOU to help fight prostate cancer!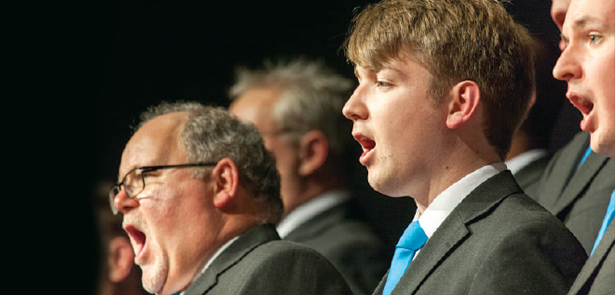 With the New Year comes an exciting new project for the award-winning Peterborough Male Voice Choir, Men United In Song: a recruitment initiative which aims to attract new members while at the same time raising money for a very worthy – and specifically male – cause, Prostate Cancer UK
Launching in April, the project will recruit 40 local men with a range of previous singing experience (including none!) who over 12 weeks will rehearse to perform with Peterborough Male Voice Choir in a gala charity concert at the Broadway Theatre in June.
Under the direction of William Prideaux – a nationally recognised authority on the male voice genre – Peterborough Male Voice Choir has a track record of highly successful charity fundraising recruitment projects, to the extent that other choirs regularly seek his expertise in following the winning formula. It all started with Sing for Heroes, which recruited more than 100 men in 2010 and again in 2011, culminating in a sensational sell-out concert with Leslie Garrett at the Broadway Theatre.
Between them, Sing for Heroes and Sing for Life – run by womens' choir Peterborough Voices – have raised almost £30,000 for charity in the last five years. During this time, Peterborough Male Voice Choir has performed live on stage at their Broadway Theatre home with Black Dyke Band, the Kings Singers and the Royal Philharmonic Orchestra, and with Grimethorpe Colliery Band, the Britten Sinfonia and folk hero Jon Boden of Bellowhead – to name but a few – in venues stretching from Truro Cathedral to the Sage Gatehead. Not to mention premiering a specially commissioned work by Errollyn Wallen, recording for BBC Radio 2 and TalkSport and competition tours to Cornwall, Ireland and – soon – to Venice.
All this, and singing is good for your health! But it's not all about the singing, or even about the fundraising, there's a fantastic social scene, too – after all, not every choir can boast its own bar in its own theatre! Ultimately, it's all about a group of men getting together in a shared enterprise, which of course is the idea behind Men United, and why the charity seemed such a good fit for the project.
William Prideaux says: 'It's a real privilege to work with such a cracking bunch of blokes. They take their music making as seriously as their socialising. There's a real camaraderie among them and a tight-knit aspect to the group makes them a force to be reckoned with.'
Men United In Song kicks off with introduction sessions at the Broadway Theatre on Friday, 1 April (7am-9pm) and Saturday, 2 April (10am-1pm). Absolutely no previous experience is required to join, just a willingness to get stuck in and give it a go. Mark Currier, Chairman of PMVC, says 'We're not looking for a Gary Barlow or an Alfie Boe, just guys who want to come along and enjoy singing together! Until you've tried it you can't understand the buzz singing can bring. We're not looking for 100 percent in musicality, but 100 per cent in enthusiasm. Come along to an introduction session and find out more! We're convinced those who do will enjoy themselves and discover how great singing can be.'
For further information contact Jo on 01733 425194 or email  
Introduction sessions will be at the Broadway Theatre, Peterborough, on Friday, 1 April (7-9pm) and Saturday, 2 April (10-1pm).
Rehearsals will be at the Broadway Theatre on Thursday evenings from 7.45-9.45pm, starting on Thursday 7 April.
Leave a Reply