Peterborough Male Voice Choir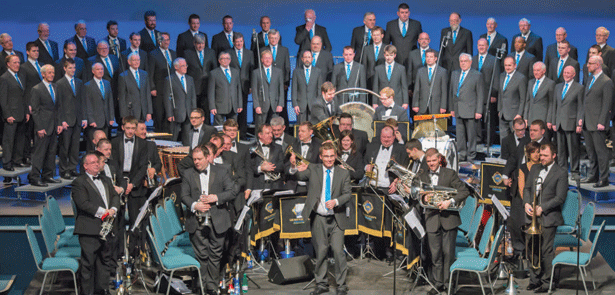 Boosted by a number of TV shows, community singing has never been so popular as it is now. But think of male voice choirs and what do you see? A mining village in Yorkshire or Wales with a group of men, generally past retirement age, singing classic hymns such as Cwm Rhondda or Speed Your Journey? Think again!
It's a clichéd image that's perhaps not without some justification – but the perception of male voice choirs is changing thanks to the energy, determination and talent of Peterborough Male Voice Choir (PMVC), which has been making high-quality music since 1935.
Like many male voice choirs, PMVC has its roots in industry, with sugar beet factory workers providing the basis for the original group. Under the baton of local musician Ivan Slatapolski, the Peterborough Sports and Social Club   Choir became the Nene Valley Singers after the Second World War, when Peter Watson became Musical Director, leading the choir for 25 years. Even then, PMVC was making recordings for the BBC Home Service, and achieving many competition successes.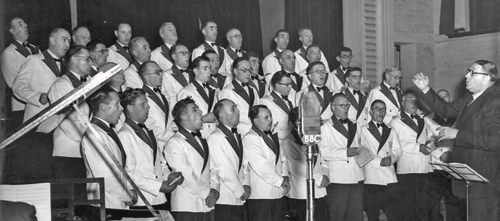 While the choir wasn't always as buoyant as it is today, under Musical Directors Freda Woodhouse and David Ingleby it nonetheless shared stages with  Shirley Bassey and Tom Jones, Elaine Paige, Sir Cliff Richard and Dame Vera Lynn. After briefly becoming the Nene Valley Male Voice Choir in the early 1980s it became Peterborough Male Voice choir in 1987.
The awards kept coming in the 1990s, as the choir grew in confidence once more, staging large-scale concerts at Peterborough Cathedral and Thorpe Hall. Major expansion and international success came quickly from 2010 onwards when Will Prideaux joined as Musical Director.
Will's appointment has ensured that PMVC, while assured of its proud heritage, has evolved in a bid to attract new, younger, members. With an average age of 49 (thanks to a high proportion of younger members) the well-established PMVC is now also able to support a burgeoning Peterborough Youth Choir, created in 2011 to provide a steady flow of younger voices who graduate to the adult choir.
PMVC won two English Arts prizes in 2011: the EPIC Award from Voluntary Arts (UK), where the judges recognised Will's "outstanding success in reviving the fortunes of the choir", and the People's Choice Poll, with a staggering 18,000 votes. The national and international success has continued more recently;
PMVC attended the biennial Cornwall International Male Voice Choir Competition in May, coming in at third place, assuring its ranking amongst stiff competition from choirs around the world.
"The standard at this level is extremely high,"
says Will, who led PMVC through the demanding competition in which challenging and diverse pieces were sung in no less than 5 different languages!
On a more local level, the choir won classes in the Peterborough and Oundle Music Festivals in 2013. Several full-length concerts have been played on BBC Radio Cambridgeshire, too. These have included sell-out concerts such as Best of British and Christmas Magic in 2012.  (broadcast by BBC Radio Cambridgeshire), Fauré's Requiem and other French choral works in Peterborough Cathedral, and a specially commissioned song to welcome the Olympic torch to Peterborough as part of the Cultural Olympiad, There With You, with local schoolchildren.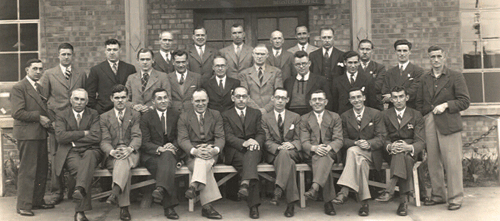 A sister choir, Peterborough Voices, was formed in 2011 and has already won awards at the Peterborough and Oundle Music Festivals and undertaken an overseas tour, visiting Italy to perform in Florence and Arezzo and to sing mass at Siena Cathedral. Now a registered charity, the success of the award-winning male voice choir has led to broader aims to promote choral singing under the Peterborough Sings! umbrella.
PMVC and PV have been fortunate enough to sing with stars such as Lesley Garrett at the Broadway Theatre for a gala performance, and the late Bernie Nolan just two years ago, before she sadly lost her battle with cancer. Grimethorpe Colliery Band – made famous by the film Brassed Off – visited Peterborough in April, performing a spectacular range of specially commissioned brass arrangements with the three choirs in a sell out concert at Peterborough's 1,200 capacity KingsGate.
Those concerts have been an amazing experience, and have helped us unlock some incredible singing potential that was going unheard in our city.  The fact that we are able to attract truly world class talent like Grimethorpe Colliery Band to work with us here in Peterborough is a great achievement. I hope that is the start of greater things to come
says Will.
Indeed, Errollyn Wallen, composer of music for the London 2012 Paralympic Opening and Closing Ceremonies, has just started work with PMVC in an upcoming project with assistance from national grant-giving organisations. There's always time for the more lighthearted projects too. A chance meeting with a TalkSport radio producer led to PMVC being asked to record some chants for the FIFA World Cup 2012 and later the Euro football championships at Posh's London Road stadium. The radio station's partnership with PMVC later won a Sony Radio Award in 2011.
Charitable fundraising also forms part of the choirs' objectives: since 2010 PMVC and PV have raised over £20,000 for Cancer Research UK and Help for Heroes. More money is set to be raised for the latter with PMVC's Sing for Heroes! concert at the Voyager Auditorium on Saturday 5th October: Will is currently working with a group of 40 specially recruited local men in a 12 week project to prepare them to perform on the same bill as PMVC for the occasion.
A similar project is also underway with Leeds male Voice Choir which will celebrate its centenary in 2016 but – like many male voice choirs across the country – has faced the problem of how to attract younger talent. Will is confident that his experience in Peterborough will bring success in the much larger Yorkshire city too:
From relatively humble beginnings as a small male voice choir we've grown in the past few years to three choirs with over 300 singing members, many of whom had never sung before they joined us
In other words, no age group or gender is excluded – the only caveat for membership of any of the choirs is that members have a strong commitment to rehearsals. Each member is supported by the choir's dedicated Section Managers (or Chaperones in the Youth Choir), whose job it is to act as a point of contact and to ensure that they are sufficiently prepared for concerts.
We've created not just a fantastic music making team, but a real community, with lasting friendships between singers who are growing in confidence with every performance. I am proud of what we've achieved as part of this country's long heritage of community music making
Sing for Heroes! in support of Help for Heroes, 7.30pm Saturday 5th October, Voyager Auditorium; tickets from £12 available from Peterborough Visitor Information Centre: 01733 452336 or online at www.peterboroughmvchoir.org.uk
Leave a Reply