Peterborough Celebrates: 900 years of church music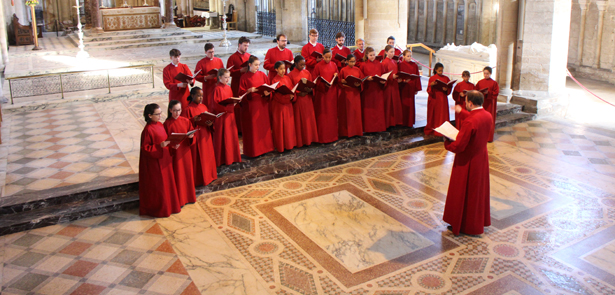 When the current Cathedral building was being constructed 900 years ago, church music was in its infancy. It's come a long way since – and on 15 June Peterborough Cathedral's Director of Music Steven Grahl plans to take you on the whole journey in just 70 minutes! The Moment talked to him.
It sounds like this event is part lecture, part concert – is that about right?
That's right. The intention is for it to be more music than words. I'm probably going to focus on English music, but I'll still be up against it in 70 minutes! The plan is to start with Gregorian chant and go right through to the present day, giving an idea of historical context, a bit about the composers, brief features of musical style, and then the choir will sing a piece to illustrate the point I've been making.
Do we have much music surviving from 900 years ago?
Fortunately, the development of Gregorian chant coincides quite neatly with the date of the building of the Cathedral – or the Abbey, as it was then. It starts in the 9th and 10th centuries, so we've got a happy coincidence wheresingle line chant is being developed and codified just when the Cathedral's new building is being established. And performance styles of that early music probably hasn't changed much. Notation develops and changes over the years, but as far as we know the basic melodic style is very close now to how it was when monks and nuns first started singing it. A building like Peterborough Cathedral is the absolutely ideal vehicle for such music. In a way, although this chant is melodic – i.e. one note at a time – when you sing it in a resonant space such as the Cathedral the notes start to linger in the air and make a kind of harmony all their own. A building like Peterborough Cathedral makes sense of it.
What will be your main stopping off points along the way?
Well, I don't want to give too much away, partly because I haven't quite decided yet! But let's deal with the 21st century first… Music is a living art form, and we're very fortunate that there are a lot of composers who still want to write music for the church. Just last year we gave world premieres of five pieces here, including a very a large-scale piece called Even You Song by Cheryl Frances-Hoad, who gets a lot of major commissions – not just for church music. In fact, she's not mainly a church music composer. In an average year we'll give three or four premieres, so, we keep that tradition alive here. And it's not just about keeping the tradition alive, it's about developing it – and working with composers who don't primarily write church music makes it interesting.
What are you likely to focus on between those start and end points?
Clearly, there is a wonderful flowering of music that culminates in the Eton Choirbook in the 15th century, so that will almost certainly be my first stopping off point after Gregorian chant. It's an astonishing collection and will give an idea of that relatively early polyphony. Beyond that, very often times of religious upheaval offer up something interesting, and I'm pretty certain that we'll look at music by Byrd and Tallis. The whole Tudor period of the establishment of the Anglican Church and subsequent turmoil is a fascinating period of church music history – and of course, relates to Katharine of Aragon who is buried in Peterborough Cathedral.
Probably the high point of English church music in the baroque is Henry Purcell, and I can't imagine that I'll miss him out. The Classical period is slightly problematic because there's not a huge amount of repertory being written in this country, but there is a bridge period where we go from Walmisley and other composers to Wesley in the 19th century – and we couldn't get away without some Victorian and Edwardian music, so Parry, Stanford and Elgar are likely to feature. Then we need something from the 20th century, so I might draw a link between Britten and Purcell, or possibly Tippet or Walton. And finally I'll find something that has been written within the past few years – possibly for us –so we can hear the contrast across those 900 years.
This celebrates 900 years of continuous music at the Cathedral and Abbey – but, looking ahead, how important do you think music is to the future of the Cathedral?
I think it's crucial. If one described the rhythm of daily service as the heartbeat of the Cathedral, then the music is the blood coursing through the veins, and it's been a feature here for a very long time. Furthermore, the wonderful education that the choristers and choral and organ scholars get is a unique and special thing. Between the Cathedral choir and the youth choir we have around 60 young people involved in the music department, and the training those children get goes way beyond knowing key signatures and how to count on a minim. It's a spiritual education. They have daily contact with that wonderful architecture and also beautiful language in the biblical readings they encounter each day and the texts they sing. They learn how to operate as a group, how to be disciplined – and how to have fun. We've just returned from tour in Holland and not only did we sing concerts and services, we also had a morning at an adventure playground, went on a cathedral tour and did various things together as a group, so they learn those skills at a very early age. I think chorister training is actually the only opportunity for children to perform at the same professional level as adults. A child actor might be on stage performing with adults, but they're playing a child's role. In a football or rugby team the teams are split according to age. But the choristers sing their parts against professional adult singers, which means they have to deliver at that level. Not only is that a unique and wonderful thing, but they do it every day as part of the Cathedral services. It's that daily regularity and contact with wonderful music that builds those skills.
You're leaving the Cathedral to become Organist at Christ Church, Oxford at the end of the summer. What are you most proud of during your four years here?
I'm very proud of the recordings we've made. I've made an organ recording, and the choir has made recordings of Christmas music and of Even You Song. They're a tangible record of what we did. I'm particularly proud of Even You Song which involved children from four local primary schools – 120 children, many of whom had probably never set foot in the Cathedral before. I'm proud of the organ re-pitching work, which was very successful. I'm proud of the way the choir has developed, as we're now in a position where the girls' choir sings an equal amount to the boys. But I think, most of all, it's the daily work; that interaction and engagement with people, trying to make each day as good as it can be – interesting and challenging but never a mountain that is impossible to climb. I think the thing that has been most important is that sense of the daily rhythm, which I know will continue for a long time to come.
900 Years of Church Music: a Whistle-Stop Tour
Peterborough Cathedral
Friday 15 June, 7.30pm
£10, £8 concessions. There are three ways to book:
Online via Oundle Box Office at oundlefestival.savoysystems.co.uk
Call Oundle Box Office on 01832 274734.
Call Peterborough Information Centre on 01733 452336.
Leave a Reply