Peterborough Beer Festival 2018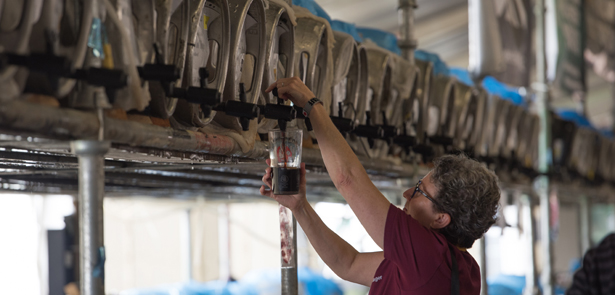 It's time for Peterborough's beer drinkers to quench their thirst as the city's 41st annual Beer Festival kicks off. Come down to the Embankment for five days of the very finest real ales and more...
The 41st Peterborough Beer Festival kicks off on the River Embankment on Tuesday 21 August. Doors open to the public at 5.30pm and from then the fun begins!
This five-day celebration of British beer showcases the very best real ales from all around the country. Connoisseurs can rest assured that all beers are kept in tiptop condition by our expert team of beer keepers, all under giant marquees to keep you in tiptop condition should the infamous British summer turn wet.
Best of British
Peterborough Beer Festival 2018 is going to be the biggest, brightest and best yet. There will be more than 400 draught real ales to enjoy – that's around 85,000 pints! – served from four truly gigantic bars. Sample festival favourites, beers from very small micros, beers from new breweries, beers produced especially for the festival and beers from our LocAle breweries.
Back by popular demand is the Key Keg Bar, with 40 plus beers, and Brewery Bars featuring ales from Adnams, Batemans and Nene Valley Breweries. Our full beer list will be available to view online sometime in July, so keep checking the website: www.beer-fest.org.uk
Something else?
The Cider Bar returns, this year in the South Marquee, serving one of the best selections of traditional cider and perry to be found anywhere. This year there'll be around 80 varieties to titillate the tastebuds.
The wine bar will be selling a range of traditional country wines and, of course, a full range of still and sparkling grape wines from English vineyards. The Gin Bar is adjacent and promises a range of around 50 different and unique gins to sample, all in excess of 37.5% ABV (no flavoured gin liqueurs here!) and including your choice of Fever-Tree mixer.
Or if you fancy taking your tastebuds on a journey overseas, set a course for the World Beer Bar, purveyor of an extended selection of traditionally produced bottled beers from around the globe. Finally, the Escape Bar will be selling a range of soft drinks, crisps, ice cream, sweets, cigarettes and children's drinks from 50p.
Sustenance
Beer drinkers need sustenance! You'll be able to sate your hunger with everything from satisfying burgers, fish and chips, pizza and pasties, to noodles, German sausages, a hog roast or kebabs. Just peckish? Then tuck into the traditional pub snacks: crisps, olives, pork pies and Scotch eggs.
The Beer Festival is a family-friendly event, with an easy-going, friendly atmosphere. Lunchtime or early evening is the ideal time to bring the family and even dogs (on a lead) are welcome. Bring your own picnic table, food and soft drinks.
We mentioned fun – and there's plenty to be had! Head off to the fairground at the back of the festival, or settle down and enjoy the fabulous bill of talented musicians. There's entertainment on offer every evening, with a full line-up on Friday from 4pm and on Saturday from 2pm. For full details check the website. See you there!

Peterborough Beer Festival 2018
Tues 12 – Sat 25 August
Admission from £2, or just £1 for CAMRA, SPBW & EBCU members
All the details at: www.beer-fest.org.uk
Leave a Reply