Peterborough Arena: the value of venues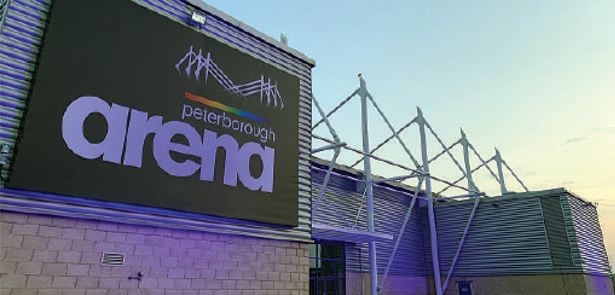 When we illuminate our Arena building in blue light, as we have done every Thursday, we are doing it in support of the tens of thousands of NHS workers, from porters to surgeons, who are working flat-out to protect and treat the whole country during this epidemic
We want it to be known that our venue stands four-square behind the NHS and all the key workers who are putting their lives at risk so that everyone else has the healthcare, services, food and goods that are essential to their everyday life. Of course, we are not hosting any events during this time, and most of our staff have been furloughed. We do need to keep some essential personnel on-site for safety and security purposes, but for the most part, the Arena is in lockdown like the rest of the country. We are immensely proud that our fellow venues, ExCeL London, Manchester Central, SEC Glasgow, and Cardiff 's Principality Stadium, have all stepped up to the plate to become newly designated 'Nightingale' hospitals or treatment centres.
It's a reminder that whilst venues ply their trade of festivals, exhibitions, conferences and shows during the normal times, they can be vital assets at times of national need or civil contingency. Here at the East of England Arena, we have the facilities needed if our services are required—multiple, large climate-controlled indoor spaces, extensive vehicle access and outdoor space, utility and data infrastructure and so on. It is a testament to the skills and dedication of all event industry professionals that these temporary facilities have been created in such a short space of time.
With the guidance of the NHS and the help of the armed forces, venue staff all over the country are pitching in to make these facilities a reality. Whilst our Arena building stands quiet and ready for duty if required, it seems fitting that we should #lightitblue, and I'd like to add my special thanks to our amazing AV partners, Pearce Hire, who have created this effect for us.
We want to demonstrate that we are thinking of everyone who contributes to this colossal national effort at their own personal risk, and that they have the support of everyone else who is doing their bit by staying at home.
East of England Arena and Events Centre, East of England Showground, Peterborough PE2 6XE eastofenglandarena.com
Leave a Reply