Peter Pan @ Stamford Arts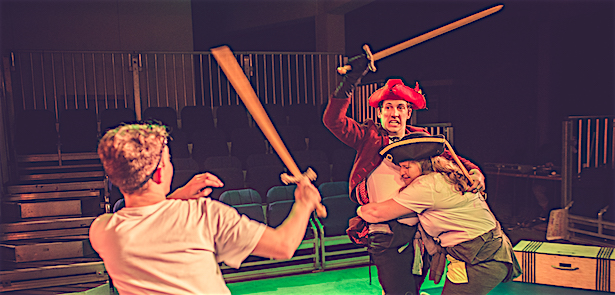 Stamford Arts Centre presents a professional production of Peter Pan, inspired by J.M. Barrie's novel, produced by Peterborough-based theatre company Lamphouse Theatre
The Darling family's life is changed forever when Peter Pan, the boy who wouldn't grow up, appears at their window one night. Wendy, John and Michael follow Peter to Neverland, meeting Lost Boys, mermaids and crocodiles along the way! But will their adventure be sabotaged by Captain Hook or can they outwit his nasty pirate crew and save Neverland?
Jam-packed with live music, humour, adventure and energy. The production will appeal to both boys and girls and discusses important morals; family, responsibility, friendship, bravery, trust and ambition. The production is suitable for all ages 6+.
Presented by arrangement with Great Ormond Street Hospital Charity and Samuel French Limited, Peterborough-based Lamphouse Theatre – a theatre company committed to telling epic stories in intimate settings – brings this new production of the classic tale to life, packed with live music, comedy and spontaneity.
Find out more about the company here: www.lamphousetheatre.co.uk
What audiences are saying…
"Wow!!! It was absolutely wonderful. So funny and ever so well done with just a cast of 3. I have never laughed so much in my life. All my family enjoyed it including my two girls aged 12 and 9. I would definitely recommend watching this performance and will be looking out for more in the future. The cast were fabulous and the improv was so funny. It was a pleasure to watch and the best pantomime so far. Well done guys!"
"Peter Pan was, simply, outstanding. Physical, dynamic, very funny, fresh and imaginative – I brought along my five-year-old twins (one of which has Asperger's) and they were captivated. The cast dealt so well with my son heckling one of the actors: he often feels that performers are talking only to him and when he realises his mistake a meltdown can ensue, but the skillful riffing from his outburst made him feel part of the action and as a result he sat with his uncomfy feelings rather than let them overwhelm him. We shall be looking out for your future work and will make every effort to attend: can't wait to see what you tackle next and to enjoy your splendid energy, charm and charisma once again."
"Absolutely outstanding show in terms of energy, creativity and fun. The laughter flowed in equal amounts from adults as well as children. Had to go down and shake their hands at the end of the show. Loved them so much – will keep an eye out for future performances."
Wednesday 24 October 2.30pm
Running time: 2 hours 20 mins inc interval
Tickets £6 (£5) £25 Family of Four
Box Office 01780 763203 I www.stamfordartscentre.com
---
And, back by popular demand:
Half Term Workshops with Wildcats
Harry Potter Magical World Workshop Day
A one day workshop for wizards and all those who love Harry Potter. Come in costume (if you wish) and take part in a day of fun and games all linked to the famous stories. Create spells, develop acting pieces, win points for your house (which you will be 'sorted' into on arrival) and much more. A hugely popular workshop which always sells out – early booking is advised!
Age 6 and over
Bring your own lunch and drinks!
Monday 22 October 9.30am-4pm
Tickets £23.50 per child

Madagascar The Musical
Become Alex, Marty, Gloria or Melman (or even a Penguin) as we take a trip to New York and see our friends travel to Madagascar. With catchy songs including the popular 'I like to Move It Move It' children will get the chance to learn how to be animals though Musical Theatre. Acting, Singing and movement all feature in this fun one day workshop. With a mini performance at 3.45pm in the Ballroom.
Ages 6-13 years
Bring your own lunch and drinks!
Wednesday 24 October 9.30am-4pm
Tickets £22
www.stamfordartscentre.com
Leave a Reply