Pboro Celebrates: Tim Peake's spacecraft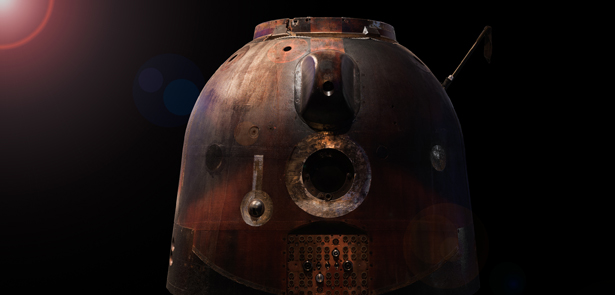 It's been to space and back, survived temperatures of 1,500°C – and now it's landed at Peterborough Cathedral! Tim Peake's Spacecraft can't fail to induce awe and wonder
When Tim Peake became the UK's first European Space Agency astronaut to head up to the International Space Station (ISS), the nation sat up and took notice. Tim's trip to the stars inspired children – and adults – across the country, inspiring a new generation to dream of the possibilities of space travel.
Now the spacecraft that took him there has landed at Peterborough Cathedral, complete with the char marks that hint at the lively re-entry into Earth's atmosphere! Look inside and you can see its equipped interior and wonder to yourself: just how did three people squeeze in there?
The Soyuz TMA-19M capsule is unassuming, which makes it only more awesome for the incredible feat it performed. Visitors will also be able to see the 25m diameter parachute that helped slow the capsule on its final descent, along with Tim's own Sokol KV-2 emergency spacesuit.
The capsule comes to Peterborough after the Cathedral won a competition to be the sixth venue to host it on its tour of the country. The spacecraft will have travelled to eight cities in all, but this is the only non-museum venue. The contrast between ancient, 900-year-old Cathedral and ultra-modern technology couldn't be starker, making it all the more impressive.
The tour, presented by the Science Museum Group and Samsung includes a virtual reality installation for visitors to experience what the 250-mile descent to Earth from the ISS is like, complete with the rattling, whooshing – and a narration by Tim Peake himself!
'It is rare to see the star objects in Britain's great museum collections touring the length and breadth of the country. It is even rarer to see a spacecraft in a Cathedral,' said Ian Blatchford, Director of the Science Museum Group. 'I am extremely pleased that thousands of people from all around the diocese of Peterborough will have the chance to see this extraordinary artefact of recent space history on their doorstep, and I cannot wait to see the Soyuz take the Cathedral's 900th birthday celebrations out of this world.'
Well, the capsule has landed and now it's the turn of Peterborough to get up close to this piece of space travel history.
---
Tim Peake's Spacecraft
Till 5 Nov
Mon-Sat 10am-5pm, Sun 12-3pm
Free entry
www.peterborough-cathedral.org.uk/soyuz
The spacecraft has endured temperatures of more than 1500°C and travelled at 17,000 mph as it carried astronauts Yuri Malenchenko, Tim Kopra and Tim Peake back to Earth on 18 June 2016. Take a look at the spacesuit Tim Peake wore during the launch and return to Earth, admire the magnificent 25m diameter parachute deployed during the descent, and don't miss the opportunity to take a photo posing in the 'selfie spacesuit'!
Space Descent VR
Tickets: £5 (pre-booking advised)
To book: www.ticketisland.co.uk/peterboroughcathedral or call Peterborough Information Centre on 01733 452336.
This exhilarating virtual reality experience narrated by Tim Peake puts you in the pilot's seat of a Soyuz capsule. Using Samsung Gear VR and the very latest in VR technology it enables visitors to experience what it feels like to sit inside the Soyuz's descent module as it makes its dangerous, high speed journey back to earth. The VR experience is open to ages 13+
Leave a Reply