Pboro Celebrates: Museum of the Moon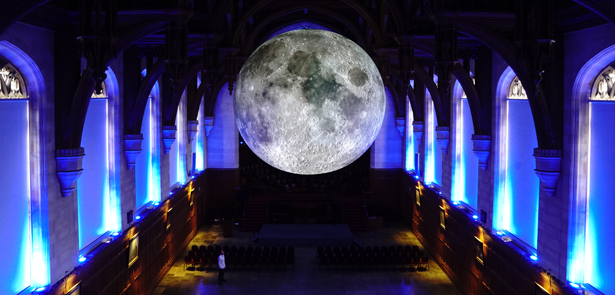 Incredibly detailed and endlessly awesome, the stunning 'Museum of the Moon' is coming to Peterborough Cathedral. Come along for an out-of-this-world experience
The Museum of the Moon is a new touring artwork by British artist Luke Jerram. Measuring seven metres in diameter, the moon features remarkably detailed NASA imagery of the lunar surface. The installation combines this incredible imagery with moonlight and a surround sound created by BAFTA and Ivor Novello award-winning composer Dan Jones.
At an approximate scale of 1:500,000, each centimetre of the internally lit sculpture represents 5km of the moon's surface, offering viewers unprecedented detail, as if hovering over the Moon itself. Marvel at the detail – from pitted craters to wide lunar plains – and find yourself transported by an out-of-this-world experience.
The Museum of the Moon has already been exhibited in a number of indoor and outdoor settings, altering the experience and interpretation of the artwork every time. From 5 October it comes to Peterborough Cathedral where the awe-inspiring backdrop will only add to the drama of this unique piece.
Artist Luke Jerram is known across the globe for his large-scale public artworks. His practice is renowned for creating stunning sculptures, installations and live arts projects, with works exhibited internationally.
Museum of The Moon is being brought to Peterborough with the support of 'Without Walls' of which Vivacity is an Associate Touring Network partner. The Associate Touring Network is a group of festival partners who work together to support the onward touring of work commissioned by Without Walls to diverse audiences across England.
Museum of the Moon
5-14 Oct, Mon-Sat 9am-5pm, Sun 12-3pm
www.peterboroughcelebrates.org.uk
Museum of the Moon arrives from the evening of 5 October. Opening times are the same as for the Cathedral, with occasional restrictions due to other events taking place. For more detailed information on the installation visit: https://my-moon.org
---
And don't miss…
Silent Disco under the Moon
Fri 12 Oct, 7-9pm
Dance away under the Moon at a special silent disco for all the family! You'll be given your own headset as the Cathedral is transformed into a tranquil dance floor. There will be a tuck shop available, as well as a small paid bar.
Tickets: £5
To book: 01733 452336, www.peterborough-cathedral.org.uk/events
Leave a Reply