Panto time at the Key Theatre!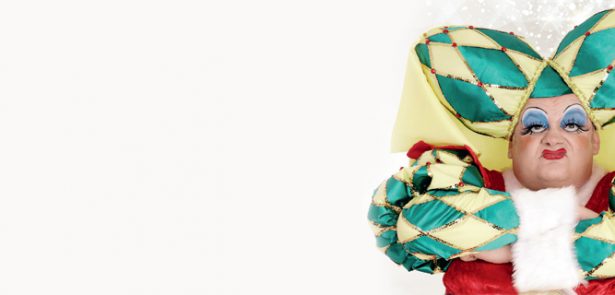 This year's literally sparkling production is Sleeping Beauty (7 Dec-7 Jan) and with it comes a new face – the multi-talented Fred Broom. A seasoned actor-musician who also sings, directs and designs, he has played everything from Frederick Treves in The Elephant Man to Mr Toad in Wind in the Willows – but there is nothing like a Dame...
As always, Sleeping Beauty this year is an original piece – written especially for the Key Theatre by writer, director and composer Simon Egerton. What can you tell us about it?
It's brilliant! I don't want to give too much away… But as expected it's a very traditional panto, which follows all the traditions, which I think is really lovely. Lots of pantos nowadays are all about celebrities but this has all the traditional panto values, and there are lots of things in it that I think are going to make it really beautiful and magical. It's also very funny, on lots of different levels, so kids will find the physical humour very funny, but there are also some bits that are clever and add that extra level for the adults. So it really is a magical experience for all the family.
What type of Dame can we expect this time? Loud and brash?
Oh no, I'm a very serious actor and it will be very nuanced and subtle! OK, yes, she is loud and brash… She's lots of fun. Her name is Queen Iona Trumpet and I can tell you that she had been very lucky in love… Whilst busy at Queensgate selling Activia yogurts she met King Donald Trumpet and they were married within the week. They've now got a daughter Aurora, and they're very happy. So, she's very high and grand, as she has moved up in the world, but I don't think she will ever forget her roots.
So she's not looking for love…?
No! That's quite unusual for a panto, but actually as soon as I read the script I thought 'Ah! I get it!' Although she is not looking for love, there are other characters who she becomes very flirtatious with, so there is still that element there. Her costumes are absolutely amazing, too, covered in rhinestones and very sparkly and glittery – so she is going to look sensational!
As with the script the songs are all original – do they follow a particular style?
A little bit of everything, really – a real mixed bag, with lots of different ideas. There's a beautiful love song, some silly comic songs, a funky, up-tempo one – something in there for everyone. My own number is called Fabulosa! The songs are all brand new, which is really exciting, but there are elements of pastiche in the writing, so they often sound a bit like songs you already know – there may even be some musical quotes from recent hits that you'll recognise. There's other great music as well, such as a lovely ballet routine in Act One, in which I might be involved…
As is now established tradition at the Key Theatre the cast are all actor musicians, so the characters on stage are also the band. What will you be playing?
I will definitely be playing the double bass, but I also play violin, viola, piano…and everything else! So we'll see what happens. It's really exciting that everybody in the cast also plays an instrument – there's a ten-piece band there, immediately! Most pantos have a band in the pit, but this will sound amazing. That's one of the really exciting elements. I have been in an actor musician panto before, but the whole actor musician 7 tradition is somewhat dying out. I know of one place that does a kind of contemporary actor-musician panto every year, but that's very funky and in-your-face. It's really nice to have something like this that has actor musicianship and still sticks to the traditions.
Last issue we talked to David Griffin-Stephens – not only production manager, but also set and lighting designer. Simon Egerton is composing, writing and directing and all the cast also play instruments… Does it make a difference to the production having people doing so many different things?
I think it does. What happens when you have fewer people involved is that the work doesn't get dispersed as much, so what you end up with is the result of one or two people's passion. The designer, the writer, the director… It's great when they're just one or two people, because that passion really comes through in all the show's elements. And they've allowed time to make sure that everything is perfect.
You're quite a multi-talented fellow yourself – a singer, a musician, an arranger and even a designer in addition to being a serious actor…
I hate calling myself a serious actor! I think of myself as a performer, really. But yes, I do sing, and used to sing very seriously, doing opera and musical theatre. I direct a little bit, and do musical directing and arranging. I do bits of theatre design, mainly for opera, and costume design and making.
But I also do serious plays occasionally. People tend to cast me in comedy roles because of my look – I got to be a violin-playing Mr Toad in Wind in the Willows, which was one of the roles that I have wanted to play since I was very young – but occasionally a role comes along that isn't comedy at all, such as Treves in The Elephant Man. I love doing stuff like that. It's such a different skill, and playing Frederick Treves was remarkable – a huge journey for me, doing things I'd never done before. But it certainly keeps me busy, having fingers in lots of pies. At the moment I'm doing a murder mystery corporate event, musical directing The Wizard of Oz, and designing both Carmen and Hansel and Gretel!
How important is it that it's an original piece of work?
I think it's really important. At the moment, the way panto is, things tend to be very commercial and to feel very churned out. It's the same with musical theatre – a show doesn't run if it hasn't got a star. I'm not saying all stars are rubbish, because some are brilliant – I went to see Miranda Hart in Annie and she was fantastic. But when it becomes about just the commercial stuff, going down the easiest, cheapest, most convenient road, it's really sad. It becomes just a moneymaking machine. When you have original companies creating a show from scratch like this, though, you're getting a beautiful, polished thing that people really care about. It's not just about the money – they're creating a piece of theatre that is traditional, fun and beautiful.
Also, some pantomimes get chucked together in a week; the cast gets together and literally a week later they have the first performance. That's quite sad. Some people can get something together in a week and still make it amazing, but we're really lucky that we've got three weeks of rehearsals, so the script that we've been sent has a chance to change and develop, so we all become involved and feel ownership of the piece. Our passion for what we do becomes part of it. It's really nice to have a decent amount of time rehearsing something. Yes, panto is silly and it is fun, but it is also a piece of theatre and a piece of storytelling like any other, and it needs time to grow and develop, and it's a shame that we don't always have the opportunity to spend time making something worthwhile. We have three weeks of rehearsal – it's amazing.
So will much change from the script you currently have?
It might even end up not being Sleeping Beauty! Who can say? (No, I'm kidding…)
Is each show a bit different and is there likely to be a bit of ad libbing…?
Every show is different and each one needs to be, because each audience is different. A show at 10am on a Tuesday is very different from a show at 7pm on a Saturday night, because of the different people who are there. The first will be mainly school kids, whereas the second will be families with lots of grown-ups who are also out for a good time, so the nature and feel of the show will change. Normally in theatre the show doesn't change quite so much, but in panto you have kind of a three way thing: there are the show's creatives and the actors but also the audience. So, the rehearsal period is about getting to know and trust the other people on stage, finding out how far you can take it and where the limits are, but the audience also plays a really important role in creating the piece. Panto is all about audience participation.
We are doing 60 shows, but every show needs to feel like it's the first time it's happening. But I never find I get bored in panto, because the audience gives you so much that every show does feel unique. That's one of the funny things about rehearsing pantomime, actually, that it feels like one of the characters is missing in rehearsal because the audience isn't there. You can know all your lines and everything, but until that first opening night when you have that audience in front of you you've never really done a run of the show. I find that amazingly exciting! It's one of the things I absolutely adore about pantomime – thinking quickly, keeping on your toes, being ready for anything… It's a whole different set of skills. So, yes, by its very nature, every show is a bit different. But also – don't tell anyone – I am quite naughty at times… I may do some naughty things.
● Vivacity Key Theatre from 7 Dec 2017 to 7 Jan 2018. ● Book your tickets online at vivacity-peterborough.com/sleepingbeauty or call the Box Office on 01733 207239
Leave a Reply