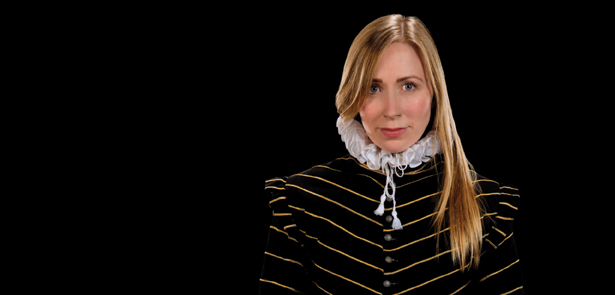 From the award-winning creators of Jane Eyre: An Autobiography, comes a life-affirming, comedic tale of an immortal poet, based on the satirical 1928 novel by Virginia Woolf
Orlando: Who is she? Who is he? Who are we?
Orlando, whose gender cannot be pinned down, whose spirit cannot be caged, and whose irreverent, romantic adventures across British history – from the 1500s to the present day – provide a magic-realist exploration of human identity; personal, sexual and national. From the court of Elizabeth I to the Frost Fairs of London; from the mountains of Turkey to Regency society; from the reign of Victoria to the present day! Experience immortal Orlando's cheeky, romantic, heartwarming adventures across several lifetimes and discover what it means to find a place in the world whilst remaining true to yourself.
Dyad productions have been creating and touring work around the UK and internationally for the last 10 years and have become popular regulars at the Edinburgh Festival. They aim to create, produce and tour innovative yet classic theatre with a contemporary relevance. Dyad looks to construct an emotional and intellectual engagement between the audience and the performer with their theatre.
This is typically achieved by producing radical interpretations of preexisting texts. Orlando is a prime example of this, as Dyad's first-person monologue rework of the Virginia Woolf novel of the same name. Drawing on a decade's worth of successful theatre-making, this introspective, but euphoric, feminist voyage is the culmination of everything Dyad has so far created, toured and presented across the world. Rebecca Vaughan (Austen's Women, Jane Eyre: An Autobiography) gives a towering performance in Elton Townend Jones's adaptation of Woolf 's 1928 novel. Rebecca began her acting career by training at the Academy of Live & Recorded Arts (ALRA) following a degree in English Literature at Cardiff University.
Her film and television work includes The Interview (BBC), The Dead (Channel 4), and an array of short films. She has worked extensively with Dyad Productions, as a writer and performer for I, Elizabeth, Female Gothic and Austen's Women. She has also produced The Unremarkable Death of Marilyn Monroe for both the Edinburgh Festival run and the play's subsequent UK and international tours.
Orlando
Written and Directed by Elton Townend Jones, Performed by Rebecca Vaughan Based on the novel by Virginia Woolf ● Stamford Arts Centre ● 13 June, 8pm ● Tickets £12 (£10) £8.50 groups & under 26s
www.stamfordartscentre.com
Leave a Reply