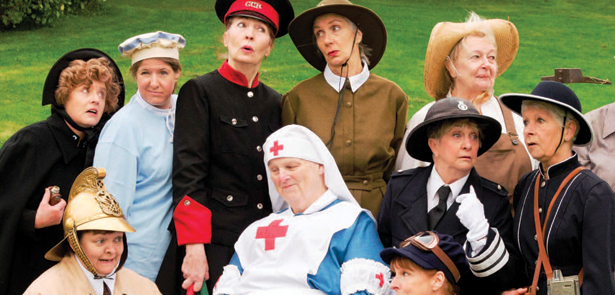 As a tribute to the indomitable fighting spirit of women 100 years ago during The Great War, Stamford Shakespeare Company's production ofMuch Ado About Nothing shines the spotlight on the vital role they played. as Theatre Manager David Fensom reveals...
Shakespeare's original is set in Messina, Sicily, yet the play seems very English, with characters typical of an English village community. So, while hopefully preserving the essential qualities of the play, the directors have chosen to move the setting to a quintessentially English country house and garden in 1919. The background to the story requires a war, and the First World War, and the subsequent lack of young men, gave an opportunity to create wonderful female parts in the form of the 'Watch', traditionally played by a group of men. Leading the 'Watch' is WPC Dogberry, reflecting the early roles of women in the police force.
In December 1915, Mrs Edith Smith was the first woman to be sworn in as a police constable with full power of arrest. She was employed as a member of the local police force in Grantham, Lincolnshire. The character of Verges represents the Women's Army Auxiliary Corps (WAAC). Pressure from women for their own uniformed service to assist the war effort led to the formation of the WAAC, established in December 1916. By the end of the war in 1918, more than 50,000 women had joined. In this production the 'Watch' is made up of a window cleaner, bus conductress, land girl, firewoman, Red Cross driver, train guard, Salvation Army volunteer and nurse.
There is even a footballer. During the war the most famous women's team was Dick, Kerr Ladies from Preston. Their first match in 1917 was attended by 10,000 people. On Boxing Day, 1920, there were 53,000 people inside Goodison Park, Everton, to watch them play, with over ten thousand more locked outside unable to gain admission. In 1921 the FA banned women from playing on Football League grounds as 'the game of football is quite unsuitable for females and ought not to be encouraged'. This ban was not lifted until 1971. At the end of the First World War, women's lives had changed for good. Not only did women gain the parliamentary vote (if they were over 30 and a householder, or wife of a householder) but in addition, the 1919 Sex Disqualification (Removal) Act ensured that a person could not be 'disqualified by sex or marriage from the exercise of any public function'. Women were therefore free to perform the roles which they had taken on during the war.
● This summer's plays have opened to great acclaim. Much Ado About Nothing and Hobson's Choice carry on throughout August.
● Box office: 01780 756133
● For more information and to book online: www.stamfordshakespeare.co.uk
Leave a Reply