Money For Nothing – 20th anniversary tour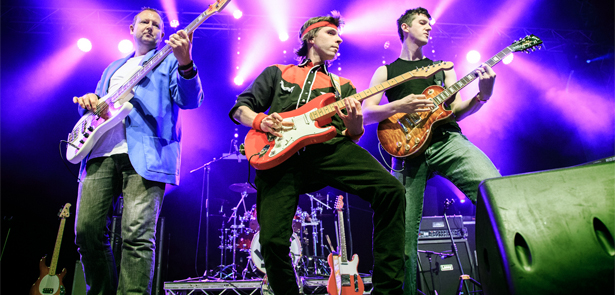 Money for Nothing was formed in 2000 as a tribute to one of the world's premier rock bands – Dire Straits. This April, they come to the Cresset
The abundant energy and the excellence and musicality of their performance makes Money for Nothing a must see for any rock enthusiast or Dire Straits fan. Fronting the band is the brilliant guitarist and Mark Knopfler sound-alike Aled Williams. Behind him the line-up features top-class and experienced musicians, all of whom have studied Dire Straits in depth to be as close as possible to the real thing. Not only 'can the boy play' – his voice is what makes Money for Nothing so unique.
You will also see an array of guitars exactly as Mark would play. Money For Nothing features all the hits from Dire Straits first ever single Sultans of Swing to Brothers in Arms, Walk of Life and their last single released in 1992 The Bug – also the legendary Money For Nothing (ft. Sting) which was the first ever video played on MTV. The band also include versions from On the Night, Alchemy and Live @ The BBC. Dire Straits is one of the greatest bands to ever come out of the UK, having sold in excess of 120 million albums worldwide.
Their best selling album Brothers in Arms was an international blockbuster selling over 30 million copies and becoming the fourth best selling album in UK chart history. Brothers In Arms was also the first ever CD single, and the first ever album to sell over one million copies on CD. Dire Straits also won numerous awards including, three Brit Awards, four Grammys and two MTV Music Video Awards, and in 2009 were awarded the Music Heritage Award. 2018 saw Dire Straits being inducted into the Rock'n'Roll Hall of Fame (finally!). Now, with Money for Nothing taking the UK theatre circuit by storm, you can get the full experience at a venue near you!
● Money for Nothing 24 April, 7.30pm
Key Theatre
vivacity.org
Leave a Reply