Chas (not Dave): 'We're still enthusiastic, we're playing better than ever!'
Chas (not Dave): 'We're still enthusiastic, we're playing better than ever!' 1 2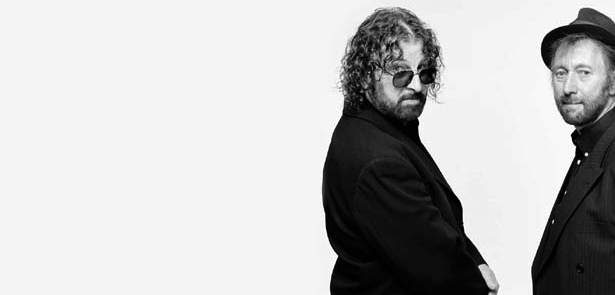 Chas & Dave are currently enjoying a huge resurgence, with new fans including Hugh Laurie (who worked with them on their latest album), Pete Doherty and Jamie Cullum. The Moment magazine online talked to Chas Hodges (the one who plays the piano) about their comeback, and how they're entering a new golden age of creativity…
Since we spoke to Chas, his and Dave's superb new album That's What Happens was released. Check out this teaser to the Making Of documentary, available to download with the album…
How did you deal with Dave's decision to leave the band? (Dave's wife Sue passed away in 2009, prompting Dave to make the decision to retire.)
I've always played anyway, always had Chas & His Band going alongside Chas & Dave, so when Dave's wife died and he decided he wanted to pack up, I just carried on with Chas & His Band. For Dave, it was like happens to so many people when someone close to you dies – everything goes out the window. But then Dave came round and we decided to do another tour. He's not back on the road, but he's back for the tours and he does the odd gig here and there, and I carry on with Chas & His Band in the meantime.
It must be nice to have Dave back
As far as I'm concerned, he never went away. I just continued on my own and Dave drifted back – and it was like it had always been.
You are, perhaps finally, being recognised for the hugely important contribution you've made to English folk music. How does that feel?
Well, we've never been centred on one particular sort of musical style. Both me and Dave have loved parts of rock and roll, folk music, blues, country, the best of each. I think it's wrong to favour any one particular sort of music anyway, you know, people who are all like: 'if you like folk, how can you like jazz?', there's a lot of that. Yeah, there's an element of folk music in what we do, we both started off in skiffle groups years ago, which is basically folk music, and on our latest album there are a couple of skiffle numbers.
Chas fact: Chas once played bass for Deep Purple…
And of course music hall, you really keep the spirit of that alive in your work, too
We don't do it as a preservation thing, though, we do it because we like it, and I have done ever since I heard Harry Champion songs sung by my Uncle Alf when I was a kid. In the meantime though, they are being preserved because we're singing them, and that is a bonus.
So, breathing life into them, rather than preserving them in aspic?
Yeah, absolutely, definitely.
You both, famously, have worked with a huge variety of different artists, and now you're working with a whole new set of musicians and singers, such as Hugh Laurie. Has that been good?
It's great to work with good musicians and like-minded people who love what they're doing with a passion. This latest album came about through a phone call from Warner Bros, it's like they say: what comes first, the music or the phone call? We went and had a meeting with them in London and they said, 'Who do you want on it?'. Hugh Laurie was one – we were pleasantly surprised by what a great piano player he is. So we had him on it… [cont]
Chas (not Dave): 'We're still enthusiastic, we're playing better than ever!' 1 2
Leave a Reply