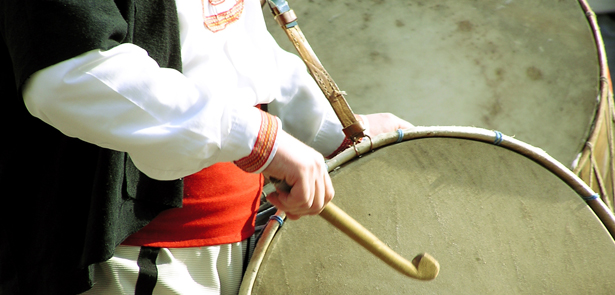 On Sunday 27 August Millfield will have something to celebrate. Arts organisation Peterborough Presents has set in motion a free, one-day festival which aims to be celebration of local diversity – with lots of fire and drumming. Toby Venables talks to Festival Producer Simon Hollingworth about the project and how plans are progressing.
How did the idea of a festival for Millfield come about?
Peterborough Presents has been going for three years and has organised many, many activities across the city, but prior to this year most of them have been focused on city centre events. One of the things that happened as a result of that work was people saying: 'Yes, that was great – but it would be great to do some things in different communities within the city'. So, three different communities were chosen as the focus for this year – Bretton, Millfield/Lincoln Road and Hampton. During the course of this year each of those areas is working with an artist or company on a particular commission, and each of them is also having its own festival. In the case of Bretton there is an existing festival that we're developing and augmenting, but in the case of Millfield and Hampton they're brand new one day festivals which haven't happened before. But there's a lot of interest.
So, this is a first for the area?
The idea of a festival has always been at the core of the project, and it's also something that a lot of people here have thought about and wanted to do for some time. But this is the first attempt!
How do you start to get something like his together from scratch?
It's not been easy! That's not because people have been in any way difficult, but getting the answers to the questions right is a challenge. The thing is, whatever suggestion you offer, it's possible that it there might be 99 reasons why it is a brilliant idea, but one reason, in one community, why it's a really bad idea. And it's really important that everybody is happy with what's being done. It's a celebration of local diversity, that's why we're doing it. Everyone knows that Peterborough has an amazing number of different communities, and obviously that has its issues, but it also has its own brilliance, and its own opportunities. The idea of the festival is also not just for local people to learn about the other cultures around them, but for the rest of Peterborough to see that it is an amazing area – a real melting pot of different ideas, societies and cultures. And, actually, if we could find a way – a small way, we're not expecting to change the world overnight – to do something remarkable that brings people from those communities and others together, then it's a very worthwhile thing.
So, what's on offer?
We're going to have a combination of music, dance, activities and lots of fire… On the Triangle we're going to have a large stage, and the event itself is going to run from about 4pm to 10pm. At various points during the evening we'll have performances going on – some professional from the locale, some from out of town – but fundamentally lots of local community performances from lots of different cultures and backgrounds. Some of that will be dance, some will be music, some will be drama. We've already got a Lithuanian group who are going to be doing part of a play they've written. We have some Sikh dancers lined up. We're going to be doing a drumming project, and will kick-start the festival with a procession down Lincoln Road.
There will also be lots of activities. We're talking to lots of local people and if there's a skill or a craft that they do within their community that they'd be willing to demonstrate, we'd like them to come forward and share. So people can come for minutes or for hours and learn to do something from a culture they perhaps don't know so much about. We have some organised, but we're looking for more. Food is an essential part of any gathering. We are working with City College to find ways to offer dfferent types of food for people to try.
You mentioned lots of fire… Tell us about that.
We've chosen fire as a theme. We realised early on that you couldn't do one thing that represented every single community – and if you tried to represent them all and missed one or two out then that would be equally bad. There are so many different cultures and beliefs and ways of looking at the world, but fire is significant no matter who you are or what you believe in. So, we're working with a company called External Combustion who have just finished their 25th year at Glastonbury, and are basically pyrotechnics experts. And while there will be fireworks at the end, it's much more than that – it's really about the beauty of fire, and its significance. So they will be setting up a fire installation over two days – sort of a kinetic sculpture. And at the climax of the festival, when it's dark, there will be a spectacular finish which ties in with the drumming. At times it will be like a call and response across the field, with the drums beating out a rhythm and the fire responding. If we get it right, it will be spectacular!
What has been the response of local people so far?
It's been really positive. In a while I'm off to speak at a refugee event and am trying to get around as many different communities as possible. But while there are often practical or logistical questions, underneath it all there is a feeling that this is great, and just what the area needs – something to celebrate, rather than just focusing on whatever problems there might be. So, let's look at all the brilliant things there are, and make some noise and spectacle. And, hopefully, let's do it again every year.
What do you hope will come of the festival?
One of the hopes with these festivals is that they will become annual events in the Peterborough calendar. If that happens then possibly other partners could come on board and they could get bigger. There's no guarantee of that, but having spoken to lots of people we know we have a plan for a very special evening which will bring people together and create a sense of wonder and spectacle – and also show people what's possible in a part of the city that's not often thought of in this way. And simply to have sat around a table with somebody from a different culture who you've never spoken to – maybe you don't even speak their language – and to have shared something… Well, it might be a tiny step, but these are important moments. We're not expecting problems to just disappear because of this one night, but to have something positive and celebratory of the area and the people in it is so important. And it's as much for people who have come to this country within the last five years as it is for those who have been here as long as their families can remember. The world is changing, and we need to change with it, and understand the people around us. This is a really exciting, creative way of trying to do that.
Millfield Festival
Sunday 27 August, 4pm-10pm
The Triangle (field at top of Lincoln Road by Maskew Avenue)
FREE!
Leave a Reply