Men United in Song 2019: Supporting Prostate Cancer UK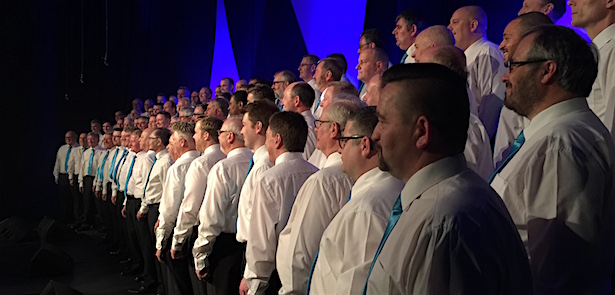 New Year, new you? Looking for a fresh challenge, new skills and a great social scene to boot? Then look no further…
Following its phenomenal success over the last few years, Men United in Song is back for 2019, once again raising money for Prostate Cancer UK. Launching in March, the project will sign up 40 local men with a range of previous singing experience (including none) to rehearse over 10 weeks for a charity concert at the Cresset Theatre on Saturday 11 May. To date the project has engaged hundreds of local men, raising many thousands of pounds for the charity, as well as inspiring similar projects across the country – a fantastic result!
John, from Moulton Chapel, says: 'I was looking for something new to do and Men United in Song seemed like a great way of meeting new people and supporting a good cause. I wasn't sure what to expect and it was quite a steep learning curve! I didn't realise before that not everyone in a choir sang all the same thing together, there are harmonies too, and when it all comes together it sounds absolutely amazing! The whole experience was fantastic and performing in the concert was the icing on the cake!'
'Having seen Men United in Song advertised in previous years and been tempted to get involved, I finally got the impetus to go for it when my father was diagnosed,' says Martin from Bourne. 'Although the idea initially filled me with some trepidation, the experience proved to be extremely enjoyable and fulfilling. It's a very rewarding opportunity whilst raising vital awareness and funds for the continuing fight against prostate cancer.'
'I wanted to improve my singing and Men United in Song seemed like a great opportunity!' says Adam from Thorney. 'Turning up for the first rehearsal was daunting, but I immediately felt comfortable singing in such a relaxed environment. The highlight for me was knowing that we were creating something amazing for such a great cause. I've met all sorts of people, from farmers to accountants to new dads – without this project we would never have had the chance to meet and discover how we can really sing. I would highly recommend the experience!'
Men United In Song is not all about the singing or even about the fundraising, there's a fantastic social scene too! Ultimately, it's about a group of men getting together in a shared enterprise, which of course is the idea behind Prostate Cancer UK's Men United campaign, and why the charity seemed such a good fit for the project.
William Prideaux, director of Men United in Song, says: 'Year on year, we see men of all ages from all walks of life get stuck into this project, producing fantastic results over a relatively short period of time both in terms of the progress they make and the sound they produce in the final concert and in terms of raising money for this very important charity. It's always a pleasure and a privilege to work with them.'
Men United In Song kicks off with introduction sessions on 27 and 28 February and 2 March at the John Mansfield Campus in Peterborough. Absolutely no previous experience is required to join, just a willingness to get involved and give it your best shot! 'We're not looking for 100 percent in musicality, but 100 percent in enthusiasm.' says William. 'Why not give it a go? It just might be the best thing you've done in a very long time!'
Introduction sessions will be at the John Mansfield Campus PE1 4HX on Wednesday 27 February (7.30-9.30pm), Thursday 28 February (7.30-9.30pm) and Saturday 2 March (2-4pm). Please call/email to register.
Rehearsals will be on Wednesday evenings from 7.45pm-9.45pm at the John Mansfield Campus, Western Avenue, Peterborough PE1 4HX.
The Men United In Song concert will be at Peterborough's Cresset Theatre at 7.30pm on Saturday 11 May 2019.
Leave a Reply